If you're looking for a 3D printer with a high degree of precision, a large print volume an attractive price, then grabbing $200 off the Anycubic Photon M3 Max could be what you're looking for.
This $200 discount means you get a sizable saving on a fantastic printer. We haven't reviewed the M3 Max specifically for our best 3D printers guide, but we loved both the Anycubic M3 and the M3 Premium, and the M3 Max is basically just those, but bigger. Much bigger. The M3 Max features a 13.6 inch monochrome screen, 7K resolution and a 298 x 164 x 300mm print bed volume (width x depth x height).
If you're looking to bag a bargain this Summer, then you could also check out our 3D printer deals guide, but it's worth noting that this is a Father's Day deal, so it's only available until June 20.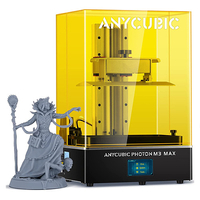 Anycubic Photon M3 Max 3D Printer
Was: $1099
Now: $899 at Anycubic
Overview: This 3D printer is $200 off until June 20. It features a 298 x 164 x 300mm print size (width x depth x height), a 13.6 inch monochrome screen and 7K resolution. The print speed is 60mm/hour and there's a 4.3 inch touch control panel.
Key Features: High precision printing, large print volume, decent print speed, large monochrome screen, touch control panel.
Price History: This is reduced from $1099 from Anycubic and it is also on offer at Amazon and Walmart, but the offers are down from $1299 and aren't any cheaper.
Price Comparison: Amazon: $909| Walmart: $899
Consensus: The Anycubic Photon M3 Max 3D printer offers a larger print size than the Premium model, it's closest competitor, but it offers a slightly lower resolution, 7K compared to the Premium's 8K. Although it's pricey, the print size, the print speed, the monochrome screen and the resolution are all good so you won't go wrong with this model, if you want to build larger models at some point.
Buy it if: You're looking for reliability and quality on larger builds and you want to make the most of a deal that's only available until June 20.
Don't buy it if: You're not looking to splash the cash, you're new to 3D printing and/or you're not looking to build larger models.
Alternative Models: There are plenty of other Anycubic printers on offer in this sale too. The Kobra Neo is a great entry-level FDM printer and it's $80 off, while Photon Mono 4K is a fantastic entry-level resin printer, especially with a $100 discount. And for unbeatable print quality, the D2's DLP technology is hard to pass up with a massive $200 off.