ISS Crew to Toss Space Junk on Spacewalk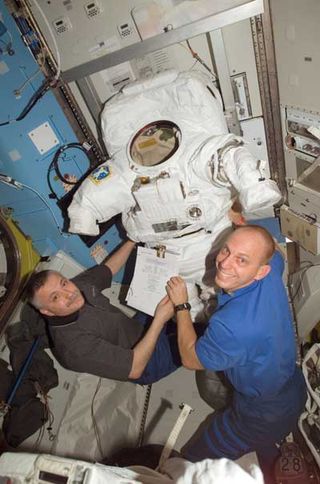 (Image credit: NASA.)
Astronautsliving aboard the International Space Station (ISS) will take a trip outsidetomorrow, but not to catch some rays.
The station'sthree-man Expedition 15 crew will toss more than 1,600 pounds (731 kilograms)of unneeded equipment toward Earth, perform some repairs and other clean up workduring a Mondayspacewalk to help make way for future expansion of the orbital laboratory.
"Weknow the crew's ready," said Daryl Schuck,NASA's lead extravehicular activity (EVA) officer for Expedition 15, during a recent press conference atNASA's Johnson Space Center in Houston, Texas. "We've got confidence in our approach to thisand confidence in our crew."
ClaytonAnderson, a NASA astronaut and ISS flight engineer, will lead the scrap-tossingspacewalk with the help of cosmonaut Expedition 15 commander Fyodor Yurchikhin.Flight engineer Oleg Kotov will provide support from inside the station by controllingthe robotic arm, Canadarm2, to shuttle the astronauts around during theirplanned 6.5-hour EVA.
Prior to theirleaving the airlock, however, the space station will swing around to make surethe new space junk doesn't come back to haunt the orbital laboratory. Thespacewalk is set to begin from the station?s U.S. Quest airlock at 6:30 a.m.EDT (1030 GMT), marking the first career EVA for Anderson and the third forYurchikhin.
Garbagetoss
Anderson'sbiggest task, literally and objectively, will be to jettison a 1,400-pound (635-kilogram)old containerof ammonia coolant, also known as an Early Ammonia Servicer (EAS). Theastronaut will also toss a 212-pound (96-kilogram) video stanchion supportassembly, or VSSA.
"Basically,it holds a camera," Bob Dempsey, NASA?s lead Expedition 15 flightdirector, said of the VSSA. The massive ammonia tank's purpose, he added, wasto serve as backup coolant reservoir in case there were any leaks in thestation's initial thermal control system.
"We donot need the ammonia, and the container has reached the end of its structurallifetime," he said of the agency's rationale to rid of the EAS.
While Kotovcontrols Canadarm2 from inside, Yurchikhin will unbolt the devices attached tothe station. One by one, Anderson will then hold tightly to each object as therobotic arm slowly swings him away from the ISS to tossthem away at about 1 mph (1.6 kph).
"He'llget it moving, then give it a final push with the arms," Schuck said.Cameras will monitor the toss to make sure it leaves the area at an acceptabledirection and velocity.
NASAofficials said each object will be tracked for roughly a year, at which pointthey'll mostly burn up the Earth's atmosphere?except for sizeable chunks of theammonia tank.
"Thisis the first time we've ever done a jettison quite like this on the spacestation," Dempsey said, adding that while the agency doesn't know wherethe pieces will land, they should plunge into the ocean and not into satellites in orbit.
'Homeimprovement'
As the crewcompletes high-priority junk-tossing tasks, they will clean, repair and replaceequipment on the ISS.
Yurchikhin willreplace a failed circuit breaker, or remote power controller module (RPCM),while Anderson reconfigures a power supply.
Inpreparation for the major relocation of a piece of ISS hardware in September, Yurchikhinand Anderson will also carefully remove grit from one of the Unity module'scommon berthing mechanisms (CBM)?a silicon ring used to ensure an airtight sealwith other station components.
When theEVA is complete, Anderson and Yurchikhin will rejoin Kotov inside the station.Controllers will then boost the ISS to a higher orbit in preparation fordocking with Endeavour in August, as well as to avoid dangerous encounters withthe ejected objects.
By the timeit's over, Schuck said, "the crew will have jettisoned two items, cleaneda seal and changed out an RCPM. We'll be watching closely on the progress ofthe EVA from the ground."
NASAwill broadcast Monday?s spacewalk outside the International Space Station liveon NASA TV beginning at 6:00 a.m. EDT (1000 GMT). Click here for SPACE.com's live spacewalkupdates and NASA TV feed.
IMAGES: Space Tourist, Expedition 15 Crew Train for Launch
Complete International Space Station Mission Coverage
Get the Space.com Newsletter
Breaking space news, the latest updates on rocket launches, skywatching events and more!
Former Space.com contributor
Dave Mosher is currently a public relations executive at AST SpaceMobile, which aims to bring mobile broadband internet access to the half of humanity that currently lacks it. Before joining AST SpaceMobile, he was a senior correspondent at Insider and the online director at Popular Science. He has written for several news outlets in addition to Live Science and Space.com, including: Wired.com, National Geographic News, Scientific American, Simons Foundation and Discover Magazine.