These are just some of the Top Photos this week from Space.com.
Lego Spacesuit at Apollo 50 Festival
A team of Lego Master builders designed and built a life-size model of the spacesuit that Apollo 11 astronaut Buzz Aldrin wore when walking on the moon 50 years ago on July 20, 1969. The team spent nearly 300 hours putting together 30,000 Lego bricks to create the model, which made its public debut on Thursday (July 18) at the Apollo 50 Festival in Washington, D.C.
Full Story: Lego Exhibits Life-Size Moonwalker Model at Apollo 50 Festival
Satellites Helping to Track Arctic Foxes
A female arctic fox is getting fitted with a satellite tracking collar in this photo taken July 2017 in Spitsbergen, Svalbard. This region is part of an archipelago between mainland Norway and the North Pole, and recently, researchers studying arctic fox migration published a paper detailing her amazing journey across the polar ice, made possible thanks to the satellite program Argos Data Collection System.
(Image: © Elise Strømseng/Norwegian Polar Institute)
Full Story: Here's How Scientists Tracked That Arctic Fox's Epic Journey
Curiosity Rover Spotted From Above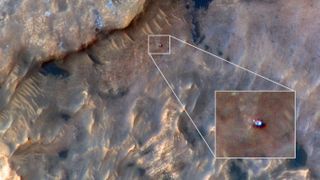 A camera on board NASA's Mars Reconnaissance Orbiter took an image of another Martian explorer on May 31, 2019. The orbiter sails across the Red Planet's sky and appears to have spotted the head, or remote sensing mast, of NASA's Curiosity rover as it scaled the mountain Aeolis Mons.
(Image credit: NASA/JPL-Caltech)
Full Story: Curiosity Rover on Mars Spotted from Space in Awesome NASA Photo
Chandrayaan-2 Preparations
The Indian Space Research Organisation's Chandrayaan-2 spacecraft (bottom) and its Vikram lander (top) are prepared to be encapsulated within the payload fairing that will sit on India's most powerful rocket, the Geosynchronous Satellite Launch Vehicle Mark III-M1. The mission was set to launch last week but was postponed for Monday (July 22) due to a technical glitch. If liftoff occurs and the journey goes well, this mission will deliverIndia's first lander and rover to the moon.
(Image: © Indian Space Research Organisation)
Full Story: India Delays Chandrayaan-2 Moon Lander Launch Over 'Technical Snag'
The Partial Lunar Eclipse Seen From Space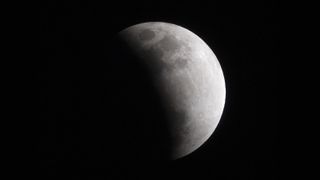 NASA astronaut Christina Koch captured this photo of the partial lunar eclipse of July 16-17, 2019 from the International Space Station. Parts of South America, Africa, Asia and Europe caught the moon dip into the darkest part of the Earth's shadow, causing about 65% of the lunar face to turn red.
(Image: © Christina Koch/NASA)
Full Story: Partial Lunar Eclipse Puts on a Moon Show 50 Years After Apollo 11 Launch
Prepping for Astronaut Launch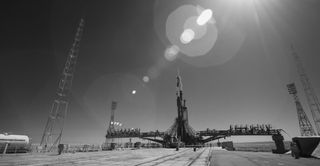 A Soyuz rocket that will launch three people to the International Space Station on the 50th anniversary of the Apollo 11 moon landing tomorrow (July 20) stands tall on the launchpad at the Baikonur Cosmodrome in Kazakhstan. NASA astronaut Andrew Morgan, Italian astronaut Luca Parmitano of the European Space Agency and Russian cosmonaut Aleksandr Skvortsov will lift off at 12:28 p.m. EDT (1628 GMT), kicking off a six-month mission as crewmembers of Expeditions 60 and 61. — Hanneke Weitering
(Image credit: Joel Kowsky/NASA)
Lunar Eclipse Over Jordan
The full moon of July, also known as the Thunder Moon, passed through Earth's shadow Tuesday night into Wednesday morning (July 16-17). Astrophotographer Zaid Abbadi captured the partial lunar eclipse from Amman, Jordan, and created this composite image showing the moon's path across the sky as its surface gradually darkened in the Earth's shadow. — Hanneke Weitering
(Image credit: Zaid Abbadi)
Washington Celebrates Apollo 11
A full-size projection of NASA's Saturn V rocket lit up the Washington Monument in honor of the 50th anniversary of the launch of the Apollo 11 moon mission yesterday (July 16). The Saturn V rocket, which launched the astronauts to the moon, was 363 feet (111 meters) tall, and its projection spans about two-thirds of the height of the 555-foot (169 m) Washington Monument. — Hanneke Weitering
(Image credit: Bill Ingalls/NASA)
Apollo 11 Rocket Goes Supersonic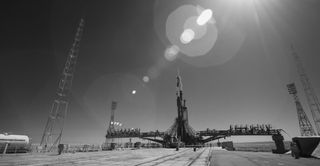 The Saturn V rocket carrying three Apollo 11 astronauts to the moon soars behind an American flag shortly after lifting off from Kennedy Space Center in Florida. As the rocket broke the sound barrier, a ring of vapor formed around the rocket's second stage. July 16, 2019 was the 50th anniversary of the launch of the Apollo 11 mission, which landed the first astronauts on the moon on July 20, 1969. — Hanneke Weitering
(Image credit: NASA)