An exoplanet-hunting mission captures a beautifully cosmic panorama, a Jupiter probe views the marbled cloud tops of the giant planet and the Cygnus cargo spacecraft reaches the space station. These are just some of the top photos this week from Space.com.
Celestial Panorama From TESS
This mosaic of the southern sky is a combination of 208 images snapped by NASA's Transiting Exoplanet Survey Satellite during the alien-world-hunting missions first year of science operations. The Milky Way, the Orion Nebula (near the top) and the Large Magellanic Cloud (at the center) are visible in this mesmerizing composition.
Full Story: NASA's Planet-Hunting TESS Spacecraft Snaps Spectacular Panorama of the Milky Way
Kincade's Fury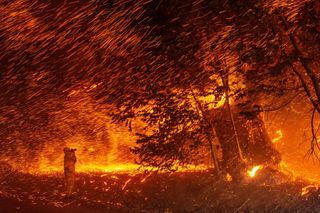 This frightening image taken on Oct. 24, 2019 shows flames ripping through an area near Geyserville, California, during the Kincade Fire. Environmental historian Stephen Pyne makes the case that the planet has entered "an ice age of fire," based on the pyrogeography of modern planet Earth.
Full Story: California Wildfires Signal the Arrival of a Planetary Fire Age
Grasping Cygnus
The International Space Station's Canadarm2 robotic arm grapples an incoming Cygnus cargo spacecraft in this photo taken by an Expedition 61 astronaut. The Cygnus spacecraft, named the S.S. Alan Bean, arrived at the orbiting laboratory on Monday (Nov. 4) carrying about 8,200 lbs. (3,700 kilograms) of supplies and science experiments for the six-person crew. — Hanneke Weitering
A Jovian Marble
Jupiter looks like a big, swirly space marble in this composite image from NASA's Juno spacecraft. Citizen scientist Kevin Gill processed this image using data collected by Juno during its 23rd close flyby of Jupiter, called a perijove, on Sunday (Nov. 3). — Hanneke Weitering
A Glimpse of the Cosmos
The Milky Way galaxy peeks through the opening of the VLT Survey Telescope (VST) in this image captured from inside the observatory by European Southern Observatory photo ambassador Babak Tafreshi. Located at the Paranal Observatory in Chile, VST is the largest telescope on Earth that observes the sky in visible light, or wavelengths of electromagnetic radiation that are visible to the human eye. Pictured front and center in this view is the OmegaCAM instrument, which can capture wide-field images of up to 256 million pixels. — Hanneke Weitering
Hubble Eyes a 'Lonely' Galaxy
The spiral galaxy NGC 1706 may look a bit isolated drifting through the cosmos in this Hubble Space Telescope image, but this lonely galaxy has no shortage of neighbors. NGC 1706 belongs to a group of dozens of galaxies, all of which are held together by their mutual gravitational pull. It is located about 230 million light-years away from Earth in the constellation of Dorado, the Swordfish. — Hanneke Weitering
Hubble Spots a Cosmic Kaleidoscope
When the Hubble Space Telescope turned its gaze toward the remote galaxy known as the "Sunburst Arc," it saw not one but 12 separate images of the lone cosmic object. That's because there's a massive galaxy cluster in the foreground warping the light with its intense gravitational pull. This illusion is known as gravitational lensing, a phenomenon that Albert Einstein first described in his theory of general relativity. "This 'funhouse mirror' effect not only stretches the background galaxy image, but also creates multiple images of the same galaxy," NASA officials said in a statement. — Hanneke Weitering
Starliner Aces Pad Abort Test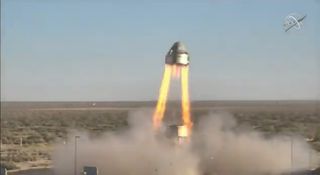 Boeing's CST-100 Starliner capsule floats back down to Earth above the White Sands Missile Range in New Mexico following a successful pad abort test this morning. Today's mission was an uncrewed test of the spacecraft's abort system, which would bring astronauts to safety in the event of an anomaly during launch. — Hanneke Weitering
CST-100 Starliner Waits
The CST-100 Starliner stands on top of its test stand on Launch Complex 32 at the White Sands Missile Range in New Mexico ahead of the pad abort test. Also attached to the bottom of the capsule is the service module, which supplies the spacecraft's power and propulsion systems. — Hanneke Weitering
Full Gallery: In Photos: Boeing's Starliner Pad Abort Test Launch
Cygnus Liftoff
A Northrop Grumman Antares rocket launched the Cygnus NG-12 cargo mission to the International Space Station on Nov. 2, 2019. The rocket is seen here rising into the clear morning sky over NASA's Wallops Flight Facility, located at the Mid-Atlantic Regional Spaceport at Wallops Island, Virginia. — Hanneke Weitering
Full Gallery: In Photos: Antares Rocket Launches Cygnus NG-12 Cargo Craft to Space Station