The Hubble Space Telescope captured a cluster of stars, an Earth-based observatory caught a spacecraft heading to Mars and an astronaut in space got a bird's eye view of Hurricane Hanna. These are some of the top photos this week from Space.com. 
Space rock or spacecraft?
The Asteroid Terrestrial-impact Last Alert System (ATLAS) in Hawaii caught the sight of a Chinese spacecraft moving across a swath of background stars. The observatory is run by a NASA program that scans the night sky to find asteroids, but this recent snapshot of the universe caught a human-made object instead. The vehicle highlighted in this image by red lines is China's Tianwen-1 Mars mission, which launched last week (July 23) towards the Red Planet. 
Full gallery: NASA asteroid camera spots China's Tianwen-1 Mars spacecraft speeding away from Earth
Summertime on Saturn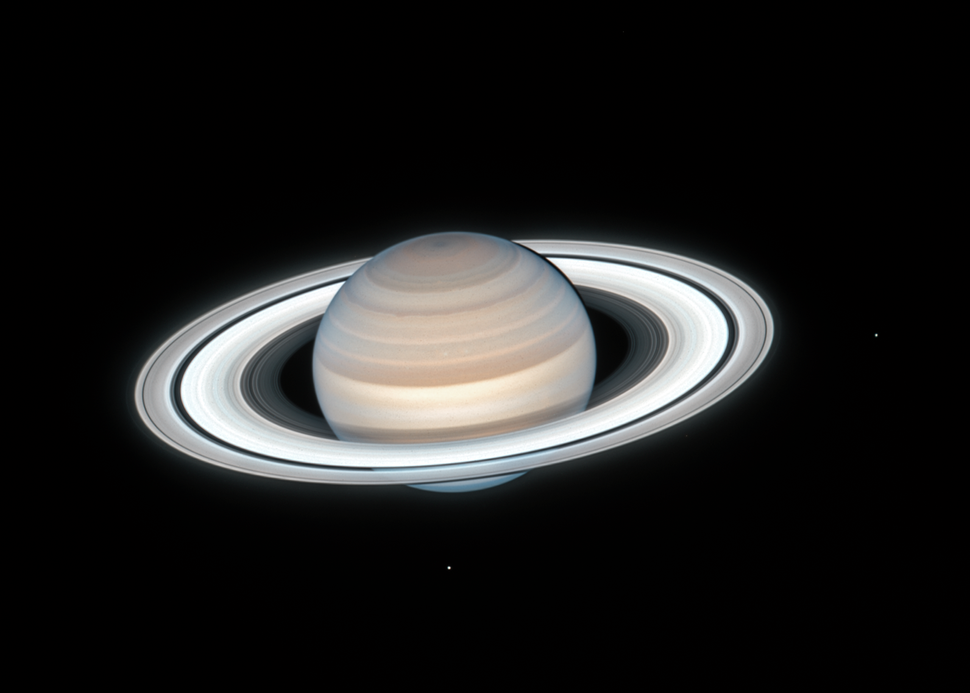 The Hubble Space Telescope captured this vibrant picture of Saturn on July 4,2020, when the ringed planet was about 839 million miles (1.35 billion kilometers) from Earth. Hubble also spotted two of Saturn's moons: Mimas is visible on the right, and Enceladus can be seen on the bottom. This photo is part of the Outer Planets Atmospheres Legacy, in which the Hubble Space Telescope takes a yearly image of Saturn to monitor its weather. Currently, Saturn's northern hemisphere is experiencing summer. 
Full gallery: Behold! Saturn has no summertime blues in this amazing Hubble telescope photo
Elongated Martian cloud
Europe's Mars Express orbiter snapped this view of the Red Planet on July 19, 2020, which features a strange long cloud over the peak of Arsia Mons. This geological feature gives the cloud its name: AMEC, or the Arsia Mons Elongated Cloud. The cloud comes and goes over the volcano but scientists say that Arsia Mons doesn't form AMEC.
Full story: A weird long cloud on Mars has returned. It's right on schedule, scientists say.
Earth's magnetic field anomaly
Earth's magnetic field changes in strength and direction over time, and strange behavior in Earth's magnetic field over the South Atlantic region can be traced back as far as 11 million years ago. This map shows present-day Earth and deviations in the planet's magnetic field. Strong deviations are represented in yellow-orange, while small deviations are in blue. The star is located on the island Saint Helena. 
Full story: Weird behavior of Earth's magnetic field over South Atlantic dates back 11 million years
Training for space
ESA astronauts Matthias Maurer and Thomas Pesquet are at NASA's Johnson Space Center in Houston, Texas to train for missions to the International Space Station. Pesquet is set to join the crew for SpaceX's Crew-2 mission which will be the second fully operational, crewed mission with the company's Crew Dragon vehicle. Matthias is training for his first flight to the space station. The details about this mission, however, have yet to be released.
Dazzling stars
The star cluster NGC 2203 dazzles here in an image by the NASA/ESA Hubble Space Telescope. The cluster contains a number of interesting features including stars about twice as massive as our sun. In studying this cluster, astronomers hope to better understand the timeline and lives of stars.
To Mars!
On Thursday (July 30), NASA's Mars 2020 Perseverance rover successfully launched from Florida aboard a United Launch Alliance Atlas V rocket. The mission has been smoothly continuing as it begins a seven-month journey to Mars' Jezero Crater, where it is set to land Feb. 18, 2021.
Swirling storms
NASA astronaut Bob Behnken snapped this incredible photo of Hurricane Hanna (now classified as a tropical storm) from the International Space Station on July 24. "Snapped this photo of the storm in the Gulf of Mexico on Friday as it was starting to have observable structure from @Space_Station. #HurricaneHanna," Behnken wrote on Twitter.
A comet and a space station
This striking photo showcases both comet NEOWISE and the International Space Station. This 10-second exposure image shows the space station's movement as a straight, yellow line and the comet as a diffuse, glowing object seemingly falling from the sky. Comet NEOWISE made its closest approach to Earth on July 23.
Training for the Dragon
NASA astronauts Megan McArthur and Shane Kimbrough can be seen in this image, which McArthur shared to Twitter, at SpaceX, practicing how to fly the company's Crew Dragon vehicle. The pair will make up half of the crew that will fly to the space station with SpaceX's Crew-2 mission, slated for 2021.
Join our Space Forums to keep talking space on the latest missions, night sky and more! And if you have a news tip, correction or comment, let us know at: community@space.com.