Dunes were spotted inside a Martian crater by NASA, a space station crew member performed a DJ set from orbit and Saturn looks a little eerie. These are just some of the top photos this week from Space.com.
Astronaut Habitat Testing
NASA is currently conducting a two-week ground test on Bigelow Aerospace's B330 habitat at the company's headquarters in North Las Vegas, Nevada. The agency is running these tests as part of its Next Space Technologies for Exploration Partnerships (NextSTEP) program, which awarded funding to Bigelow and five other companies in 2016 to create prototypes for habitats that could support astronauts traveling to distant destinations: the moon, Mars and other places farther away.
Full Story: NASA Puts Bigelow Aerospace's Giant Inflatable Space Habitat Prototype to the Test (Photos)
Space Station Over Jerusalem
The streak across the left side of the sky in this picture is not a ''shooting star,'' but rather it's a sequence of 52 single shots capturing the International Space Station travel over the skies of the ancient city of Jerusalem. Astrophotographer Miguel Claro explained that his space station path appears as a dashed line because the images were shot with his camera set to "sequence mode." This allowed Claro to combine multiple exposures rather than capturing a single long exposure.
Full Story: International Space Station Streaks Across Jerusalem's Night Sky (Photo)
Space DJ
European Space Agency astronaut Luca Parmitano performed the first-ever DJ set on the International Space Station, which was beamed down to an electronic music festival on a cruise ship on Aug. 13. Before Parmitano's set began, the Expedition 60 crewmember greeted the audience on a screen as he floated in the microgravity environment on the space station.
Full Story: First DJ in Space! Italian Astronaut Spins 'Out of This World' Set in Orbit
All About STEVE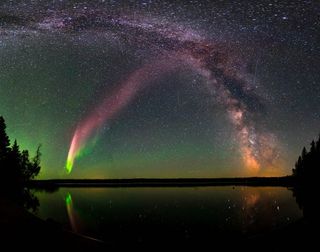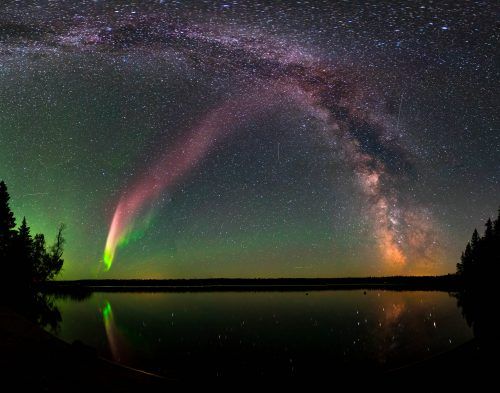 This composite image shows STEVE alongside the Milky Way over Childs Lake, Manitoba, Canada. This past summer, a research team confirmed that, despite its aurora-like appearance, the celestial phenomenon known as STEVE isn't a type of aurora. STEVE, which is an abbreviation for Strong Thermal Emissions Velocity Enhancement, was first discovered in 2016 and is something entirely unique. Some of its key differences with the more-familiar northern and southern lights are that it has mauve hues and is visible from latitudes much farther south than auroras usually are.
Full Story: It's Official: The Strange, Aurora-Like STEVE Is a Completely Unique Celestial Phenomenon
Spaceflyer Works on Cement Experiment
Cement in off-Earth habitats could be a solution to combat dangerous exposure to cosmic radiation that future astronauts could face on long-duration voyages to places like the moon or Mars. A study has been looking into how cement can form in space, and in this NASA image, European Space Agency astronaut Alexander Gerst works on the Microgravity Investigation of Cement Solidification project (MICS) aboard the International Space Station.
Full Story: Astronauts Make First Cement in Space to Support Future Martian Habitats
The Large Magellanic Cloud
The Large Magellanic Cloud (LMC), one of the Milky Way's closest galactic neighbors, gets a new close-up in this image from the European Southern Observatory's VISTA telescope, located at the Paranal Observatory in Chile. VISTA, which stands for the Visible and Infrared Survey Telescope for Astronomy, has been studying this dwarf galaxy and its smaller galactic sibling, the Small Magellanic Cloud (SMC), for the past decade to image the two galaxies in unprecedented detail. The LMC is located about 163,000 light-years away from Earth, while the SMC is slightly farther away at a distance of 200,000 light-years. Both are satellite galaxies of the Milky Way. — Hanneke Weitering
An Eerie 'Eye' on Saturn
Saturn's south pole looks a bit unsettling in this infrared view from NASA's Cassini spacecraft. At the center of a 5,000-mile-wide (8,000 kilometers) storm is an eerie red "eye" that looks similar to the eye of a hurricane on Earth. However, this strange vortex doesn't behave in the same way as our Earthly hurricanes, with its cloudy rings rising 20 to 45 miles (30-75 km) above the storm's center. Cassini captured this view from Saturn's orbit in 2006, and citizen scientist Kevin Gill reprocessed it using near-infrared filtered images. — Hanneke Weitering
9/11 Seen from Space
After the Sept. 11 terror attack on New York City 18 years ago this week, the United States Geological Survey's (USGS) Landsat 7 satellite captured this view of the aftermath from space. In this image, acquired by the satellite's Enhanced Thematic Mapper Plus (ETM+) instrument on Sept. 12, 2001, a plume of smoke is seen rising from lower Manhattan, where the World Trade Center was destroyed. You can see more satellite and astronaut photos of the plume from space here. — Hanneke Weitering
Hubble Eyes a Small Galactic Neighbor
This shimmering swarm of stars, captured by the Hubble Space Telescope, is an irregular dwarf galaxy named UGC 685. While its shape may be difficult to discern at first glance, UGC 685 is an unbarred spiral galaxy. It is located about 15 million light-years away from Earth in the constellation Pisces. — Hanneke Weitering
Dunes in Martian Craters
When NASA's Mars Reconnaissance Orbiter flew over Schroeter Crater on the Red Planet, it captured views of some interesting smaller craters within the crater's floor. The two impact craters shown here are located inside Schroeter Crater, which is about 190 miles (300 kilometers) wide, and they contain some intricate dune structures on their own crater floors. These Martian dunes were shaped by wind, much in the same way that dunes form on Earth. — Hanneke Weitering