Spacewalkers Prime New ISS Solar Arrays for Deployment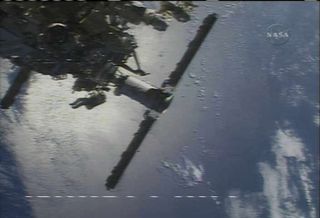 (Image credit: NASA TV.)
HOUSTON - The first new addition to the International SpaceStation (ISS) in more than three years is safely attached to the orbitallaboratory thanks to two spacewalking astronauts and some precision robotic armwork.
Atlantis shuttle astronauts JosephTanner and Heidemarie Stefanyshyn-Piperoutfitted the space station's new $372million truss segments and solar arrays with vital power and data cablesduring the first of threespacewalks of NASA's STS-115 mission.
"Let's get this show going," Tannersaid to kick off the six-hour, 26-minute spacewalk.
The successful spacewalk marks theend of a long wait for the station's new Port3/Port 4 (P3/P4) trusses, which were delivered to NASA's Kennedy Space Center spaceport in 2000. Slated to launchin early 2003, the segments and their new solar arrays were delayed followingthe Columbia accident thatyear, station managers said.
"It's kind of like seeing your kidsgrow up," Kirk Shireman, NASA's deputy space stationmanager, said of the 45.3-foot (13-meter) integrated P3/P4 segment Monday."We've been babying it and protecting it and improving it."
NASA plans 14 more shuttle missionsto complete construction of the ISS by 2010, when the shuttles will be retired.
Always ahead of schedule, Tanner andStefanyshyn-Piper appeared to breeze through theirorbital construction tasks, ultimately completing their work early enough toget a head start on other truss chores slated for their STS-115 crewmates DanielBurbank and StevenMacLean on Wednesday.
Only an errant spring, bolt andwasher, which escaped from Tanner as he removed a launch lock from trussequipment, appeared to mar the spacewalk.
"It was breezing across the surfaceof structure," said Tanner of bolt and spring to mission controllers, who willtrack the lost items to make sure they don't pose a threat to station hardware."I suspect this might happen again...those springs are pretty nippy."
Swift spacewalkers
Tuesday's ISS construction workbegan even before Tanner and Stefanyshyn-Piperstepped outside the station's Quest airlock at 5:17 a.m. EDT (0917 GMT).
The two spacewalkers waitedpatiently inside the airlock as MacLean and ISS Expedition 13flight engineer JeffreyWilliams maneuvered the 35,000-pound (15,875-kilogram) P3/P4truss segments to a berth at the end of the station's Port 1 (P1) truss.
The connections between the twotrusses were never tested together on Earth, but three of four motorized boltsflawlessly mated the space station pieces in place, clearing Tanner and Stefanyshyn-Piper to begin their spacewalk. A fourth boltwas also driven in as planned.
"Look at that sunrise coming, Heide," said Tanner, who made his sixth spacewalk duringtoday's work.
"Oh wow," replied Stefanyshyn-Piper, who made her spacewalk debut today. "That'spretty."
Tanner connected a series of powerand data cables to support the P3/P4 electronics, and then joined Stefanyshyn-Piper to unlock and position the boxes andcylindrical canisters containing the folded up solar arrays and their pop-upmasts.
The solar arrays are scheduled to beunfurled on Thursday.
Tanner and Stefanyshyn-Piperalso removed restraints and primed motors to drive the SolarAlpha Rotary Joint (SARJ), a wheel-like joint that will rotate the massiveP4 truss - and future segments - 360 degrees so their solar arrays can trackthe Sun.
"I'd just like to thank everyone formy first EVA," Stefanyshyn-Piper said of today'sspacewalk. "It was great."
ISS spacecraft communicator and NASAastronaut Pam Melroy told the spacewalkers that they"did a phenomenal job and set the bar amazingly high for the rest of assembly."
More to come
Shireman told SPACE.com that he andhis team won't rest easy until after the solar arrays are unfurled to theirfull 240-foot (73-meter) wingspan on Thursday.
In 2000, when Tanner and NASAastronaut Carlos Noriega helped install thefirst U.S. power plant at the ISS during their STS-97mission, the solar panels stuck together as they unfolded due to aphenomenon later dubbed "stiction." Engineers found that they could work aroundthe glitch by deploying the solar arrays in stages using a high tension mode,which allows the panels to warm up and avoid sticking to one another.
During today's spacewalk, missioncontrollers radioed the STS-115 crew to say that extra inspectionsof their shuttle Atlantis' heat shield willnot be required while they are docked at the ISS. The decision, announcedlate Monday here at NASA's Johnson Space Center, clears the way from Wednesday'sspacewalk by Burbank and MacLean.
"That's wonderful, that means we'vegot a good vehicle," Tanner said, while he and Stefanyshyn-Piperworked 218 statute miles (350 kilometers) above Earth.
Mission controllers woke the STS-115crew at 11:15 p.m. EDT Monday night (0315 Sept. 12 GMT) to the sound ofUkrainian song chosen for Stefanyshyn-Piper, whosefather is from Ukraine.
"It was written by Taras Shevchenko, a Ukrainianpoet, and he writes to remind everyone to learn and to read as much as you can,and to teach others and learn from others," Stefanyshyn-Pipersaid. "And I think being up here on the ISS, that's exactly what we're doing."
Today's spacewalk marked the 70th tosupport the ISS, the 42nd staged from the outpost itself, and the 23rd tooriginate from the U.S.-built Quest airlock.
Gallery: Prepping Atlantis
Complete Space Shuttle Mission Coverage
NASA's STS-115: Shuttle Atlantis to Jump Start ISS Construction
The Great Space Quiz: Space Shuttle Countdown
Complete Coverage: ISS Expedition 13
Get the Space.com Newsletter
Breaking space news, the latest updates on rocket launches, skywatching events and more!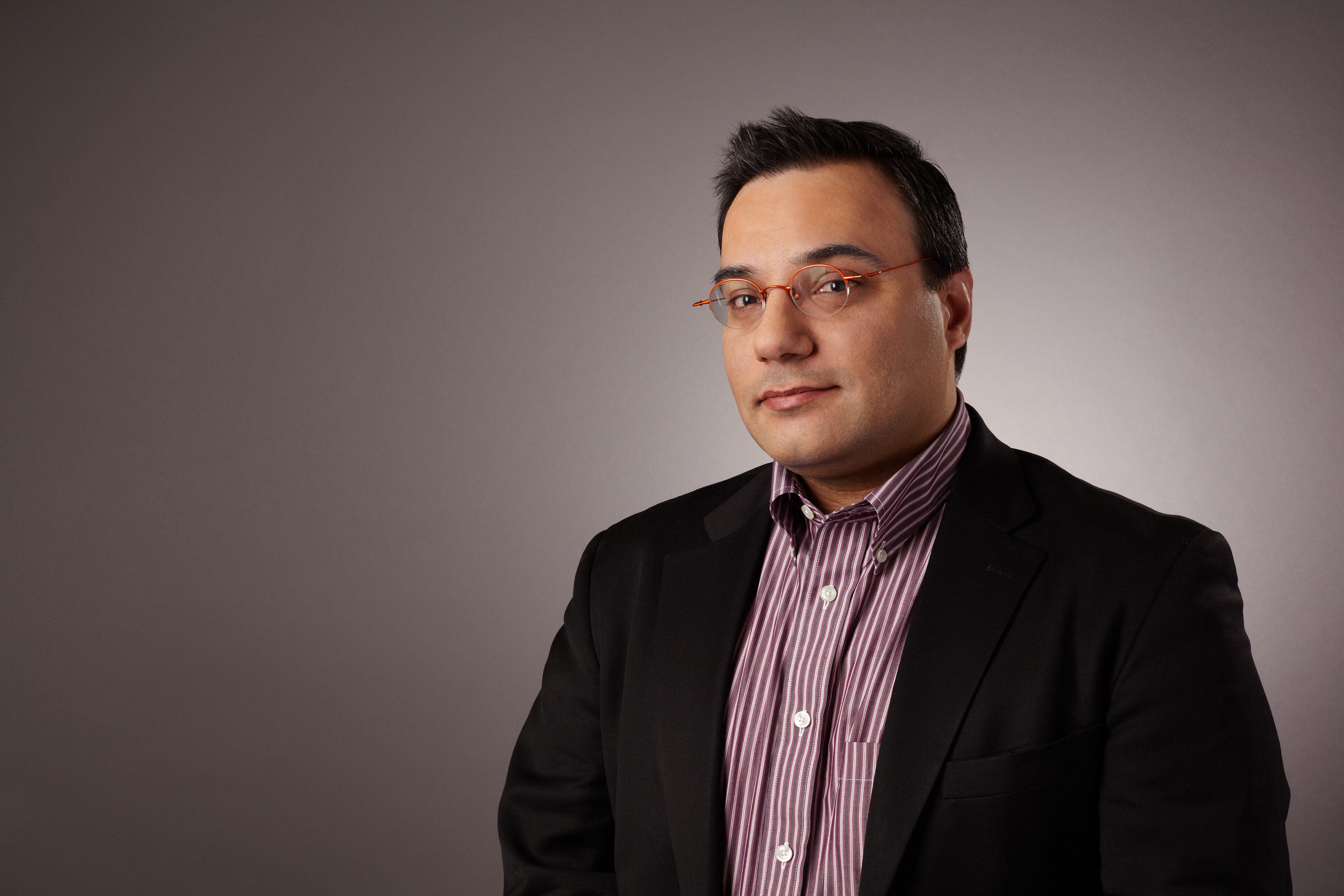 Tariq is the Editor-in-Chief of Space.com and joined the team in 2001, first as an intern and staff writer, and later as an editor. He covers human spaceflight, exploration and space science, as well as skywatching and entertainment. He became Space.com's Managing Editor in 2009 and Editor-in-Chief in 2019. Before joining Space.com, Tariq was a staff reporter for The Los Angeles Times covering education and city beats in La Habra, Fullerton and Huntington Beach. In October 2022, Tariq received the Harry Kolcum Award for excellence in space reporting from the National Space Club Florida Committee. He is also an Eagle Scout (yes, he has the Space Exploration merit badge) and went to Space Camp four times as a kid and a fifth time as an adult. He has journalism degrees from the University of Southern California and New York University. You can find Tariq at Space.com and as the co-host to the This Week In Space podcast with space historian Rod Pyle on the TWiT network. To see his latest project, you can follow Tariq on Twitter @tariqjmalik.