Stephen Hawking biography: Theories, books & quotes
A brief history of theoretical physicist Stephen Hawking.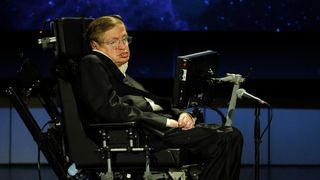 (Image credit: NASA)
Stephen Hawking is regarded as one of the most brilliant theoretical physicists in history.
His work on the origins and structure of the universe, from the Big Bang to black holes, revolutionized the field, while his best-selling books have appealed to readers who may not have Hawking's scientific background. Hawking died on March 14, 2018, at the age of 76.
Stephen Hawking was seen by many as the world's smartest person, though he never revealed his IQ score. When asked about his IQ score by a New York Times reporter he replied, "I have no idea, people who boast about their IQ are losers," according to the news site The Atlantic.
Related: 4 bizarre Stephen Hawking theories that turned out to be right (and 6 we're not sure about)
In this brief biography, we look at Hawking's education and career — ranging from his discoveries to the popular books he's written — and the disease that robbed him of mobility and speech.
The early life of Stephen Hawking
British cosmologist Stephen William Hawking was born in Oxford, England on Jan. 8, 1942 — 300 years to the day after the death of the astronomer Galileo Galilei. He attended University College, Oxford, where he studied physics, despite his father's urging to focus on medicine. Hawking went on to Cambridge to research cosmology, the study of the universe as a whole.
In early 1963, just shy of his 21st birthday, Hawking was diagnosed with motor neuron disease, more commonly known as Lou Gehrig's disease or amyotrophic lateral sclerosis (ALS). Doctors told Hawkings that he would likely not survive more than two years with the disease. Completing his doctorate did not appear likely, but Hawking defied the odds. He also obtained his PhD in 1966 for his thesis entitled "Properties of expanding universes". In that same year, Hawking also won the prestigious Adams Prize for his essay entitled "Singularities and the Geometry of Space-Time".
From then Hawking went on to forge new roads into the understanding of the universe in the decades since.
As the disease spread, Hawking became less mobile and began using a wheelchair. Talking grew more challenging and, in 1985, an emergency tracheotomy caused his total loss of speech. A speech-generating device constructed at Cambridge, combined with a software program, served as his electronic voice, allowing Hawking to select his words by moving the muscles in his cheek.
Just before his diagnosis, Hawking met Jane Wilde, and the two were married in 1965. The couple had three children before separating in 1990. Hawking remarried in 1995 to Elaine Mason but divorced in 2006.
Stephen Hawking's greatest scientific achievements
Throughout his career, Hawking proposed several theories regarding astronomical anomalies, posed curious questions about the cosmos and enlightened the world about the origin of everything. Here are just some of the many milestones Hawking made in the name of science.
In 1970, Hawkings and fellow physicist and Oxford classmate, Roger Penrose, published a joint paper entitled "The singularities of gravitational collapse and cosmology". In this paper, Hawking and Penrose proposed a new theory of spacetime singularities — a breakdown in the fabric of the universe found in one of Hawking's later discoveries, the black hole. This early work not only challenged concepts in physics but also supported the concept of the Big Bang as the birth of the universe, as outlined in Albert Einstein's theory of general relativity in the 1940s.
Over the course of his career, Hawking studied the basic laws governing the universe. In 1974, Hawking published another paper called "Black hole explosions?", in which he outlined a theorem that united Einstein's theory of general relativity, with quantum theory — which explains the behavior of matter and energy on an atomic level. In this new paper, Hawking hypothesized that matter not only fell into the gravitational pull of black holes but that photons radiated from them — which has now been confirmed in laboratory experiments by the Technion-Israel Institute of Technology in Israel — aptly named "Hawking radiation".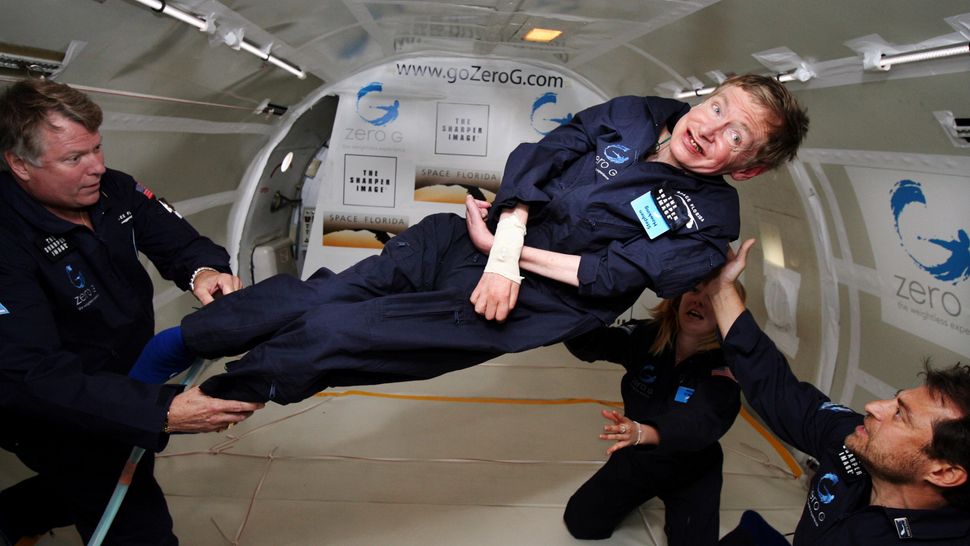 In 1974, Hawking was inducted into the Royal Society, a worldwide fellowship of scientists. Five years later, he was appointed Lucasian Professor of Mathematics at Cambridge, the most famous academic chair in the world (the second holder was Sir Isaac Newton, also a member of the Royal Society).
During the 1980s, Hawking turned his attention to the Big Bang and the uncertainties about the beginning of the universe. "Events before the Big Bang are simply not defined, because there's no way one could measure what happened at them. Since events before the Big Bang have no observational consequences, one may as well cut them out of the theory and say that time began at the Big Bang," he said during his lecture called The Beginning of Time. In 1983, Hawking, along with scientists James Harlte, published a paper outlining their "no-boundary proposal" for the universe. In their paper, Hawking and Hartle describe the shape of the universe as reminiscent of a shuttlecock — with the Big Bang at the narrowest point and the expanding universe emerging from it.
Related: Can we time travel? A theoretical physicist provides some answers
Books by Stephen Hawking
In the last three decades of Hawking's life, he not only continued to publish academic literature, but he also published several popular science books to share his theories of the history of the universe with the layperson. His most popular book "A Brief History of Time" (10th-anniversary edition: Bantam, 1998) was first published in 1988 and became an international bestseller. It has sold almost 10 million copies and has been translated into 40 different languages.
Hawking went on to write other nonfiction books aimed at non-scientists. These include "A Briefer History of Time," "The Universe in a Nutshell," "The Grand Design" and "On the Shoulders of Giants."
Along with his many successful books about the inner workings of the universe, Hawking also began a series of science fiction books called "George and the Big Bang", with his daughter Lucy Hawking in 2011. Aimed at middle school children, the series follows George's adventures as he travels through space.
Stephen Hawking's filmography
Hawking has made several television appearances, including a playing hologram of himself on "Star Trek: The Next Generation" and a cameo on the television show "Big Bang Theory." He has also voiced himself in several episodes of the animated series "Futurama" and "The Simpson". In 1997, PBS also presented an educational miniseries titled "Stephen Hawking's Universe," which probes the theories of the cosmologist.
In 2014, a movie based on Hawking's life was released. Called "The Theory of Everything," the film drew praise from Hawking, who said it made him reflect on his own life. "Although I'm severely disabled, I have been successful in my scientific work," Hawking wrote on Facebook in November 2014. "I travel widely and have been to Antarctica and Easter Island, down in a submarine and up on a zero-gravity flight. One day, I hope to go into space."
Related: The Theory of Everything: Searching for the universal rules of physics
Stephen Hawking's quotes and controversial statements
Hawking's quotes range from notable to poetic to controversial. Among them:
A list of Hawking quotes would be incomplete without mentioning some of his more controversial statements.
He frequently said that humans must leave Earth if we wished to survive.
He also said time travel should be possible, and that we should explore space for the romance of it.
"Time travel used to be thought of as just science fiction, but Einstein's general theory of relativity allows for the possibility that we could warp space-time so much that you could go off in a rocket and return before you set out. I was one of the first to write about the conditions under which this would be possible. I showed it would require matter with negative energy density, which may not be available. Other scientists took courage from my paper and wrote further papers on the subject," he told the new site Parade in 2010. "Science is not only a disciple of reason, but, also, one of romance and passion," he adds.
The theoretical physicist was also concerned that robots could not only have an impact on the economy but also mean doom for humanity.
"The automation of factories has already decimated jobs in traditional manufacturing, and the rise of artificial intelligence is likely to extend this job destruction deep into the middle classes, with only the most caring, creative or supervisory roles remaining," he wrote in a 2016 column in The Guardian.
"The development of full artificial intelligence could spell the end of the human race," he told the BBC in 2014. Hawking added, however, that AI developed to date has been helpful. It's more the self-replication potential that worries him. "It would take off on its own, and re-design itself at an ever-increasing rate. Humans, who are limited by slow biological evolution, couldn't compete, and would be superseded."
"The genie is out of the bottle. I fear that AI may replace humans altogether," Hawking told WIRED in November 2017.
An avowed atheist, Hawking also occasionally waded into the topic of religion.
Additional resources
For more information about Stephen Hawking, his theories and read through the many transcriptions of his influential lectures, check out his official website. You can also watch Hawking probe the origins of the cosmos in his extraordinary TED talk.
Bibliography
#5: Stephen Hawking's warning: Abandon earth-or face extinction. Big Think. (2010, July 27). https://bigthink.com/surprising-science/5-stephen-hawkings-warning-abandon-earth-or-face-extinction/
Beck, J. (2017, October 11). "people who boast about their IQ are losers." The Atlantic. https://www.theatlantic.com/science/archive/2017/10/trump-tillerson-iq-brag-boast-psychology-study/542544/
The beginning of time. Stephen Hawking. (n.d.-c). https://www.hawking.org.uk/in-words/lectures/the-beginning-of-time
Guardian News and Media. (2005, September 27). Interview: Stephen Hawking. The Guardian. https://www.theguardian.com/science/2005/sep/27/scienceandnature.highereducationprofile
Guardian News and Media. (2011a, May 15). Stephen Hawking: "there is no heaven; it's a Fairy story." The Guardian. https://www.theguardian.com/science/2011/may/15/stephen-hawking-interview-there-is-no-heaven
Guardian News and Media. (2011b, May 15). Stephen Hawking: "there is no heaven; it's a Fairy story." The Guardian. https://www.theguardian.com/science/2011/may/15/stephen-hawking-interview-there-is-no-heaven
Guardian News and Media. (2016, December 1). This is the most dangerous time for our planet | Stephen Hawking. The Guardian. https://www.theguardian.com/commentisfree/2016/dec/01/stephen-hawking-dangerous-time-planet-inequality
Hartle, J. B., & Hawking, S. W. (1983, December 15). Wave function of the universe. Physical Review D. https://journals.aps.org/prd/abstract/10.1103/PhysRevD.28.2960
Hawking radiation and the sonic black hole - technion - israel institute of technology. Technion. (2021, February 17). https://www.technion.ac.il/en/2021/02/hawking-radiation-and-the-sonic-black-hole/
Hawking, S. W. (1974, March 1). Black Hole Explosions?. Nature News. https://www.nature.com/articles/248030a0
Life in the universe. Stephen Hawking. (n.d.-a). https://www.hawking.org.uk/in-words/lectures/life-in-the-universe
Medeiros, J. (2017, November 28). Stephen Hawking: "I fear ai may replace humans altogether." WIRED UK. https://www.wired.co.uk/article/stephen-hawking-interview-alien-life-climate-change-donald-trump
Oxford Union Speech. Stephen Hawking. (n.d.-b). https://www.hawking.org.uk/in-words/speeches/speech-5
Pablo Jáuregui, Enviado especial Guía de Isora (Tenerife), & Chocolatillo. (2018, March 14). Stephen Hawking: "no hay ningún dios. soy ateo." ELMUNDO. https://www.elmundo.es/ciencia/2014/09/21/541dbc12ca474104078b4577.html
The singularities of gravitational collapse and cosmology. Royal Society Publishing. (1970, January 27). https://royalsocietypublishing.org/doi/10.1098/rspa.1970.0021
Hawking, S. W. (1966). Properties of expanding universes. https://doi.org/10.17863/CAM.11283
Get the Space.com Newsletter
Breaking space news, the latest updates on rocket launches, skywatching events and more!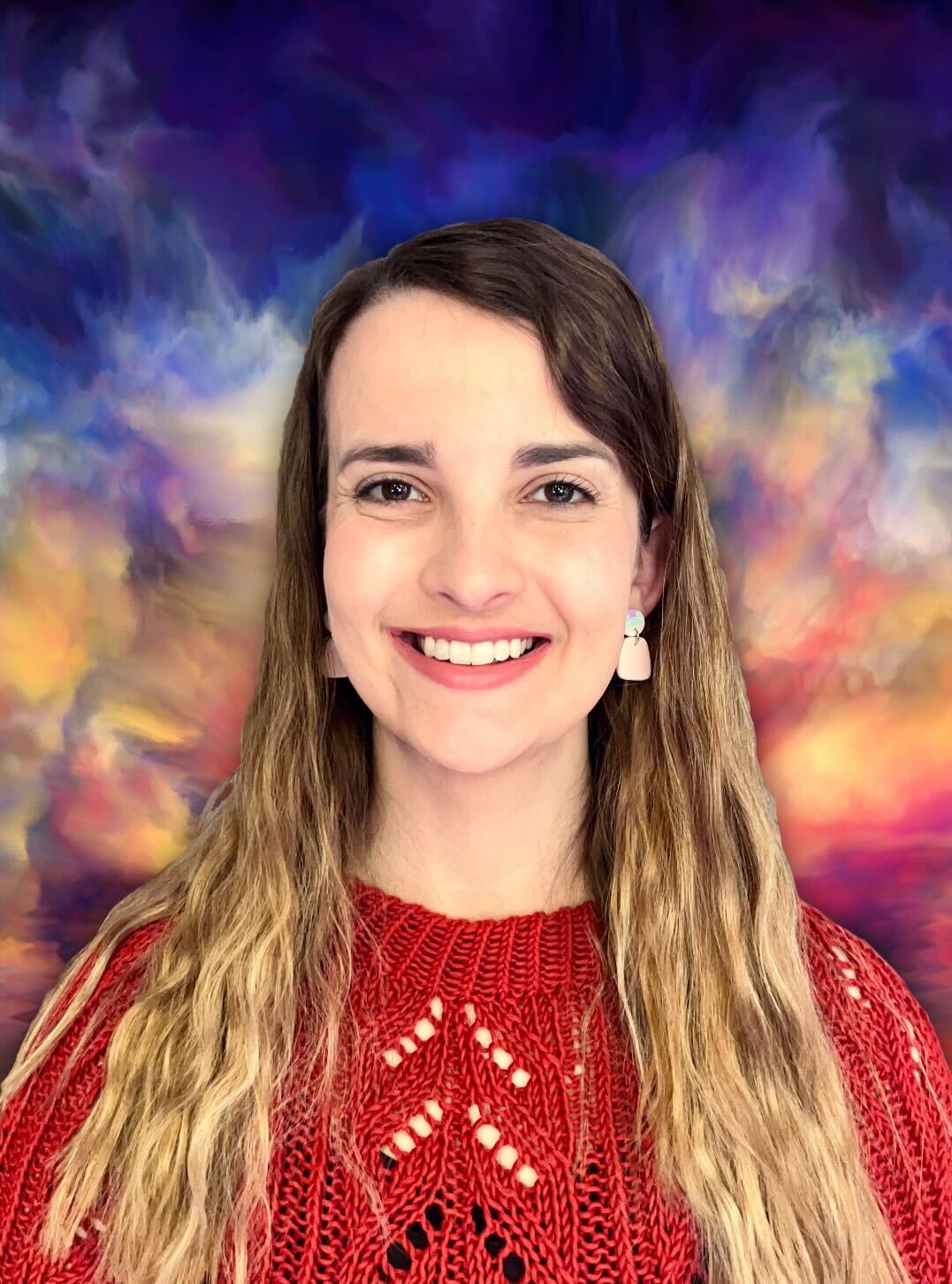 Daisy Dobrijevic joined Space.com in February 2022 having previously worked for our sister publication All About Space magazine as a staff writer. Before joining us, Daisy completed an editorial internship with the BBC Sky at Night Magazine and worked at the National Space Centre in Leicester, U.K., where she enjoyed communicating space science to the public. In 2021, Daisy completed a PhD in plant physiology and also holds a Master's in Environmental Science, she is currently based in Nottingham, U.K.