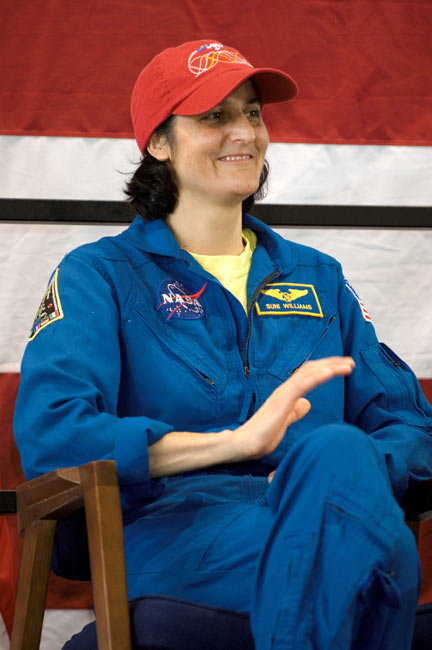 NASA astronaut Sunita Williams is readapting to life on Earth after a record-setting mission to the International Space Station (ISS) that raised the bar for female spaceflyers.
Williams, 41, spent nearly 195 days - a world record for female astronauts - in space and served on two ISS crews during her mission to the orbital laboratory. She returned to Earth on June 22 alongside NASA's STS-117 astronaut crew aboard shuttle Atlantis after its successful construction flight to the ISS.
"I think I'm fit as a fiddle," Williams told reporters of her readaptation to gravity's pull during a recent series of NASA TV interviews, adding that her arms and legs did feel a bit heavy at first. "The first 24 hours to 48 hours was a little tough coming back and feeling the weight of gravity."
Williams said she spent her first week back on Earth exercising to rebuild the muscle mass she lost during the more than six months of weightlessness. She was also eager to spend time with her family, husband Michael and beloved Jack Russell terrier Gorby, whom the astronaut mentioned often during her spaceflight.
"I had a great reunion with them," Williams said of her return home to Houston on June 23. "That night we had a big pizza, which is something that I was looking forward to."
A native of Needham, Massachusetts and a commander in the U.S. Navy, Williams first launched into space in December 2006 as part of the shuttle Discovery's STS-116 astronaut crew. But unlike her shuttle crewmates, Williams stayed behind to join its then-Expedition 14 crew. She stayed aboard the station again in April, as the orbital laboratory changed over to its Expedition 15 crew, before returning to Earth last month.
"It's a blast, it?s so much fun and I'm going to miss it," Williams said life aboard the ISS, where weightlessness felt like combination of flying and swimming. "It's a completely different human experience."
At just over six months in length, Williams' flight set a new endurance record as the longest duration spaceflight by a female astronaut, though she has repeatedly said she was just in the right place at the right time.
The previous record of just over 188 days was held by fellow NASA astronaut Shannon Lucid, who set that benchmark during a 1996 mission to Russia's Space Station Mir. ?NASA astronaut Michael Lopez-Alegria, Williams' Expedition 14 commander, holds the overall U.S. title for longest spaceflight with 215 days, though the world record of 438 days rests firmly in the hands of Russian cosmonaut Valery Polyakov after his 1994-1995 flight.
Williams also ran the Boston marathon from space and performed four spacewalks dedicated to overhauling the station's power and cooling systems during her mission. With 29 hours and 17 minutes of spacewalking time, she also holds the title of most experienced female spacewalker.
"Without a doubt, the spacewalks were just incredible," Williams said. "When you're outside and you're in your own spacecraft, your spacesuit, and the only thing between you and space is your visor. That is pretty spectacular and you can look out into the universe, then back at our planet."
Near the end of the spaceflight, while Atlantis and its STS-117 crew were docked at the ISS, Williams also helped her Expedition 15 crewmates Fyodor Yurchikhin and Oleg Kotov work through a major computer systems glitch in the station's Russian segment. The successful repair, she said during the mission, is proof that space is a challenging and hostile environment for human exploration.
"We take spaceflight for granted and it's still pretty darned dangerous," Williams told reporters during the joint mission, adding that the station is a ship of science and not merely a space tourist destination. "It's a serious place and we're doing serious business and serious science up here."
While Atlantis' successful landing ended the first career spaceflight for Williams, she hopes it won't be her last. But, she said, there are many other astronauts still in line for NASA's remaining shuttle flights to complete the ISS before the orbiter fleet is retired in 2010.
"It's just such a wonderful place to live and work," Williams said of the ISS after the spaceflight. "I really do hope to either go back to the space station or?who knows, the Crew Exploration Vehicle hopefully will be going back to the Moon before long."
VIDEO: Meet the Crew of Expedition 15

SPACE.com Video Interplayer: Space Station Power Up with STS-117

Complete Shuttle Mission Coverage