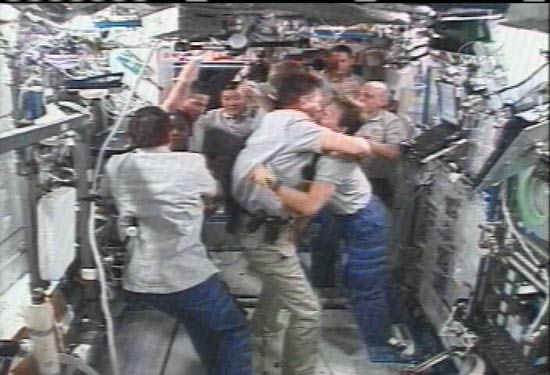 HOUSTON - Seven astronauts climbed into the space shuttle Discovery today, bidding farewell to the International Space Station (ISS) in a tear-jerking ceremony.
The STS-120 space shuttle brought a bus-sized room, spare parts and a replacement for space station crewmember Clay Anderson. Discovery undocks tomorrow around 5:32 a.m. EST (1032 GMT), following 12 days latched onto the orbital laboratory.
Just before astronauts sealed hatches between Discovery and the ISS today around 3:25 p.m. EST (2025 GMT), the two crews exchanged zero-gravity hugs and goodbyes to the music of Collective Soul's "Reunion."
"Our crews have matched so well," said shuttle commander Pamela Melroy, who made history by being one of the first two female commanders in space with ISS commander Peggy Whitson. "There's been a lot of laughter, a lot of fun and a lot of hard work during the past few docked days. We're family now."
Whitson was too choked up to share words, but Mission Control here at Johnson Space Center (JSC) took some time to thank the astronauts.
"It was an honor and a privilege to watch you guys do your work," said Derek Hassman, ISS lead flight director. "What an unbelievably successful mission."
Highlighting a risky Saturday spacewalk to mend a torn solar wing at a far end of the space station, lead shuttle flight director Rick LaBrode agreed that the astronauts' mission at the orbital laboratory has been a huge success.
"The crew and the ground teams are really on a major high," LaBrode said of yesterday's successful repair, which had spacewalkers Scott Parazynski and Doug Wheelock repairing a torn 4B solar array wing on the Port 6 truss. "It was definitely something really special."
Emotional crew change
LaBrode said astronauts were busy rounding up supplies today. Just prior to closing the hatches, however, two items were left on the list to exchange: astronauts Clay Anderson and Dan Tani.
NASA spokespeople said that, on the list of items to swap between Discovery and the ISS, item number 900 was astronaut Clay Anderson, set to fly home tomorrow, while item number 901 was astronaut Dan Tani, who will remain as a member of the Expedition 16 space station crew.
Holding back a flood tears that eventually came out, Anderson thanked NASA's ground teams for their support--to which mission controllers applauded.
"You all kept me safe, showed me unwavering patience and professionalism, and you've all overlooked my shortcomings," Anderson said. "Thank you, you are indeed the best and the brightest that our world has to offer."
Anderson arrived as a rookie to the space station in June 2007, replacing record-breaking astronaut Sunita Williams as a member of the Expedition 15 crew. The Nebraska native ventured outside the space station on three spacewalks during his 5-month stay at the ISS--and gave NASA plenty of laughs with on-orbit antics.
Just before leaving his temporary home in space, Anderson read off the final members of his list of 597 "famous towns in Nebraska." "It's never too late finish," he said before ending list with his hometown of Ashland.
"Thanks to all you folks," Anderson said to mission controllers today from space. "It's my hope and my prayer that the station will get bigger and the science will get bigger and better a lot faster than we've experienced so far."
Prior to departing the ISS, Anderson welcomed Tani onto the space station by playing "Danny Boy" by Bing Crosby. Crewmembers swayed in time with the classic tune.
"Welcome aboard, Dan-o," Anderson said to Tani, giving him a bear hug.
Tani told SPACE.com in September that he expects to live on the space station until mid-December, when he will switch place with French astronaut Leopold Eyharts of space shuttle Atlantis' STS-122 crew.
"If they hold the schedule, I come home for Christmas and that's a big bonus," Tani said, noting that space station crewmembers generally stay longer than scheduled due to oft-delayed shuttle launches.
As the newest member of the Expedition 16 crew, Tani performed a spacewalk with Scott Parazynski just one day after arriving to add the new Harmony module.
Orbital expansion
The 31,500-pound (14,288-kilogram) module, also known as Node 2, added about 2,666 cubic feet (75.4 cubic meters) to the space station. As future space shuttle missions ferry up new European and Japanese modules, the node will serve as a vital supply-delivering hub.
The STS-122 mission will deliver the European Space Agency's (ESA) Columbus module, which they'll use to conduct zero-gravity science experiments.
LaBrode said Discovery hauled up 33,834 pounds (15,347 kilograms) of equipment and supplies--including Harmony and a spare electronics box--and took 2,020 pounds (916 kilograms) of supplies home.
"All in all we added, to the station, 31,814 pounds," LaBrode said. "Pretty impressive."
After undocking tomorrow, Discovery's pilot and commander will perform a 360-degree fly-around of the space station at about 6:01 a.m. EST (1101 GMT). The maneuver is used to document the construction progress and safety of the space station.
'Ok' for inspection
Later on, astronauts will scope out the underbelly of the space shuttle with its orbital boom sensor system, or OBSS, that was used to transport Parazynski to the torn solar wing during Saturday's spacewalk.
Mission managers feared that the extension boom's more than nine hours of unheated use in the brutal cold of space might damage electronics. LaBrode said the OBSS experienced errors in one of four sensor packages, but could not say if the boom's abnormal use caused the glitch.
"This is a symptom they've seen before," LaBrode said of NASA engineers' experience with the problem. "All of the sensors that are required for tomorrow's late inspection are fully operational."
Just after closing the hatches between Discovery and the ISS, Anderson noted a ding in one of the shuttle's thick windows caused by a micrometeorite. Mission controllers told Anderson to send down images of the strike area.
NASA expects the wayward space shuttle crew to touch down at Kennedy Space Center on Wednesday, Nov. 7, giving the crew 16 days in the zero-gravity environment of space. It will be the 34th complete mission for Discovery.
SPACE.com staff writer Tariq Malik contributed to this story.
SPACE.com Video Interplayer: Delivering 'Harmony' with NASA's STS-120 Mission

Complete Space Shuttle Mission Coverage