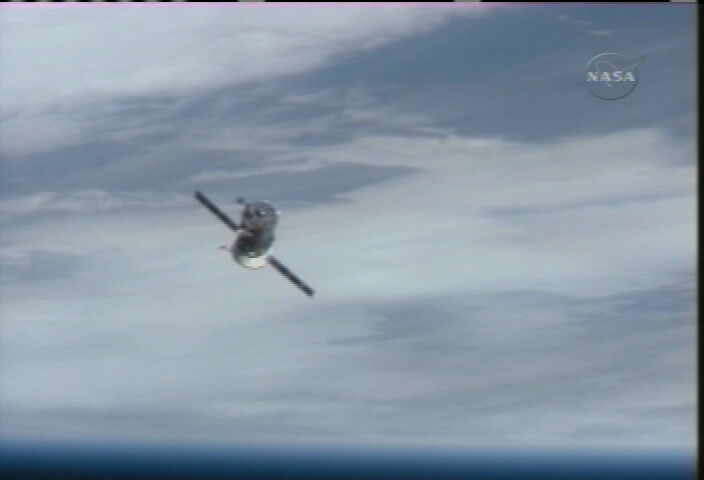 CAPE CANAVERAL, Fla. - An unmanned Russian cargo ship left a berth at the International Space Station (ISS) to destroy itself late Monday, clearing a docking port for three spaceflyers now bound for the orbital laboratory.
Filled with trash and other unneeded equipment, the Progress 21 supply ship slipped away from its aft docking port of the space station's Zvezda service module at about 8:30 p.m. EDT (0030 Sept. 19 GMT) while the outpost's three-astronaut crew Expedition 13 crew slumbered - an ISS first - and fired its thrusters at the behest of Russia's Mission Control.
Progress 21 and the ISS were flying more than 200 miles (321 kilometers) above Eastern Asia when the two spacecraft parted ways, NASA commentator Nicole Cloutier-Lemasters said.
The space station's Expedition 13 crew of Pavel Vinogradov, Jeffrey Williams and Thomas Reiter were taking their well-earned night's rest as Progress departed after a busy day highlighted by a mild toxic spill, a smoke-like odor and the station's second-ever official spacecraft emergency.
Progress 21's orbital departure clears the station's Zvezda docking port for the Wednesday arrival of a new Soyuz TMA-9 spacecraft carrying two new ISS astronauts and the world's first female space tourist.
Aboard the Soyuz, which launched earlier today at 12:09 a.m. EDT (0409 GMT) are ISS Expedition 14 commander Michael Lopez-Alegria and flight engineer Mikhail Tyurin, who will relieve Vinogradov and Williams. Riding along with the Expedition 14 crew is U.S. entrepreneur Anousheh Ansari, a paying ISS visitor whose trip results from a deal with Russia's Federal Space Agency and the Virginia-based firm Space Adventures.
Ansari and the Expedition 14 crew are expected to dock at the ISS at about 1:24 a.m. EDT (0524 GMT) Wednesday.
Progress 21 launched toward the ISS laden with fresh food, supplies and equipment on April 24 and arrived at the station two days later. Its undocking marks the second spacecraft departure in as many days at the ISS.
NASA's space shuttle Atlantis and its six-astronaut STS-115 crew left the ISS at about 8:50 a.m. EDT (1250 GMT) Sunday after successfully delivering a $372 million set of new trusses and solar arrays to the station to resume construction of the unfinished orbital laboratory.
Atlantis' STS-115 astronauts are now slated to return to Earth at 5:59 a.m. EDT (0959 GMT) Wednesday, less than five hours after the Ansari and the Expedition 14 expect to arrive at the ISS.
Cloutier-Lemasters said the expendable Progress 21 vehicle is expected to reenter the Earth's atmosphere at about 12:02 a.m. EDT on Tuesday on a course to burn up over the Pacific Ocean.
New Gallery: STS-115 Spacewalks
Gallery: STS-115: Atlantis's Launch Day
Complete Space Shuttle Mission Coverage
NASA's STS-115: Shuttle Atlantis to Jump Start ISS Construction
The Great Space Quiz: Space Shuttle Countdown
Complete Coverage: ISS Expedition 13