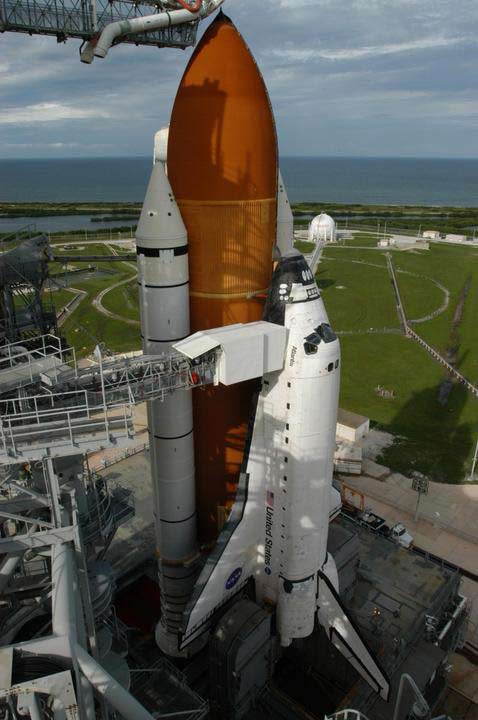 CAPE CANAVERAL, Fla. - After a few false starts, NASA's shuttle Atlantis stands poised to launch six astronauts and a hefty addition towards the International Space Station (ISS) today to jump start construction of the orbital laboratory.
With veteran shuttle flyer Brent Jett in command, Atlantis' STS-115 astronaut crew is set to rocket toward the ISS at 12:28:46 p.m. EDT (1628:46 GMT) from NASA's Pad 39B launch site here at the Kennedy Space Center (KSC). The shuttle crew and flight controllers have spent more than four years preparing to deliver a $371.8-million set of new trusses and solar arrays to the ISS, only to be frustrated by additional weather delays last week.
"These guys deserve a break with the weather," Jett said Saturday of the shuttle workers and flight controllers. "We hope they see Atlantis leave the pad on Wednesday."
Current forecasts predict a 70 percent chance of favorable weather conditions for today's planned space shot, with only clouds and isolated showers presenting a threat at launch time. NASA has two more opportunities to launch Atlantis this week - Thursday and Friday - before standing down to avoid conflicts with an upcoming Russian Soyuz launch carrying a new crew to the ISS on Sept. 18.
Joining Jett on the STS-115 spaceflight are shuttle pilot Chris Ferguson and mission specialists Joseph Tanner, Daniel Burbank, Heidemarie Stefanyshyn-Piper and Steven MacLean of the Canadian Space Agency. Their mission is NASA's third since the 2003 Columbia accident and the first dedicated to ISS construction since late 2002.
"I think we're all excited, of course," NASA launch integration manager LeRoy Cain said Tuesday. "We've worked so hard to get to this point."
Originally set to launch on Aug. 27, Atlantis' STS-115 mission was delayed first due to a launch pad lightning strike, which prompted subsequent systems checks to ensure the shuttle and its boosters were unscathed from the 100,000-amp bolt. Flight controllers then hauled Atlantis off its launch pad to shield it from what was then Tropical Storm Ernesto.
But they stopped in mid-journey to NASA's massive Vehicle Assembly Building as Ernesto weakened, and returned to Pad 39B in an unprecedented move to preserve this week's launch attempt.
"As it's been said, the first few inches are the hardest part of the whole flight," Cain said. "And that's really true to a large extent. I'm excited, I think the whole team is excited."
Milestone mission
Atlantis' STS-115 crew is hauling the 17.5-ton Port 3/Port 4 (P3/P4) truss segments to the ISS along with a pair of expansive solar arrays to build up the outpost's power grid.
The mission is first of at least 15 planned shuttle flights by NASA and its international partners to complete the ISS by September 2010, when the space agency plans to retire its remaining three orbiters.
The mission also marks a return to the $100 billion station's construction after the two test missions that followed the loss of Columbia and its seven-astronaut crew. A chunk of foam insulation from Columbia's external tank tore free during launch and critically damaged the shuttle's heat shield, leading to its destruction upon reentry.
Since then, NASA has made incremental improvements to shuttle fuel tanks to reduce the amount of foam shedding at liftoff, and continues to seek additional avenues - such as changes to 16 foam-covered brackets known as ice frost ramps - for modification.
"I'm excited that after a substantial period of time of redesign and rethinking and retooling and preparation, we are into the heart of the [ISS] assembly," NASA space shuttle program manager Wayne Hale said this week. "We have certainly got our fingers crossed that it's going to go very well and we've made plans that cover every possible contingency that we can think of."
Three spacewalks are planned during Atlantis' 11-day STS-115 mission to install the new portside trusses and deploy the solar panels, which will have a wingspan of about 240 feet once unfurled.
For Maclean - one of four STS-115 spacewalkers who plans on being the first Canadian to actually wield the space station's Canadian-built robotic arm - that mission begins at 8:38 a.m. EDT (1238 GMT) today, when he and his crewmates walk out of their quarters and head to the launch pad.
"For me, walking out to the pad...will be much like walking into an Olympic stadium for your athletic events," the Canadian astronaut said. "Many countries will be participating in the spirit of international cooperation, and our family and our friends, who believe in what we do, will be in the front seats."
MacLean has repeatedly said that the busy STS-115 mission will not only be busy, but eye-catching when he and his crewmates deploy the new ISS solar arrays.
"It's complex what we do, it's not easy," Maclean said. "I promise you we'll bring home a gold medal."
NASA will broadcast Atlantis' launch countdown and planned liftoff on NASA TV beginning at about 6:30 a.m. EDT (1030 GMT). You are invited to follow the countdown's progress using SPACE.com's feed, which is available by clicking here.
Gallery: Prepping Atlantis
Complete Space Shuttle Mission Coverage
NASA's STS-115: Shuttle Atlantis to Jump Start ISS Construction
The Great Space Quiz: Space Shuttle Countdown
Complete Coverage: ISS Expedition 13