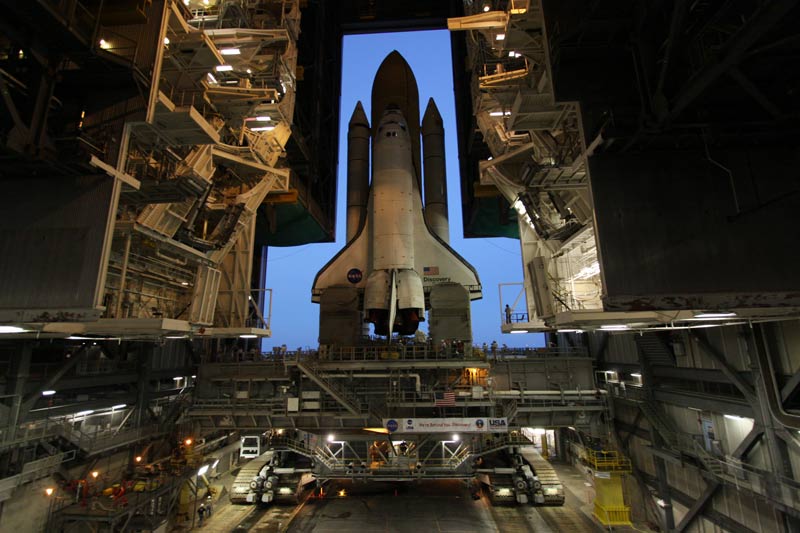 NASA has invited Santa Claus to drop by Kennedy Space Center this Christmas Eve to check out the agency's three space shuttles as they're prepared for their final missions.
St. Nick will doubtless be busy tonight (Dec. 24), but he's got clearance if he wants to take a tour. In an official announcement, NASA granted Santa permission to fly over various Kennedy sites — including the Shuttle Landing Facility, the Vehicle Assembly Building (VAB) and orbiter processing facilities (OPF) — where the shuttles Discovery, Endeavour and Atlantis are being readied for launch.
The cavernous VAB is considered to be one of the few structures outside the North Pole big enough to contain Santa's giant sack of toys, NASA officials said. Reaching 525 feet into the Florida sky and covering eight acres, the building could hold more than 129 million typical toys.
Inside the VAB, Discovery's external fuel tank is being evaluated to make sure there are no cracks in its 21-foot-long (6.4-meter-long) support beams, called stringers, before the shuttle launches on the STS-133 mission to the International Space Station, NASA officials said.
Discovery was supposed to launch this past November, but the detection of cracks in the stringers pushed its mission back. As it stands now, the shuttle will lift off no earlier than Feb. 3, 2011.
Santa is also welcome to take a look at a human-like robot called Robonaut 2 that's going up with Discovery, officials said. Robonaut 2 is equipped with human-like hands and arms to help astronauts with tasks aboard the orbiting laboratory.
When Santa's done with Discovery, he can drop by OPF-2 to get an up-close view of Endeavour, which is being readied for NASA's final scheduled shuttle mission, STS-134. STS-134 is slated to launch in April 2011. [INFOGRAPHIC: NASA's Space Shuttle From Top to Bottom]
As the owner of a prolific workshop, St. Nick is likely interested in high-tech gadgets. So he may want to stop by Kennedy's Space Station Processing Facility to check out Endeavour's scientific payload, the Alpha Magnetic Spectrometer, NASA officials said.
The AMS will be attached to the outside of the space station. From there, it will measure high-energy particles called cosmic rays as they streak through space, researchers have said. AMS will help researchers hunt for antimatter galaxies and elusive dark matter, which makes up about 80 percent of all matter in the universe.
Finally, Santa can take a look at the shuttle Atlantis, which just got its three main engines installed this month, NASA officials said. Atlantis is being prepped as a possible rescue vehicle for Endeavour's flight, should anything go wrong.
It's also possible that Atlantis could fly a mission of its own to the space station sometime in the summer of 2011. If it goes up, that mission — STS-135 — will be the last-ever flight of NASA's space shuttle program.
There's no word yet on whether Santa will take NASA up on its generous offer. But his plans should become clear soon enough. As it's done for more than half a century, the North American Aerospace Defense Command, or NORAD, is tracking the jolly old elf's movements this Christmas Eve.
NORAD will bring much of its high-tech hardware — which usually scans the heavens for potentially threatening missiles and aircraft — to the Santa-tracking effort. Though the skies are vast, there's not much room for a big guy in a red suit and his nine flying reindeer to hide anymore.
Gallery: Building Space Shuttle Discovery