If you want to get on top of your total solar eclipse planning, now is the time to find the best viewing locations for the ultimate eclipse experience.
Between Aug. 25 and Sept. 8 at 3:20 p.m. ET, the sun will be positioned approximately in the same location in the sky as during the total eclipse on April 8, 2024, according to the Rochester Museum & Science Center.
So get out and get scouting for the perfect spot! You want to make sure you have a nice comfortable location to view the eclipse, away from busy roads and tall buildings that could hinder the experience. And if there's a nice spot to place your lawn chair while waiting for the eclipse, well, then that's all the better.
If you want to get an idea of what the eclipse will look like with the aid of augmented reality, there are a couple of helpful apps on both Android and IOS to help. Sun Locator Pro on Android Solar Watch on iOS both predict the positions of the sun and moon and their paths at a specific location. These apps are helpful for those needing to anticipate lighting conditions and frame the perfect eclipse photo, too.
Related: Watch the moon's shadow travel across North America during 2024's total solar eclipse (video)
Dubbed "The Great North American Eclipse", the event will be visible throughout North and Central America. The solar eclipse will start in Mexico, cross into Texas then head northeast into the Ohio River Valley, through upstate New York, Quebec, Canada and New England, finally exiting the continent through the Canadian Maritimes.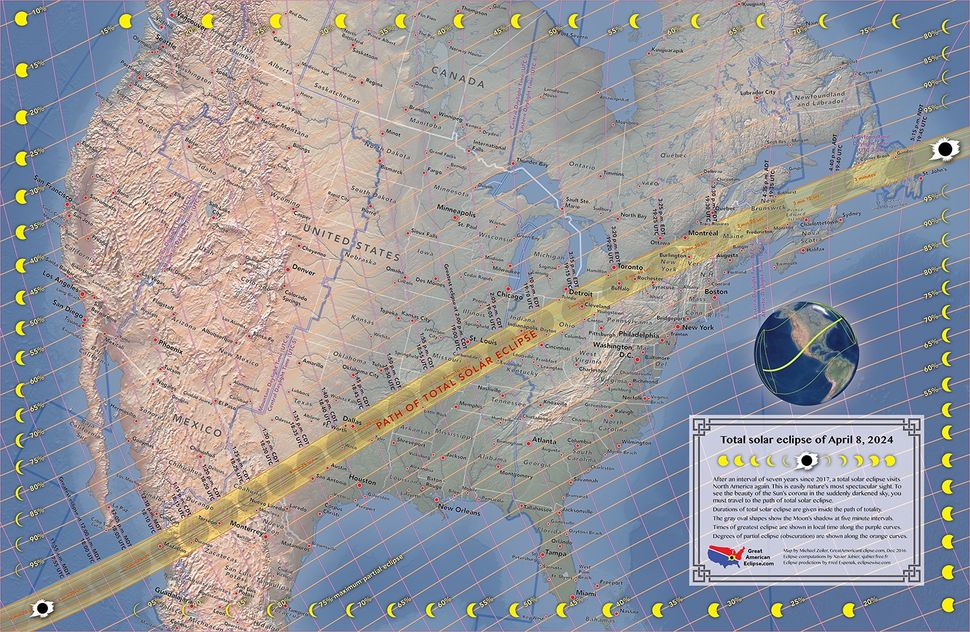 To see the solar eclipse in all its glory, that is with the moon's shadow completely blocking the sun, you need to be located within the path of totality.
The maximum duration of totality will last as long as 4 minutes and 26 seconds while the moon's shadow is over southwest Texas). That's 135 seconds longer than the U.S. average and 40 percent longer than the maximum duration of the 2017 eclipse.
If you plan on viewing a solar eclipse, remember: NEVER look at the sun with binoculars, a telescope or your unaided eye without special protection. Astrophotographers and astronomers use special filters to safely observe the sun during solar eclipses or other sun phenomena. Here's our guide on how to observe the sun safely.