Venus and Saturn are still putting on a spectacle in the night sky.
On Tuesday evening (Jan. 24), the pair will remain quite close together in the night sky following their conjunction on Sunday (Jan. 22). Unlike the weekend's conjunction, however, the two planets are joined tonight by a guest: the crescent moon.
This evening, just after sunset, be sure to look to the west-southwest to see the trio in the sky. The moon will be some 12 degrees higher than Venus and Saturn, which will both be sitting fairly low in the sky at around 18 and 16 degrees, respectively. Don't wait too long to catch the trio  —  from New York City, Venus will sink below the horizon by around 6:46 p.m. local time, while Saturn will disappear around 6:45 p.m., according to In-The-Sky.org.
Related: Venus will steal the show in the night sky throughout 2023
TOP TELESCOPE PICK:
Want to get a closer look at Venus? We recommend the Celestron Astro Fi 102 as the top pick in our best beginner's telescope guide.
The moon is currently in a waxing crescent phase following January's new moon. The illuminated face of the moon will continue to grow leading up until the next phase of the moon, first quarter, which will occur on Jan. 28.
Neptune will also be well-situated for viewing, since it will hang above the moon on Tuesday (Jan. 24). From New York City, Neptune will be just around 7 degrees above the moon at 7 p.m. EST (0000 GMT) before both objects set below the horizon as 11 p.m. (0400 GMT on Jan. 25) approaches. The planet should be viewable through most telescopes or even some skywatching binoculars.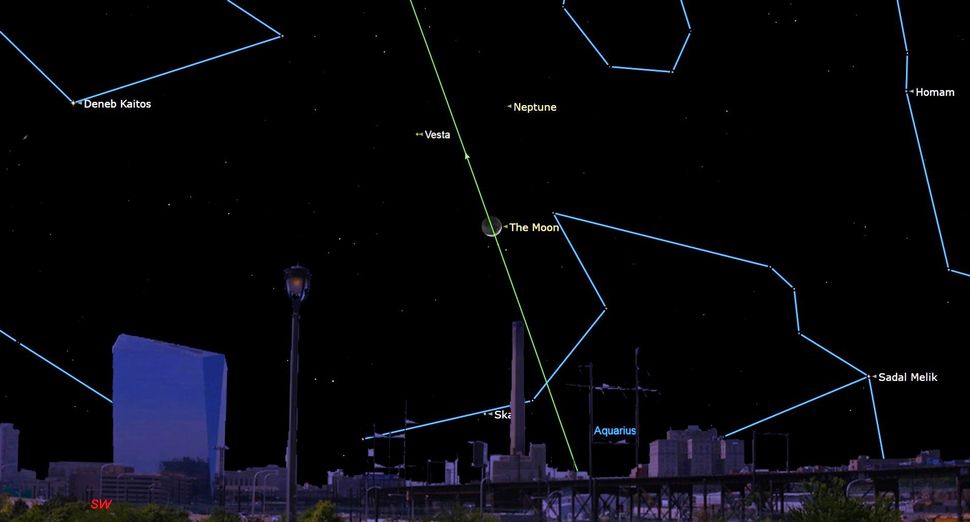 Venus will continue to put on a show throughout 2023. On March 1, Venus and Jupiter will pass within less than one degree of each another during a conjunction. On June 4, Venus will be twice as bright as it is now when it reaches its greatest eastern elongation, and on July 7 it will reach an incredibly bright magnitude of -4.7. And later in the year, Venus will meet up with the moon on Nov. 9 in a lunar conjunction.
Saturn, meanwhile, will appear at opposition on Aug. 27 and will make many close approaches to the moon throughout the year. By spring, it will be visible before dawn and will be visible in the early evening skies between September and December, according to Turn Left at Orion.
If you don't have all the gear you need to see Venus or Saturn meet up with the crescent moon, our guides on the best telescopes and best binoculars are a great place to begin. If you're looking to snap photos of Venus or anything else in the night sky, check out our guides on the best cameras for astrophotography and best lenses for astrophotography.
Editor's Note: If you take a great photo of Venus and Saturn alongside the crescent moon and would like to share it with Space.com's readers, send your photo(s), comments, and your name and location to spacephotos@space.com.
Follow Brett on Twitter at @bretttingley. Follow us @Spacedotcom, or on Facebook and Instagram.