Disney hasn't released a Star Wars film since 2019's polarizing conclusion to the Skywalker Saga and with plenty of ambiguity as to its current movie release schedule you'd think it'd be slim pickings for wannabe Jedi Knights, Sith Lords and bounty hunters. But even a cursory glance at the following upcoming Star Wars TV shows reveals that there's plenty to keep even the most discerning fans busy well into 2023 and beyond.
Season 3 of The Mandalorian is one of the best upcoming sci-fi TV shows and followers of the Mandalorian Creed will no doubt be counting down the days until they're reunited with Grogu and co, as well as Rosario Dawson's much-anticipated spin-off series Ahsoka. And for anyone yearning for something completely removed from the Skywalker Saga timeline, more and more details regarding High Republic-era series The Acolyte are beginning to surface – talk about an all-star cast!
One classic character we've been itching to reunite with is Donald Glover's Lando Calrissian and although the smooth-talking smuggler's show seems somewhat adrift – possibly somewhere within the Akkadese Maelstrom – it does still appear to be on Lucasfilm's radar. And if you've ever wondered what a Jude Law-led Stranger Things-esque coming-of-age romp set in a galaxy far, far away would be like, then scroll your way down to The Skeleton Crew. Just don't blame us if you get sidetracked by the many other upcoming Star Wars TV shows.
If you want to go back and enjoy the absolute wealth of Star Wars content out there, you can check out our other Star Wars coverage. We've got the Star Wars movies in chronological order if you want to smash through the whole series, or the Star Wars movies, ranked worst to best if you just want to watch the good ones.
We're still eagerly awaiting updates on upcoming sci-fi movies in a galaxy far, far away, but there's no doubt the epic space opera has established a second home on the small screen. From younglings about to explore an entire galaxy of stories and the characters that inhabit them to oldlings who remember the good old days when a farm boy, a smuggler, a princess and a wookie was all you needed to bring down an Empire, there's something for everyone.
Andor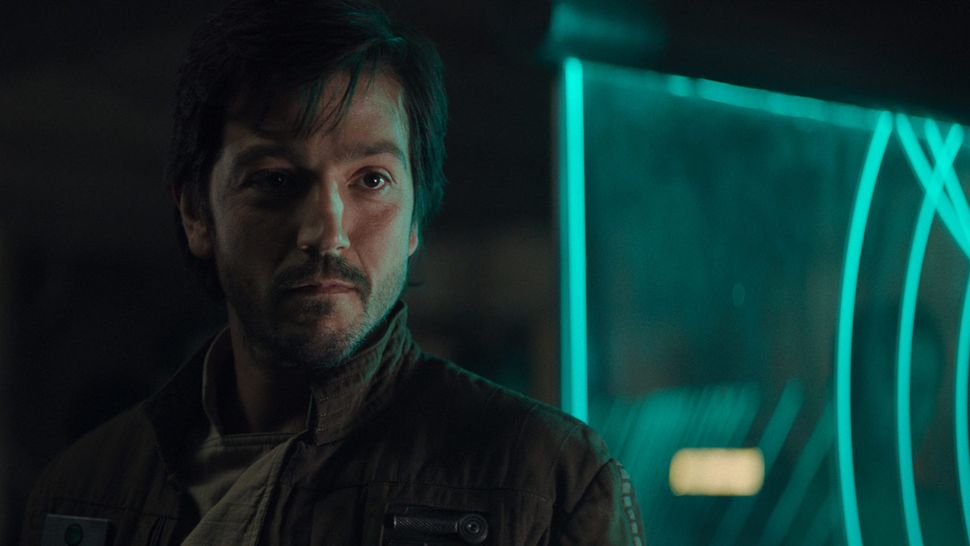 Release date: September 21st (New episode every Wednesday)
Cast: Diego Luna, Stellan Skarsgård, Fiona Shaw, Genevieve O'Reilly
Andor is currently showing on Disney+ and has already garnered plenty of positive reviews. The show follows Rebel spy Cassian Andor played by Diego Luna prior to his doomed mission to swipe the Death Star plans from the Empire alongside Jyn Erso (Felicity Jones) in Rogue One: A Star Wars Story. It also boasts an all-star cast including Stellan Skarsgård, Fiona Shaw, Kyle Soller and Adria Arjona, while Genevieve O'Reilly and Forest Whitaker return as Mon Mothma and Saw Gerrera.
Andor takes the form of a spy thriller with plenty of grit and while we already know how Cassian's story ends, it's extremely interesting to see how he developed into the legendary freedom fighter who helped prevent the Empire from ruling unopposed. It's also probably the closest we're going to get to a Han Solo prequel series – expect swashbuckling action scenes and charismatic quips aplenty.
Tales of the Jedi
Release date: Oct 26, 2022
Cast: Ashley Eckstein, Corey Burton, Liam Neeson
Anything with Star Wars talisman Dave Filoni attached to it has us champing at the bit and now the first trailer for Tales of the Jedi has dropped, we're more excited than ever. Not to be confused with the series of Legends comic books of the same name, Tales of the Jedi will be presented as a six-episode anthology of shorts following two very different Jedi, everyone's favorite padawan-turned-outkast Ahsoka Tano and Jedi-master-turned-Sith Lord Count Dooku.
Fans of The Clone Wars will be pleased to know that Ashley Eckstein and Corey Burton will reprise their roles as the morally minded togruta and separatist sympathizer respectively. Ahsoka's backstory will chart her journey from force-sensitive child to force wielder on the run, while Dooku's storyline will delve into his path towards the dark side.
Liam Neeson will also reprise his role as Qui-Gon Jinn, Obi-Wan's former master, who was in turn Dooku's apprentice. And in a particularly exciting move, the actor's 27-year-old son Micheál Richardson will be lending his vocal talents as the Jedi-in-training's younger incarnation.
A Droid Story
Release date: TBA
Cast: TBA
Two of the first characters to ever appear in the franchise, C-3PO and R2-D2 have had a special place in the hearts of Star Wars fans for almost half a century. In this animated show the pair will be joined by a new hero, who is yet to be announced, although we're hoping for the return of BB-8.
Anyone who followed Star Wars in the 1980s will know it's not the first time the beloved duo have starred in their own animated series, thanks to the similarly titled Star Wars: Droids. But Disney has released so few details about the pairing's latest adventure, there appears to be some confusion as to whether A Droid Story is actually an upcoming Star Wars TV series or a film. However, the uncertainty surrounding Star Wars' immediate future on the big screen suggests that a television show is more likely.
While A Droid Story's cast remains a mystery, we'd be surprised if C-3PO himself Anthony Daniels wasn't involved, given that he's famously the only actor to feature in all 11 Star Wars movies (12 if you count Star Wars: The Clone Wars) and has reprised the role in countless other projects too. His involvement in A Droid Story seems even more plausible, following a photograph from Ealing Studios posted on Instagram at the beginning of the year. In it, the British actor is donning a motion-capture suit alongside the rather telling hashtags: "#iamc3po #starwars".
Being said to push the boundaries of visual effects and animation, we're excited to see more about the show. However, with so little to go on, we'll just have to imagine what kind of scrapes the unlikely pair will get into – as if they've not been through enough!
The Acolyte
Release date: 2023
Cast: Amandla Stenberg, Lee Jung-jai, Manny Jacinto, Jodie Turner-Smith
The Acolyte will delve further into Star Wars history than any other television series or movie before it. The show is set roughly a century before The Phantom Menace in a period known as The High Republic – a time when the Sith were thought to be extinct. Russian Doll showrunner Leslye Headland is helming the show, which boasts one of the most exciting Star Wars casts to date.
A Tweet from Star Wars back in July confirmed Hunger Games alumnus Amandla Stenberg will be occupying the lead role and Variety recently confirmed that this will be alongside South Korean megastar Lee Jung-jai – who western audiences will likely know best for his historic Emmy-winning role as Squid Game protagonist Seong Gi-hun. Deadline has reported that Manny Jacinto of The Good Place is also on board, while the outlet's sources recently revealed that Anne Boleyn actor Jodie Turner-Smith is on the verge of joining the cast too.
While the House of Mouse is playing its Sabacc cards close to its chest regarding characters and plot, it's been busy releasing a slew of comics and novels to flesh out this intriguing new era of Star Wars lore. While the lion's share of Star Wars' big hitters such as Anakin, Obi-Wan, Luke, Leia and Han, simply haven't been born yet in The Acolyte's time period, Yoda will be busy enjoying his seventh century. However, with Disney treading very carefully over its handling of classic characters nowadays, it's unclear whether or not the Grand Master will make an appearance, and if so, in what capacity.
Something that's already clear from the books that have been released is how clean the High Republic's art style is and according to Leslye Headland that's entirely intentional. While talking to Vanity Fair, she cited the shift from the gritty visuals of the Original Trilogy to the cleaner aesthetic of the prequels as the inspiration : "we're trying to carry George's concept that the further you go back, the more exciting and new and sleek and interesting things look."
According to BerkshireLive, the new Shinfield Studios in Reading will be hosting a production from next month until April 2023, which is rumored to be The Acolyte.
Ahsoka
Release date: 2023
Cast: Rosario Dawson, Natasha Liu Birdizzo, Eman Esfandi, Ray Stevenson
It took The Clone Wars fans a minute to warm to Anakin's plucky apprentice, but once they did she quickly became one of the most beloved Star Wars characters of all time. And shortly after the force-sensitive togruta's long-awaited live-action debut in season two of The Mandalorian, it was hardly a surprise when Lucasfilm announced that Rosario Dawson would return to star in a dedicated Ahsoka series.
A little less than two years later, Rosario suggested that filming is coming to an end during an interview with The Hollywood Reporter. The show has been penned by Ahsoka's spiritual papa Dave Filoni, who has been the creative force behind the character since her inception.
Castings of characters that first appeared alongside Ahsoka while she operated as the Rebel spy Fulcrum in Star Wars: Rebels have provided some insights into an otherwise closely guarded plot. Natasha Liu Birdizzo has long been confirmed as the mandalorian with a penchant for graffiti, Sabine wren, and Cinelinx recently confirmed that Eman Esfandi will be stepping into the role of Jedi apprentice with Doctor Dolittle-like powers, Ezra Bridger. This suggests the show will finally tie up a major loose end from Rebels; what happened to Ezra Bridger and Grand Admiral Thrawn.
Disney is remaining incredibly coy on the latter, a fan-favorite villain who was explored in the Thrawn novel series by Timothy Zahn but has yet to make his live-action debut. We know that Ray Stevenson is set to play an anonymous villain, but The Hollywood Reporter sources have ruled out the character being Thrawn, while the same outlet reported that Hayden Christensen will once again return to the Star Wars universe, although quite how Anakin Skywalker or Darth Vader will fit into the Ahsoka storyline remains to be seen.
Other actors attached to the series are The Spy Who Dumped Me's Ivanna Sakhno and Mary Elizabeth Winstead, who played Huntress in Birds of Prey. However, their characters haven't been officially confirmed yet.
Skeleton Crew
Release date: 2023
Cast: Jude Law
If you're a fan of The Goonies and Stand By Me, then Skeleton Crew should be right up your hyperspace lane. It's been billed as a Star Wars-themed coming-of-age story, following a group of wayward children as they attempt to find their way home. The show is the brainchild of MCU Spider-Man director Jon Watts and Spider-Man: Homecoming writer Christopher Ford, who will also direct and serve as executive producers alongside Dave Filoni and Jon Favreau.
On stage at Star Wars Celebration 2022, Ford made it very clear to the audience that despite its young cast, Skeleton Crew "is not a kids' show." As of yet, none of the young actors have been confirmed, but the show will star Hollywood leading man Jude Law, who will be making his Star Wars universe debut.
What with Thor: Love and Thunder, Stranger Things 4 and Top Gun: Maverick, we're experiencing a kind of 80s revival, revival… perhaps the time is ripe for an Amblin Entertainment-style romp in a galaxy far, far away.
Lando
Release date: TBA
Cast: TBA
We don't care how much Donald Glover costs, we NEED to see more of him as Lando Calrissian. The smooth card shark who's turned heel and back more times than we can count is set to receive his own series on Disney+, but precious few details have surfaced since its announcement way back in 2020.
Little is known officially outside of the fact that Justin Simien, a writer and producer for Dear White People, will helm the project, but it's been something of an open secret that Disney has been banking on Glover's return as the titular character's younger incarnation.
Lucasfilm president Kathleen Kennedy was able to shed some light on the upcoming TV show's status recently, when CinemaBlend interviewed her at Star Wars Celebration: "He's [Donald Glover] the one that holds all the cards here. But there's no movement. I will say that honestly, but it's not for lack of trying. (…) He's got another series, and I think one other thing, and then he'll come our way."
It's hardly surprising Glover's busy schedule is proving the sticking point with writing, producing, directing and a much-lauded music career all vying for his attention. But it would be a galactic shame if Solo: A Star Wars Story ends up being his only outing as the suave smuggler.
From the Calrissian Chronicles Lando is recording in Solo to Lando and Luke's search for a Sith wayfinder mentioned in The Rise of Skywalker, there's plenty of speculation as to Lando's plot, but nothing has been verified. Following the veteran Star Wars actor's return to live action in The Rise of Skywalker, it's also unclear as to whether the legendary Billy Dee Williams would be involved in some kind of flash forward. Either way, Kennedy's comments suggest the door's still very much open.
Come on Donald old buddy. Don't let us down!
Young Jedi Adventures
Release date: Spring 2023
Cast: Jamaal Avery Jr, Emma Berman
If you're a parent wondering whether your youngling will sit through the prequel trilogy's political babble or worry they might pledge their allegiance to the Emperor before finishing Return of the Jedi, this upcoming Star Wars TV show could be the perfect solution to ease them into a galaxy far, far away.
The show will take place during Disney's new High Republic era, like The Acolyte, and will follow a group of younglings as they learn the ways of the force. Star Wars revealed the names of two characters on the final day of D23, Kari Brightstar and Nash Durango, played by Jamaal Avery Jr and Emma Berman respectively. And in the same Twitter post provided a look at some of the characters, including Jedi Master Yoda. If you have a bad feeling about the cutesy 3D art style, remember, you're not the target audience.
Mandalorian – Season 3
Release date: 2023
Cast: Pedro Pascal, Giancarlo Esposito, Katee Sackhoff, Carl Weathers
The most hotly anticipated upcoming Star Wars TV show is arguably the third season of Dave Filoni and Jon Favreau's Man with No Name-inspired Mandalorian. As much as we bemoaned The Book of Boba Fett turning into Mando season 2.5, there was no denying we'd missed Grogu's little green ears and Mando's reluctant father figure.
When we left the unlikely duo, Mando had been reunited with Baby Yoda, but was booted out of the Tribe for removing his chrome dome. Upon receiving the devastating news, the Armorer told him that only Mandalore's Living Waters could restore his status. The problem is, the planet was all but destroyed during the Great Purge of Mandalore.
If you've watched the action-packed new teaser trailer you'll have witnessed the return of Katee Sackhoff's Bo-Katan Kryze, Carl Weathers' Greef Karga and lots and lots of Mandalorians. We can't wait!
Visions Volume 2
Release date: Spring 2023
Cast: TBA
A second volume of animated Star Wars shorts from some of the most creative minds in the business is due for release in spring. The non-canonical anthology was originally an amalgam of nine episodes from eight Japanese studios, but is set to draw influences from across the globe this time round, according to executive producer James Waugh during a sit-down with Deadline. Visions' no-holds-barred take on the Star Wars universe was incredibly refreshing and we can't wait to see how the galaxy is interpreted by a whole new selection of talented studios.
The Bad Batch – Season 2
Release date: Jan 4 2023
Cast: Dee Bradley Baker, Michelle Ang
This animated series from the mind of Dave Filoni follows a rag-tag bunch of mutated clone commandos known as Clone Force 99. It takes place during one of the most interesting and least-explored periods in the Skywalker Saga timeline, the aftermath of Order 66. As the Empire mops up the last few remnants of the Jedi Order and begins disbanding the Grand Army of the Republic, Hunter and his crew reject the Imperial Empire and head off to find their place in a galaxy they no longer recognize.
The Clone Wars and Rebels are responsible for some of the best Star Wars moments of all time, but took a while to hit their stride and although it's early doors we reckon The Bad Batch boasts the better debut. Season 2 will kick off months after Hunter, Wrecker, Tech, Echo and Omega witnessed the destruction of their home on Kamino, and it looks like turncoat Crosshair is the least of their troubles. The trailer that dropped at Star Wars Celebration 2022 features plenty of action, what might just be the infamous Zillo Beast and Emperor Palpatine himself.