2023 has so far seen blockbuster sci-fi success from tabletop RPG movie adaptation, Dungeons & Dragons: Honor Among Thieves, to James Cameron's Avatar sequel, to the long-awaited Guardians of the Galaxy Vol. 3 to name but a few. And yet, there's so much more to come. The genre keeps evolving, reimagining, and breathing new and unique ideas to translate onto screen and this guide will take you on a tour of what 2023 still has to offer.
In a movie landscape no longer plagued by pandemic-related delays, the release list for 2023 is full to the brim. Whether it's DC's first Latino superhero or Wes Anderson's first incursion into sci-fi cinema, the options are plentiful. It's not just the theaters that populate the terrain these days though with streaming platforms such as Netflix having a stronghold on the list too.
Of course, movies aren't the only offering from the sci-fi world as there's also a whole variety of upcoming sci-fi TV shows in 2023 too that are worth a browse. Plus, if you fancy heading to the archives and devouring some of the finest sci-fi movies then our best sci-fi movies will give you something to chew on. Don't leave us just yet though, we've 2023 upcoming sci-fi movies to immerse ourselves in first.
Spider-Man: Across the Spider-Verse (Part One)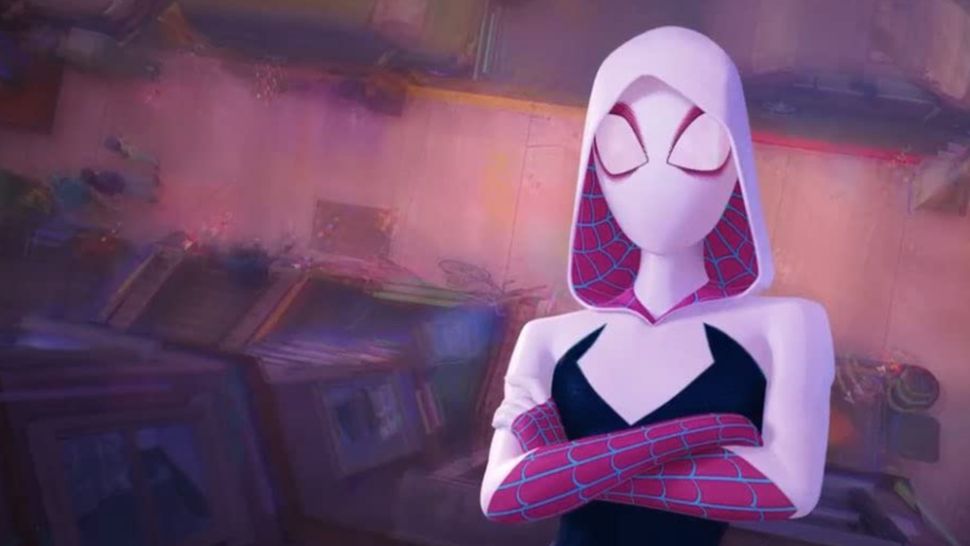 Release date: June 2, 2023
Cast: Shameik Moore, Hailee Steinfeld, Oscar Isaac
Not to be confused with Spider-Man: Into the Spider-Verse, this is the sequel that follows on from the final teaser scene where (spoiler alert) Gwen calls out to Miles Morales through a portal to another universe, and Spider-Man 2099, teased at the end. It's a two-parter as Miles continues to hurtle across the Spider-Verse, and according to the official description will "join forces with Gwen Stacy and a new team of Spider-People to face off with a villain more powerful than anything they have ever encountered." Our Spidey sense is tingling for this one.
Transformers: Rise of the Beasts
Release date: June 9, 2023
Cast: Ron Perlman, Anthony Ramos, Luna Lauren Velez
Another returning franchise is Transformers, flying in with their seventh instalment and sequel to 2018's Bumblebee, Transformers: Rise of the Beasts. The live-action movie will take fans to the mid-90s as a pair of archaeologists accidentally stumble across a three-way conflict between different Transformers factions – the Maximals, the Predacons, and the Terrorcons. That's a lot of Transformers and as such brings some iconic casting names from In The Heights' Anthony Ramos to Hellboys' Ron Perlman. And when it comes to storyline, this one's reportedly influenced strongly by the Transformers spin-off, Beast Wars.
They Cloned Tyrone
Release date: June 21, 2023
Cast: John Boyega, Kiefer Sutherland, Jamie Foxx, Teyonah Parris
Originally slated for a 2022 release, Netflix is finally bringing sci-fi comedy, They Cloned Tyrone, to the streaming platform in June. An unlikely trio are thrown together to solve a mystery centered on a government conspiracy and, in true sci-fi fashion, it all gets a bit eerie.
Neighborhood drug dealer, Fontaine (John Boyega), is shot dead by his rival Isaac, only to wake up the next day completely fine. Teaming up with Slick Charles (Jamie Foxx) and Yo-Yo (Teyonah Parris), the triad head into an underground complex teeming with disturbing experiments, abductions, and surveillance. Whilst promising serious sci-fi, They Cloned Tyrone is also set to bring some major laughs.
Asteroid City
Release date: June 23, 2023
Cast: Jason Schwartzman, Scarlett Johansson, Tom Hanks, Tilda Swinton
In a combination not yet experienced, prolific director Wes Anderson has decided to make his first foray into the sci-fi genre with debut flick Asteroid City. Of course, much like any Wes Anderson movie, the cast list is plentiful. The usual suspects appear (Jason Schwartzman, Tilda Swinton, and Adrien Brody) with a flurry of new, but no less A-list, names in the line-up (Tom Hanks, Steve Carell, and Margot Robbie).
This Anderson feature takes place in a fictional U.S. desert town at a young stargazer convention circa 1955, as revealed in the first Asteroid City trailer. The group of unsuspecting young space enthusiasts are wildly interrupted by world-changing events. Anderson and sci-fi? Color us intrigued.
The Flash
Release date: June 23, 2023
Cast: Ezra Miller, Michael Shannon, Ben Affleck, Michael Keaton
Multiverses are nothing new to the superhero franchise at this point, but DC are ready to jump aboard the bandwagon with The Flash. Barry Allen aka The Flash himself travels back in time to try and stop his mother's death, but ends up causing crossovers in timelines. With both Michael Keaton and Ben Affleck cast as Batman/Bruce Wayne, there's a pretty big hint at what this means. Currently though, their role in the movie is unknown. The Flash has also been struck with controversies surrounding Ezra Miller who has been cast in the lead role. But, as it stands, he'll still be front and center for the 2023 release.
Blue Beetle
Release date: August 18, 2023
Cast: Xolo Maridueña, Susan Sarandon, Harvey Guillén
From DC Comics, Blue Beetle is a new superhero storming onto the big screen. Unsuspecting college graduate Jaime Reyes returns to his hometown to quickly find himself with a set of superpowers, courtesy of an alien scarab beetle. Gaining a superhero exoskeleton, Blue Beetle is created.
It's the first Latino superhero from DC with Xolo Maridueña (Cobra Kai) taking the lead. Alongside him features a Latino-heavy cast (George Lopez, Adriana Barraza, and Damían Alcázar) which has sparked excitement for movie, sci-fi, and superhero fans across the world. Blue Beetle has taken a few forms in the DC Universe, but this revamped look focuses on teenage life with links to his previous iterations.
The Creator
Release date: September 29, 2023
Cast: John David Washington, Gemma Chan, Ken Watanabe
From Gareth Edwards, the British filmmaker responsible for 2014's Godzilla reboot, comes post-apocalyptic thriller, The Creator. Originally titled 'True Love' and given an October 6 release date, an announcement during CinemaCon 2023 revealed its brand-new title and earlier release.
The Creator looks set to delve deep into a futuristic conflict between humans and AI. But, according to IMDb, when it comes to any plot specifics, they remain firmly 'under wraps.' There is a strong list of actors attached to the title though with John David Washington (Tenet), Gemma Chan (Eternals), and Ken Watanabe (Godzilla, Inception) all confirmed.
Dune: Part Two
Release date: November 3, 2023
Cast: Timothée Chalamet, Zendaya, Austin Butler, Florence Pugh
When director Denis Villeneuve brought Frank Herbert's novel Dune to life in 2021 it was met with rapturous applause. No surprise then that the tale of Paul Atreides' (Timothée Chalamet) great destiny continues with Part Two. In an interview with Vanity Fair, Villeneuve has stressed that "... it's not a sequel, it's a second part. There's a difference. I wanted the movie to really open just where we left the characters. There's no time jump."
New characters join the Dune universe with Florence Pugh (Don't Worry Darling) and Austin Butler (Elvis) joining the cast as Princess Irulan and Feyd-Rautha Harkonnen respectively. Part Two promises to delve deeper into Herbert's rich tapestry surrounding Chani (Zendaya) and the Fremen.
The Marvels
Release date: November 10, 2023
Cast: Brie Larson, Teyonah Parris, Iman Vellani
Finally, it's time for a trio of fierce female Marvel superheroes to unite for The Marvels, a sequel to 2019's Captain Marvel. Carol Danvers aka Captain Marvel, Kamala Khan aka Ms. Marvel, and Monica Rambeau aka Spectrum are set to be thrown together after realizing they swap places every time they use their superpowers. Another big release from Phase Five of the MCU and one that brings Ms. Marvel to the big screen for the first time following her successful 2022 Disney+ TV series. And, at the helm, the directing prowess of Nia DaCosta of 2021's Candyman.
The Hunger Games: The Ballad of Songbirds and Snakes
Release date: November 17, 2023
Cast: Tom Blyth, Rachel Zegler, Hunter Schafer, Viola Davis
It's been eight years since The Hunger Games graced our screens and this installment lures fans in with an origin story based on Suzanne Collins' novel of the same name. The prequel, focused on 18-year-old Coriolanus Snow (Tom Blyth), is set in a time before he became the President of Panem. In fact, it's based during the 10th annual Hunger Games, during which Snow mentors female tribute Lucy Gray Baird (Rachel Zegler) from District 12 to whom he grows closer and closer to.
It's unclear how true to the book series The Ballad of Songbirds and Snakes will stay, but if it follows in the footsteps of the four previous movies, it should be pretty close. That means fans should watch on as the origin story of what led Snow to rule with such tyranny is revealed.
Ghostbusters: Afterlife 2 (working title)
Release date: December 20, 2023
Cast: Paul Rudd, Carrie Coon, Mckenna Grace, Finn Wolfhard
Currently untitled, but definitely in the works, is the all-new Ghostbusters movie with Gil Kenan stepping up into the director role after previously writing and executive producing the first Afterlife movie.
According to Deadline, fans can also expect some of the previous cast to return. Paul Rudd and Carrie Coon are reportedly on board as well as potentially heading back to where it all began, New York. There are new faces too though with Kumail Nanjiani, James Acaster, and Patton Oswalt all signed up to star. The next installment to the franchise will pick up where Ghostbusters: Afterlife left off in 2021, seeing the heroes return to the iconic firehouse.
Rebel Moon
Release date: December 22, 2023
Cast: Sofia Boutella, Ed Skrein, Cary Elwes, Jena Malone
Epic space opera + Zack Snyder + Star Wars inspired = A recipe for a sci-fi movie fans are excited by. In fact, Rebel Moon was originally pitched as a Star Wars movie and has already successfully signed for Part 2 to be filmed back-to-back. Where it wasn't picked up for the Star Wars canon though, it has found life as its very own movie coming exclusively to Netflix.
The premise - Kora (Sofia Boutella), a young woman who has a mysterious past, is sent by her colony to nearby planets to assemble a team of warriors to take down their tyrannical ruler, Balisarius (Ed Skrein). A first-look at some epic concept art and a cast list full of big names is all we know so far, but we'll be sure to update you when we hear more.
The Mothership
Release date: TBA 2023
Cast: Halle Berry, Molly Parker, Omari Hardwick, John Ortiz
Set a year after her husband's mysterious disappearance from their rural farm, Sara Morse (Halle Berry) discovers a strange alien artifact under her home that may hold the answers. Hoping to finally discover what happened to her husband, Sara sets out on a risky quest with her two children to unravel the truth.
The Mothership represents another investment from Netflix into original sci-fi content that is set to release sometime in 2023. Unfortunately, there's no official release date or trailer just yet, so we'll have to wait and see what other morsels of information we can gather from the mothership as and when they allow it.