If you thought 2022 had already dished out all its best sci-fi flicks, you'd be mistaken. With months left of the year, there's a lot left for movie lovers to get excited about and, in some respects, the most anticipated are yet to come.
Whilst we've all enjoyed learning what "it's morbin' time" means and many of us have revered in the standout hit, Everything Everywhere All At Once, our list of upcoming movies proves there's plenty more dates to jot down on your calendars. A mixture of horror, comedy, and superheroes lay ahead in our guide to the upcoming sci-fi movies for 2022 and they promise to tick an abundance of sci-fi tropes that fans so eagerly enjoy.
Yes, movie schedules are still dotted with pandemic delays that have forced some of these titles to appear later than we would've hoped. But they're coming and they're bountiful with experiences – from extraterrestrial encounters to secret superhero bunkers to returning MCU heroes that have been years in the making.
We mustn't forget that where there's excitement for upcoming movies, there's also TV shows that you won't want to miss either and we've populated our upcoming sci-fi TV shows with the titles that will hit our screens in 2022. Of course, there's also the best sci-fi movies of all time to work your way through if you're on a sci-fi kick and are yet to explore every avenue on offer. Before we throw you down a new rabbit hole, let's get into our list below detailing everything you need to know about the upcoming sci-fi movies for 2022.
Nope
Release date: July 22, 2022
Cast: Daniel Kaluuya, Keke Palmer, Brandon Perea, Steven Yeun
From the outlandish mind of director Jordan Peele (Get Out, Us) comes sci-fi horror movie, Nope. An isolated town in California lends itself as the setting for this tale of abnormal and frightening events. The residents of the town, including the caretakers of a local cattle ranch, bear witness to a mysterious force that affects both human and animal behavior.
Nope promises to offer up a collection of iconic but terrifying sci-fi delights from unidentified objects, missing people, and strange unexplained goings on. A stellar cast behind it, including Oscar-winning Daniel Kaluuya (Get Out), Keke Palmer (Lightyear), and Steven Yeun (The Walking Dead), makes for a suspenseful flick.
Prey
Release date: August 5, 2022
Cast: Amber Midthunder, Dane DiLiegro, Stefany Mathias
From the Predator franchise comes the fifth instalment and a brand-new prequel, Prey, directed by Dan Trachtenberg of 10 Cloverfield Lane fame. This time round, we're heading back 300 years to the Comanche Nation, a Native American tribe, and focusing on one member in particular, a skilled female warrior called Naru (Amber Midthunder).
Naru will fight to protect her tribe against the extraterrestrial Predator that is threatening their existence. Prey acts as an origin story for the first time the Predator was discovered on Earth and is a long-awaited addition to the iconic sci-fi franchise. Prey comes exclusively to Hulu in August 2022.
Secret Headquarters
Release date: August 5, 2022
Cast: Owen Wilson, Walker Scobell, Jesse Williams, Michael Peña
Coming exclusively to Paramount Plus, superhero comedy Secret Headquarters is directed by Paranormal Activity 3 and 4's duo, Henry Joost and Ariel Schulman. A young boy suspects that his estranged father may well be a superhero living a double life after he discovers a secret underground headquarters in the basement of their family home.
Telling his friends, as any kid would do, they seek to find the truth behind the superhero and the villains he's up against. Walker Scobell of 2022's hit movie, The Adam Project, takes the lead role as young Charlie Kincaid alongside big names like Owen Wilson, Jesse Williams, and Michael Peña.
Samaritan
Release date: August 26, 2022
Cast: Sylvester Stallone, Javon 'Wanna' Walton, Martin Starr
In a similar ilk of young boy meets superhero, Samaritan tells the tale of a boy who discovers a missing superhero of 20 years who may well be right under his nose. Samaritan has been described as a "dark, new take on superhero movies" but not much more is currently known about this retired superhero turned garbage man, apart from he's played by Sylvester Stallone, and he's set for some big action scenes, as teased in an extended look at the movie at CinemaCon.
This young boy (Javon Walton, Umbrella Academy) follows Sly around convinced he's the superhero he thinks he is only to witness him ploughed down by a truck and fixing all his bones back together. We can expect an action-packed sci-fi for sure.
Distant
Release date: September 16, 2022
Cast: Anthony Ramos, Naomi Scott, Zachary Quinto
Andy (Anthony Ramos) is an asteroid miner who finds himself crash landing on an alien planet that a human wouldn't want to find themselves stranded on. He must navigate his way across the planet, all whilst running out of oxygen and being pursued by strange lifeforms, with hopes of finding the one other survivor, Naomi (Naomi Scott) whom he connects with over radio on his AI survival suit (voiced by Zachary Quinto).
It's not uncommon that sci-fi movies can leave us holding our breath (like Gravity or Interstellar), but Distant looks set to create a space where we could be doing it throughout the duration of the movie.
Don't Worry Darling
Release date: September 23, 2022
Cast: Florence Pugh, Olivia Wilde, Harry Styles, Chris Pine
An isolated, utopian community in the California desert seems ideal for its residents. This psychological thriller directed by and starring Olivia Wilde sees the Stepford Wive's-esque Victory Project revealed that takes husbands away to work every day as the wives remain behind, 'safe.' Newly joined happy, young couple, Alice (Florence Pugh) and Jack (Harry Styles) are welcomed to the town in the 1950s, but the cracks fast begin to show for Alice as she begins to unravel that all is not as it seems and reality seeps in.
Fun fact: Harry Styles joins the cast in replacement of Shia LaBeouf, who quit due to scheduling conflicts, which just adds to the mounting hype around this sci-fi social horror.
Black Adam
Release date: October 21, 2022
Cast: Dwayne Johnson, Sarah Shahi, Pierce Brosnan
Dwayne "The Rock" Johnson storms into the DC Extended Universe as anti-hero, Black Adam. It's been a long time in the making with Black Adam originally set to appear in 2019's Shazam! as the titular character's archenemy. But, who is Black Adam? Well, origin story wise, he's Teth-Adam, a fighter from the fictional Khandaq, who is given powers by the Wizard Shazam as he seeks a home for his powers to protect ancient Egypt.
The powers prove too strong, imprisoned for 5,000 years, until now… in Black Adam, he's unleashed on the world, seeking revenge. Teaming up with a bunch of heroes like Atom Smasher, Hawkman, Doctor Fate, and Cyclone, who form the Justice Society of America, Black Adam will show us what being an antihero is all about.
Black Panther: Wakanda Forever
Release date: November 11, 2022
Cast: Martin Freeman, Letitia Wright, Angela Bassett, Lupita Nyong'o
Following on from 2018's Black Panther, the sequel Wakanda Forever picks up the thread of the MCU after the events of Avengers: Endgame. It is written and directed again by Ryan Coogler and has many of the cast returning to their roles in the Kingdom. With no recasting of T'Challa, played by Chadwick Boseman who tragically passed away in 2020, there's no exact plot revealed to where the story will go next.
What is known though is that fans will further explore the world, mythology, and history of Wakanda with flashbacks as well as an aquatic villain called Namor. This means a whole lot more action and adventure this time round. Pandemic delays and an on-set injury for Letitia Wright set this new MCU instalment back a bit, but as we near the end of 2022, we can step into Wakanda again soon.
Avatar: The Way of Water
Release date: December 16, 2022
Cast: Zoe Saldana, Sam Worthington, Kate Winslet
Avatar is reportedly the most expensive movie ever made and only lost its box office crown for the top-selling global release of all time in 2019 when Avengers: Endgame took top spot. 13 years on, we're getting Avatar 2 (officially titled Avatar: The Way of Water) with another incredible budget of 250 million dollars to bring the story back to life on the big screen.
Sam Worthington and Zoe Saldana reprise their roles as Jake Sully and Ney'tiri as we learn they've now formed their own family in Pandora. But all is not well in this sequel as an ancient threat forces them out of their home and ignites a war that must be fought against the humans. We've waited a long time for this one.
Hellraiser
Release date: 2022 TBC
Cast: Hiam Abbass, Goran Visnjic, Jamie Clayton
The 1987 sci-fi horror, Hellraiser, is back with a reboot. Based once again on the novella by Clive Barker, The Hellbound Heart, it'll mark the 11th instalment in the Hellraiser franchise. It's been kept quite under wraps, but what we do know about the plot is that "a young woman faces the sadistic, supernatural forces behind an enigmatic puzzle box responsible for her brother's disappearance." This iteration of
Hellraiser has been many years in the making, written by David S. Goyer who is famously known for his work on Blade and The Dark Knight, so you know it's going to be good. Whilst it was originally rumored that fans would see Doug Bradley reprise his role as Pinhead, with almost a decade since that news, it's now Jamie Clayton (Sense8) that will take on the iconic role instead.
65
Release date: April 14, 2023
Cast: Adam Driver, Ariana Greenblatt, Chloe Coleman
Up next, sci-fi thriller, 65, which follows an astronaut (Adam Driver) who crash lands on a mysterious planet only to find out that he's not alone. Whilst it's a sci-fi genre specialty to ask the age old 'is there anybody out there?' question, we're weirdly excited for this movie because, apart from this little bit of info, there's a mysterious lack of plot details. There are also no official shots of the movie yet, so please enjoy this shirtless picture of Adam Driver.
As this movie has the impressive Adam Driver (of the Star Wars sequel trilogy) up front and center, and the very talented screenwriters behind A Quiet Place, we have a feeling this is one that is not to be missed. If you're looking for an unnerving experience, we have no doubt this team can provide it.
Spider-Man: Across the Spider-Verse (Part One)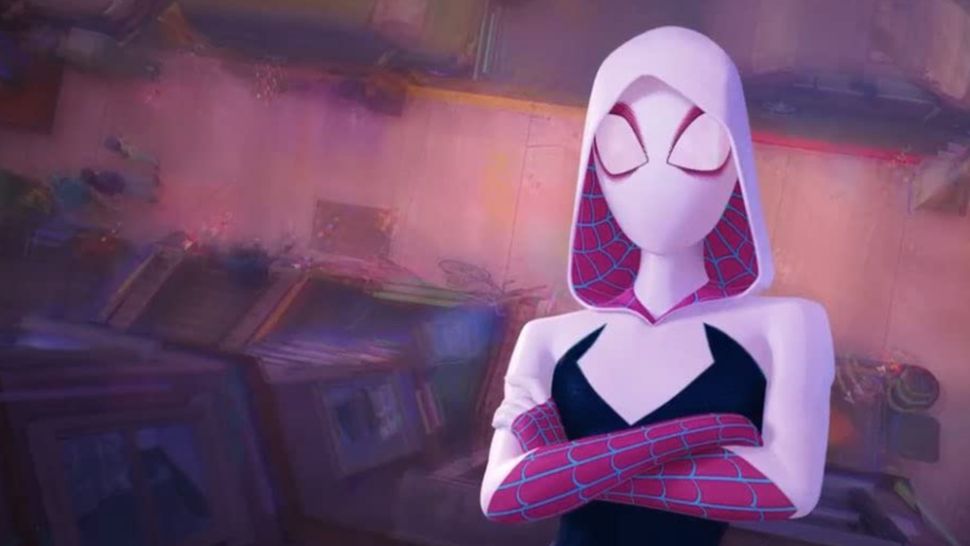 Release date: June 2, 2023
Cast: Shameik Moore, Hailee Steinfeld, Oscar Isaac
Not to be confused with Spider-Man: Into the Spider-Verse, this is the sequel that follows on from the final teaser scene where (spoiler alert) Gwen calls out to Miles Morales through a portal to another universe, and Spider-Man 2099, teased at the end. It's a two-parter as Miles continues to hurtle across the Spider-Verse, and according to the official description will "join forces with Gwen Stacy and a new team of Spider-People to face off with a villain more powerful than anything they have ever encountered." Our Spidey sense is tingling for this one.