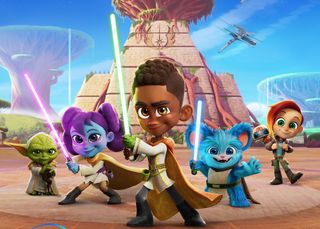 (Image credit: Disney+)
Mini lightsabers are all aglow as Disney Plus and Disney Junior kick off "Star Wars: Young Jedi Adventures" for Star Wars Day, which falls on May 4 every year.
This brightly colored series of animated shorts is designed specifically for the preschool crowd to offer them an introduction to the imaginative playground of the "Star Wars" universe.
Lucasfilm has been trying for years to find the right aged-down format to deliver to young children eager to make that initial journey into the "Star Wars" realm, and now they've nailed it.
"Young Jedi Adventures" contains 25 optimistic episodes composed by Canada's Icon Studios. They feature Jedi younglings learning the ways of the Force from Master Yoda at a temple outpost on the exotic planet Tenoo, during the High Republic period set 200 years prior to the Skywalker Era. The series is packed with simple tales carrying gentle themes of kindness, compassion, friendship, love and cooperation while still providing that trademark "Star Wars" flavor.
Related: Everything you need to know about 'Star Wars: Young Jedi Adventures'
Its talented vocal cast includes Jamaal Avery, Jr. as Kai Brightstar, Juliet Donenfeld as Lys Solay, Dee Bradley Baker as the precocious blue-furred Pooba named Nubs, Emma Berman as their space pilot friend Nash Durango, Jonathan Lipow as Nash's sidekick droid RJ-83, and Piotr Michael as the venerable Master Yoda.
Executive produced by Lucasfilm's James Waugh, Jacqui Lopez and Josh Rimes, "Star Wars: Young Jedi Adventures" was concocted by Lucasfilm Animation for Disney+ and Disney Junior. Seasoned children's TV scribe Michael Olson ("Puppy Dog Pals") is onboard as head writer, showrunner and executive producer, with Elliot Bour serving as the series' supervising director.
"We knew that we wanted to push into this space and knew that we thought there was an opportunity to create an incredible onramp to bring younger demos into 'Star Wars' and share the galaxy and introduce those storytelling values to kids earlier," Waugh told Space.com. "But we wanted to do it right and we knew we had to make sure that it still kept the soul and quality and expectations of what a good 'Star Wars' story could be, while translating to something that appeals to a demo that reacts to brighter things and different run times."
Waugh and his team needed to find the right partner who loved "Star Wars" and was deeply committed to the quality bar Lucasfilm demanded, but also knew the secrets of telling stories to a demographic taking their first steps into a larger world. That person was veteran kids' television writer and producer, Michael Olson.
"When you're making a show for this audience, there's a challenge to not talk down to them," Olson said.
"It was my goal to make sure that this show felt elevated and was something that felt aspirational for kids, while still feeling like it belonged in the same 'Star Wars' galaxy as 'The Clone Wars' or 'The Bad Batch,' Olson added. "It was a challenge but a wonderful opportunity, too. The thing I love most about this audience is that you know if it's working with them. They're a very engaged and passionate audience, and getting an opportunity to create characters that are swashbuckling, fun, and enthusiastic is a gift. Then getting to marry that with all the trappings of 'Star Wars' like the music, starships, lightsabers, and Jedi lore is all mind-blowing and fun."
Related: 'Star Wars:' Summary of the franchise and its effect on space technology
One of the characters imagined by Olson and his crew is Lys Solay, an empathetic, passionate and soon-to-be powerful young Jedi whose origins were very personal.
"She was very much inspired by my daughter," Olson said. "What I love about Lys is that while she has all these wonderful qualities about her, she's not perfect. She, like my daughter, often gets distracted by a cute animal or something interesting outside, and that's one of the fun challenges that makes her so great to write. The animators just have a blast bringing her to life, and of course Juliet [Donenfeld], our actress, brings such energy and joy to this character that she constantly makes you smile."
Regarding the worldbuilding of "Young Jedi Adventures," Waugh and Olson were determined to conjure up a fascinating new environment for younglings to explore.
"I think from the start we really wanted to use the High Republic era as a canvas that we could use to paint something expansive and new," Waugh said. "That also could facilitate stories where characters could be going out to the larger galaxy for the first time and engaging with new cultures. Many viewers of this show are going to be kids going to preschool and kindergarten for the first time. We felt that was the right way to go. The worldbuilding came out of that publishing initiative we've been developing across different platforms for a while now, and it really gave us a space to tell new stories with these amazing characters in a fresh world that we hadn't seen before."
There were two components that were important to Olson in helping to breathe life into "Young Jedi Adventures" that he could share with children around the globe.
"First, it needed to be a relatable element of going to school and having your teacher and your friends with you," says Olson. "Then there's an aspirational aspect. I grew up in the outskirts of suburban Portland, Oregon, and we had a giant forest in our backyard that was my playground. I felt there could also be a bit of that element for kids of being able to go out into the wilderness and suddenly you're off in a new world and having wild adventures with all your friends."
"Star Wars: Young Jedi Adventures" launches exclusively on Disney+ and Disney Junior starting May 4, 2023.
Follow us @Spacedotcom, or on Facebook and Instagram.
Get the Space.com Newsletter
Breaking space news, the latest updates on rocket launches, skywatching events and more!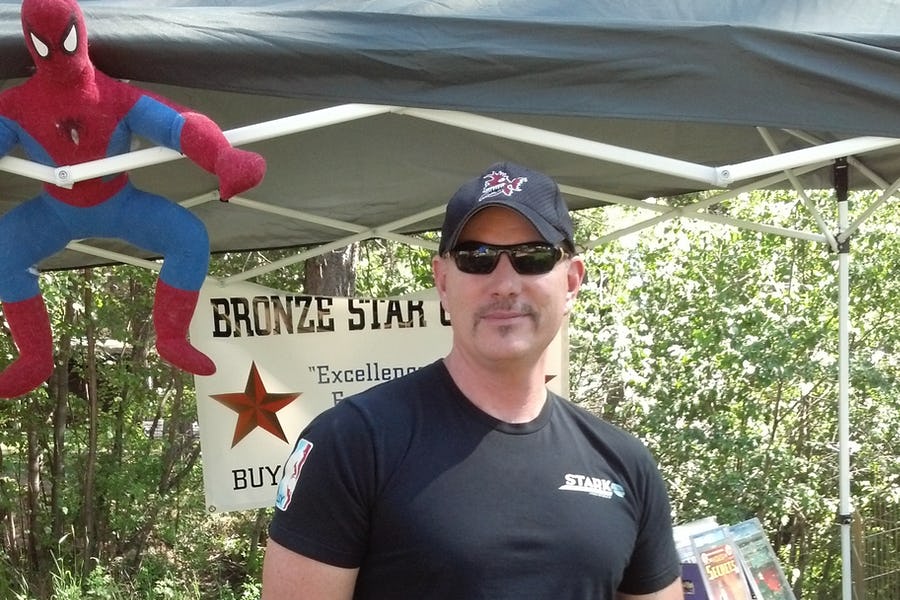 Jeff Spry is an award-winning screenwriter and veteran freelance journalist covering TV, movies, video games, books, and comics. His work has appeared at SYFY Wire, Inverse, Collider, Bleeding Cool and elsewhere. Jeff lives in beautiful Bend, Oregon amid the ponderosa pines, classic muscle cars, a crypt of collector horror comics, and two loyal English Setters.