Lego has announced the newest addition to the Lego Batman Collection, the Lego "Batman Returns" Batcave Shadow Box, a new Lego set inspired by the classic movie.
If you're a Lego VIP member then you can get your hands on this pretty sizable set from June 5 otherwise, you'll have to wait until June 8. This could be a top, top Lego set as it has playable features as well as being an impressive centerpiece model. Builders will have hours of building fun as it contains 3981 pieces and stands at 51 centimeters in length, 15 in width and 29 in depth.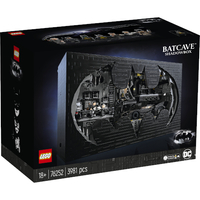 Batcave™ – Shadow Box: Pre-order from June 8 via Lego Store (June 5 for VIP members)
Recreate the iconic Batcave from 1992's Batman Returns with this stunning 3981-piece Lego set. it has loads of details and Easter eggs, plus 7 minifigures including everyone's favorite Batman character... Alfred.
This Lego set is made in collaboration with Warner Bros. and features highly detailed parts and display pieces. The playable features range from moving parts, cool gadgets and brand new minifigures of iconic Batman characters. While Batman Returns itself is getting on a bit at this point, Michael Keaton's Batman is returning (see what they did there) in the upcoming The Flash movie, which drops on June 16.
If Lego is your thing and you want to check out some of the best sets and discounts on the market, we've got guides for the best Lego space sets, Lego deals, Lego Star Wars deals and best Lego Marvel sets.
The new Lego Batcave Shadow Box set is set to retail for $449.99 or £349.99 if you're based in the UK. So it's not the cheapest set out there, but then again, it's designed for those aged 18 and above and there is nearly 4000 pieces included to complete this set.
With that number of pieces, there's plenty of building on offer but the fun doesn't stop once the set is completed. The playable features include the ability to move furniture, change images on the big screen, open a vault and open a door. The Batmobile is at the heart of this set and the minifigures included are Bruce Wayne, Alfred, Max Shreck, Catwoman, The Penguin and of course, Batman.
"Batman Returns" is still a popular entry into the Batman franchise - having been released over 30 years ago - and features a star-studded line up. There's no doubt that, because of this, fans of Batman and Lego will love this set, once they can get their hands on it in early June. What's more, is that the Catwoman and Penguin minifigures are brand new from Lego, so if you're a fan of the Caped Crusader and saving Gotham City, this brand new set could be worth checking out.