From erupting volcanoes to launching rockets and fizzing chemical reactions, the Mega Science kits from National Geographic, now on sale for Prime Day, have it all.
This Prime Day, National Geographic's Stunning Chemistry Set, as part of its Mega Science series, is 30% off selling for just $24.49. The kit includes a whopping 45 kid-friendly experiments that will allow the STEM (science, technology, engineering and mathematics) enthusiast in your life to explore science hands-on.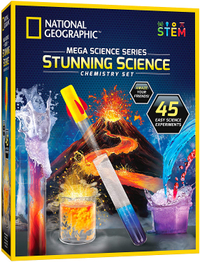 National Geographic's Stunning Chemistry Set: $34.99 now $24.49 at Amazon, Save over $11: Explore science with this kit that
includes over 15 experiments for the STEM-obsessed in your family.
The kit includes kid-friendly tools for experiments that include launching a rocket, creating chemical reactions, erupting a volcano and so much more.
But this isn't the only National Geographic Mega Science kit on sale for Prime Day this year.
Also on sale, 30% off its original price, is the National Geographic Earth Science Kit from the same Mega Science series.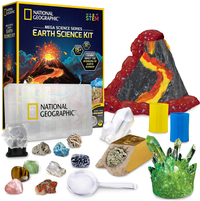 National Geographic's Earth Science Kit: $20.99 now $29.99 at Amazon,
Save $9: Explore over 15 experiments and activities in this Earth science kit. With these activities, you can do everything from erupt a volcano to grow crystals and go on geologic digs.
This kit includes over 15 kid-friendly experiment activities that cover everything from erupting volcanoes to growing crystals, dueling water tornadoes and geologic digs.
In addition to the variety of experiments that kids can do alone or together with friends or classmates, the kit also includes a detailed learning guide that helps kids to learn about Earth and all of the incredible, scientific processes that happen on our planet while they have fun doing the science-tastic activities.
Email Chelsea Gohd at cgohd@space.com or follow her on Twitter @chelsea_gohd. Follow us on Twitter @Spacedotcom and on Facebook.