Karol 'Bo' Bobko, former NASA astronaut who flew three shuttle missions, dies at 85
Bobko was the only NASA astronaut to fly on the first launch of two space shuttle orbiters.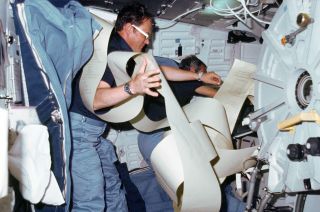 (Image credit: NASA)
Karol "Bo" Bobko, who was the only NASA astronaut to fly on the first launch of two space shuttle orbiters, has died at the age of 85.

Bobko's death on Thursday (Aug. 17) was confirmed by the Association of Space Explorers, a professional organization for the world's astronauts and cosmonauts. A distinguished member, Bobko previously served as president of the U.S. chapter of the association.

Bobko joined NASA in 1969 with the agency's seventh group of astronauts. Unlike the classes that came before and after his selection, though, Bobko and his six fellow Group 7 members were transplants from another astronaut corps: the U.S. Air Force's Manned Orbiting Laboratory (MOL) program.

When the MOL program was canceled in June 1969, NASA accepted the seven youngest members into its astronaut corps but did not have any immediate need for them.

"Perhaps the first year or so was rather, at times, rather frustrating," said Bobko in a 2002 NASA oral history interview. "During the first year, we were told twice that we were fired."

"And then that was rescinded," Bobko said. "They said, 'The program is not going anyplace. We don't need you folks, and, so you're going to be let go and go back to the Air Force.' But that was rescinded, and we stayed and got involved in the programs that were going on here."
Related: Manned Orbiting Laboratory declassified: Inside a US military space station
Still, it would be 14 years before Bobko flew to space for the first time. On April 4, 1983, the space shuttle Challenger lifted off on its first mission, STS-6, with Bobko as its pilot.

"First flight of Challenger. First lightweight [external fuel] tank. Okay, we launched the big first satellite, the TDRS [Tracking and Data Relay Satellite-1]," said Bobko, listing what set STS-6 apart from other missions. "It was also the first flight of the HUD, the heads-up display, which I had on my side [of the flight deck]."

The mission also included the first spacewalk (extravehicular activity, EVA), from the space shuttle.

"My responsibility was getting them [Story Musgrave and Don Peterson] into the suits, which is not a small responsibility. I mean, you're putting them into their own little spacesuit or spacecraft. You know, it provides power and atmosphere and communications and meteoroid protection. It does everything. So it's kind of like launching a small satellite, except it's got a man in it," Bobko said.

"But that went well. It was interesting to take photographs of them out there in the payload bay. It looks different when you're up in space and have somebody, one of your friends, floating around back there," he said.

Not everything went as well during the five-day mission. The orbiter's guidance computer went offline.

"It failed, but we were on orbit, and the shuttle is — the shuttle, unlike the station on orbit, is very benign. It doesn't take computers to keep it running," said Bobko. "So it failed, and we were able to go through the whole procedure and bring it back up, change it to basically another position. When you fly the shuttle, you have four computers and a fifth which is a backup, and those four computers have what are called strings, so each computer has different things that are hooked to it that it commands and some of those strings are more important to it than others, so we took this computer and put it on one of the less important strings."
Related: NASA's space shuttle program in pictures: A tribute
Bobko's launched on his second spaceflight as commander of space shuttle Discovery on April 12, 1985. His six STS-51D crewmates included the first first sitting member of Congress to fly into space, Senator Jake Garn of Utah.

"Jake was a great person. He had more flying time than I did. He knew what it was to be a crew member," said Bobko. "So, for a [payload] specialist, he was a great [payload] specialist. His only problem was that he got very sick on orbit."

The nearly seven-day mission deployed two communication satellites, resulting in the first unplanned spacewalk in U.S. history.

"One of those satellites didn't work, and so we had backed off 30 or 40 miles [48 or 64 kilometers] and then the ground decided that we would go back and attempt a rescue on it. And so that turned into quite a bit different situation than we had anticipated," Bobko said.

"We had to send two guys [Jeffrey Hoffman and David Griggs] EVA, which was an unplanned EVA for that flight, but I had been the one who had sent Story and Don EVA earlier, so I didn't have anybody else learn that skill since we didn't have a scheduled EVA. So I was the one who sent the crew members EVA," he said. "They strapped a thing that looked like a fly swatter on the end of the big [robotic] arm, which we hadn't planned to use."

The spacewalk was successful, but the "fly swatter" was not. The satellite was retrieved, repaired and redeployed by a later space shuttle mission.
Bobko's third and final flight into space, STS-51J on Oct. 3, 1985, was the first flight for space shuttle Atlantis. It was also the second mission devoted solely to deploying a U.S. Department of Defense payload.

Again assigned as commander, Bobko and his four crewmates spent four days in Earth orbit conducting activities that to this day remain classified.

"What can I tell you about the third mission? The third mission was pretty vanilla. I mean, we went on time and we landed according to the schedule. The fact that it was classified was a pain, but you lived with that," Bobko said.

"But, you know, it was a good mission. It was the first flight of Atlantis, which was very clean, cleaner than Challenger was, even," he said.

In total, Bobko logged 16 days, 2 hours and 3 minutes in space over the course of his three missions.
Karol Joseph "Bo" Bobko was born on Dec. 23, 1937 in New York City. He earned his Bachelor of Science degree in 1959, as a member of the first graduating class of the U.S. Air Force Academy and a Master of Science in aerospace engineering from the University of Southern California in 1970.

From 1961 to 1965, Bobko flew F-100 and F-105 aircraft while assigned as a pilot with the 523d Tactical Fighter Squadron at Cannon Air Force Base in New Mexico and the 336th Tactical Fighter Squadron at Seymore Johnson Air Force Base in North Carolina. He attended the Aerospace Research Pilots School at Edwards Air Force Base in California, where he was assigned as an astronaut to the MOL program in 1966.

After joining NASA but before being assigned to his first spaceflight, Bobko served in a number of support roles.

After briefly working on studies for a future space station to be serviced by the space shuttle, Bobko joined SMEAT, or the Skylab Medical Experiment Altitude Test. For 56 days, Bobko, together with fellow astronauts Bob Crippen and Bill Thornton, simulated living and working aboard the Skylab orbital workshop while inside a hypobaric chamber.

"It was a long time, but it was easy, and it seemed to pass rather quickly," Bobko said. "I'm not sure if at the end of [56] days if somebody had said, 'Would you like to go for another [56]?' that I would have volunteered, but, you know, generally, I think that the feeling that I had through most of it was that you're working, you've got a job to do and there was even times you worried if we'd get it all done in the time that we had available."

After SMEAT, Bobko was assigned to the astronaut support crew for the Apollo-Soyuz Test Project (ASTP), the first joint mission between the United States and Russia, and then the support crew for the Approach and Landing Test program that was flown using the prototype space shuttle Enterprise.

His last assignment prior to getting his own spaceflight was to serve as the lead astronaut in the test and checkout group at the Kennedy Space Center in Florida in preparation of the first launch of the space shuttle program, STS-1, in 1981.

Bobko's second spaceflight was originally going to be STS-41F, but due to delays launching Discovery on STS-41D, the flight was canceled. Bobko was reassigned to STS-51E, which was planned to deploy a TDRS satellite like STS-6 had done, but that mission was also cancelled due to problems with the payload. That ultimately led Bobko (and most of his earlier assigned crewmates) being assigned to STS-51D.
In 1988, Bobko retired from NASA and the Air Force (with the rank of colonel) to join Booz Allen & Hamilton Inc., in Houston, Texas, managing the firm's efforts dealing with human spaceflight. In 2000, he became vice president for strategic programs at Spacehab, Inc., a company that provided that stowage platforms and pressurized research modules that were flown in the payload bay of the shuttle.

In 2005, Bobko joined Science Applications International Corporation (SAIC), where he served as program manager for NASA's Ames Research Center's Simulation Laboratories. He retired in 2014, although he continued to consult.

For his service to the U.S. space program, Bobko was honored with the NASA Exceptional Service Medal and NASA Space Flight Medal, among other awards. He was inducted into the U.S. Astronaut Hall of Fame in 2011 and the Cradle of Aviation Museum's Long Island Air and Space Hall of Fame in 2018.

"You look through the Astronaut Hall of Fame and there are a lot of people who have contributed an awful lot to the space program. It is an honor to be doing that and it's an honor to have people recognize that I have been of some importance to the space program and I am worthy of being a member of this," Bobko said in a 2011 interview with collectSPACE.

Bobko was married to F. Dianne Welsh with whom he had two children, Michelle and Paul.
Follow collectSPACE.com on Facebook and on Twitter at @collectSPACE. Copyright 2023 collectSPACE.com. All rights reserved.
Get the Space.com Newsletter
Breaking space news, the latest updates on rocket launches, skywatching events and more!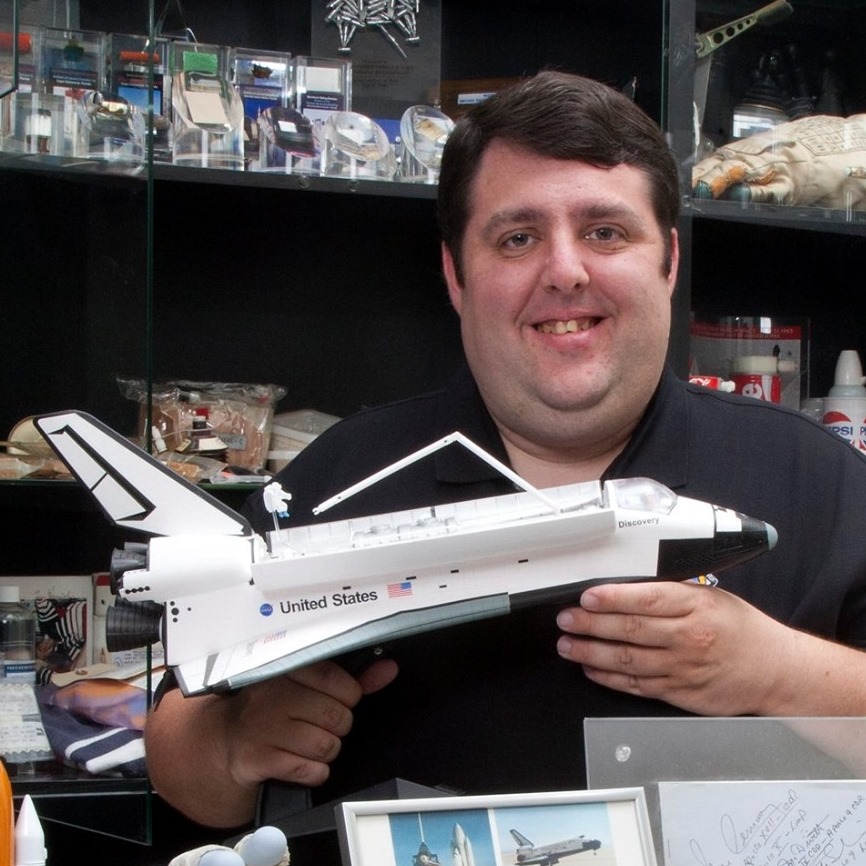 collectSPACE.com Editor, Space.com Contributor
Robert Pearlman is a space historian, journalist and the founder and editor of collectSPACE.com, an online publication and community devoted to space history with a particular focus on how and where space exploration intersects with pop culture. Pearlman is also a contributing writer for Space.com and co-author of "Space Stations: The Art, Science, and Reality of Working in Space" published by Smithsonian Books in 2018. He previously developed online content for the National Space Society and Apollo 11 moonwalker Buzz Aldrin, helped establish the space tourism company Space Adventures and currently serves on the History Committee of the American Astronautical Society, the advisory committee for The Mars Generation and leadership board of For All Moonkind. In 2009, he was inducted into the U.S. Space Camp Hall of Fame in Huntsville, Alabama. In 2021, he was honored by the American Astronautical Society with the Ordway Award for Sustained Excellence in Spaceflight History.