There are few games as classic as a good jigsaw puzzle. This holiday season, add some celestial flare to your family bonding time with this full moon puzzle set by BetterCo.
BetterCo features many designs on its puzzle sets, including a few other solar system bodies. The BetterCo lunar jigsaw puzzle is now on sale for $10 at Amazon (opens in new tab), down from its usual price of $18.95.
If you prefer getting a set that depicts Mars (opens in new tab) or a planet Earth puzzle (opens in new tab), they are currently available at their usual price of $25. Fortunately, the set featuring a full moon image taken by NASA is now $8.95 off (47%) from its retail price at Amazon. You could also purchase the trio for $60 (opens in new tab) if you prefer to have them all.
Amazon is also offering an additional 10% discount with promo code DECEMBER2021 at checkout for all BetterCo puzzles.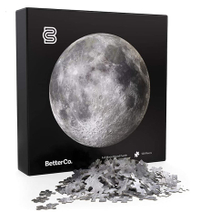 (opens in new tab)
BetterCo. Full Moon Round Puzzle: $18.95 $10.00 at Amazon (opens in new tab)
This 500-piece jigsaw puzzle is the perfect family activity this holiday season. As you assemble the moon's facade, vibrant details in this lunar NASA view will start to appear.
There are a few perks to this set. The full moon jigsaw puzzle comes with 500 pieces, and as you assemble, vivid craters and the textures of the lunar surface will slowly come into view.
The puzzle is also made of high-quality and durable recycled-paper cardboard with precision-cut shapes, according to BetterCo. The manufacturer adds that the puzzle's image was made using natural soy-based inks.
If you are traveling this holiday season and are lugging all your gifts along with you, the 1.54-pound (0.7 kilograms) compact item will be easy to transport, too.
BetterCo says this puzzle is intended for ages 12 and older.
Be sure to check out Space.com's best holiday space deals.