Everything we know about Invincible season 2: release date, plot, cast & more
Season 2 of Robert Kirkman's hit animated superhero show Invincible hits Prime Video soon. Here's everything you need to know about it.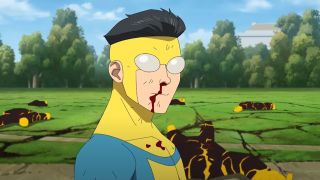 (Image credit: Amazon Studios/Image Comics)
It's been more than two years since Invincible Season 1 premiered on Prime Video and made a splash as Amazon's second adult superhero T.V. series, with the first being The Boys. With Invincible season 2 now on the near horizon, we've put together everything we know about it so far.
Invincible is Robert Kirkman's second comic book to make a hugely successful leap to the small screen. Of course, it's not nearly as big as The Walking Dead and its several spin-off shows, but very few series have had a following as enormous as that one. The first season of Invincible was big enough to receive a renewal for two more seasons almost right away, which means the people at Amazon Studios were quite pleased with its viewership numbers.
If you're in the mood for more animated superhero romps, you should watch Spider-Man: Across the Spider-Verse as soon as possible. Outside the animated realm but still among comic book adaptations, we have Marvel Studios' Loki season 2 coming in October – it'll be more robust than Secret Invasion hopefully – and Marvel's Spider-Man 2 also launching on PS5 in the same month. Replaying some of the best Marvel games of all time might help with the wait.
Invincible season 2 Release date
During the San Diego Comic-Con 2023, we learned the first half of season 2 will premiere on Nov. 3, 2023, with the latter half expected to debut in early 2024.
While the wait is nearly over, a second season split in two halves wasn't really the news most passionate fans were expecting, so Amazon and the series creators' dropped an Atom Eve-centric prequel special as a surprise on July 21, 2023. You can now watch it on Prime Video.
Invincible season 2 Trailers
Although we've received two season 2 teasers so far, they haven't shown us much. This will surely change as the Nov. 3 premiere approaches though.
The very first one arrived on Jan. 20, 2023, and simply let us know in a comedic and relaxed fashion about the late 2023 release window. You can watch it below:
Fast-forward to San Diego Comic-Con 2023 and we got a second teaser with some snippets of scenes from the long-anticipated sophomore season as well as a full reveal of its ridiculously packed voice cast. Check it out here:
Invincible season 2 Plot
Spoilers ahead for Invincible season 1 – you have been warned!
Created by Robert Kirkman and featuring striking art by Cory Walker and Ryan Ottley, Invincible mostly follows Mark Grayson (Steve Yeun in the show), a seemingly normal teenager except for the fact that his complicated father, Nolan Grayson aka Omni-Man (J.K. Simmons), is the most powerful superhero on Earth.
Mark doesn't exhibit any of his father's powers until after his seventeenth birthday, which throws him into several difficult (and escalating) situations that will test his newly acquired powers as well as his late teenage life. Soon, he's at the center of a massive conflict which puts him and everyone he cares about in danger, but things become way more complicated once his father's true nature is revealed.
In the first season's finale, Omni-Man flies away from Earth after murdering the Guardians of the Globe, fighting against the Global Defense Agency, and almost killing his own son. He's a warrior of the warmongering Viltrum Empire tasked with taking out Earth's strongest contenders so the planet could easily become part of it. But, of course, Omni-Man's growing human feelings leave him confused and unable to finish off Mark, who he considers a disappointment not worthy of his extraterrestrial blood.
According to Prime Video's official synopsis, season 2 will present Mark struggling to rebuild his life "as he faces a host of new threats, all while battling his greatest fear – that he might become his father without even knowing it." Kirkman also commented that season 2 will explore the concept of the multiverse, though according to him, it'll be used to explore characters we already know through different lenses. This plotline will also introduce the villain Angstrom Levy, played by Sterling K. Brown.
Invincible season 2 Cast
Invincible already had an incredible roster of voice talent for its first season, but season 2 is taking things to a whole new level, and we haven't even learned about all of them yet.
The returning cast members are Steven Yeun, with Sandra Oh, Zazie Beetz, Grey DeLisle, Chris Diamantopoulos, Walton Goggins, Gillian Jacobs, Jason Mantzoukas, Ross Marquand, Khary Payton, Zachary Quinto, Andrew Rannells, Kevin Michael Richardson, Seth Rogen and J.K. Simmons.
They're joined by Sterling K. Brown, Peter Cullen, Rob Delaney, Calista Flockhart, Phil LaMarr, Luke MacFarlane, Tatiana Maslany, Scott McNairy, Jay Pharoah, Ella Purnell, Tim Robinson, Ben Schwartz, Rhea Seehorn, Lea Thompson, Paul F. Tompkins, Shantel VanSanten, Daveed Diggs and more.
Invincible season 2 Directors, writers & crew
Comic book masterminds Robert Kirkman, Ryan Ottley, and Cory Walker all helped create the show. The executive producers are Kirkman himself, Catherine Winder, David Alpert, Simon Racioppa, Margaret M. Dean, Seth Rogen, and Evan Goldberg, and the co-executive producers are Helen Leigh and Cory Walker.
We've yet to fully learn about the season 2 writing credits, but season 1 was penned by Robert Kirkman, Ryan Ottley, Simon Racioppa, Chris Black, Curtis Gwinn, Christine Lavaf, and Ryan Ridley. Similarly, we can expect some returning talent from season 1's team of directors: Jeff Allen, Paul Furminger, Jay Baker, Cory Evans, Jae Harm, Vinton Heuck, William Ruzicka, and Robert Valley.
The series' original music has been composed by John Paesano (Marvel's Spider-Man games, Netflix's Daredevil) once again for season 2.
Get the Space.com Newsletter
Breaking space news, the latest updates on rocket launches, skywatching events and more!
Fran Ruiz is our resident Star Wars guy. His hunger for movies and TV series is only matched by his love for video games. He got a BA of English Studies, focusing on English Literature, from the University of Malaga, in Spain, as well as a Master's Degree in English Studies, Multilingual and Intercultural Communication. On top of writing features and other longform articles for Space.com since 2021, he is a frequent collaborator of VG247 and other gaming sites. He also serves as associate editor over at Star Wars News Net and its sister site, Movie News Net.