Best Marvel games of all time
From Spider-Man to the Guardians of the Galaxy, these are the best Marvel games you can play.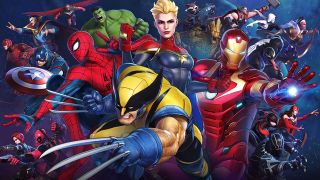 (Image credit: Nintendo)
Marvel has enjoyed plenty of success over the years in the medium of video games. From traditional beat 'em ups to fast-paced fighting games, Earth's mightiest heroes have successfully leapt from the comics into gaming consoles and PCs over and over again.
With so many Marvel games to choose from, the biggest problem for gamers is separating the wheat from the chaff. Like with any other famous IP, Marvel has put out plenty of radioactive stinkers, so we've put together this list to guide you through several generations of Marvel video games, focusing only on the very best the brand has to offer.
Oh and before we kick off an infinity war of our own, this list is in no specific order. These are the top ten, but each offers something unique.
For more great space gaming content, check out our guides to the best space exploration games or maybe the all-spooky best space horror games list. If you want to keep things in the Marvel universe, you can also check out our guides to watching the Marvel movies in order, or our rundown of the Marvel movies, ranked worst to best.
10. Marvel Snap
Platforms: PC, Android, iOS
Developer: Second Dinner
Digital collectible card games based on large IPs tend to be forgettable, yet Marvel Snap — published by Nuverse — has been a massive hit with hardcore gamers and casual fans alike. It's quick to play and easy to grasp, but also highly competitive for those who want to push themselves hard.
Marvel Snap is especially enticing for Marvel aficionados because of how gorgeous it looks, from the stylish art on the cards to the deep-cut references to the IP and its gigantic library of stories and characters. Plus, you can play it on the go!
9. Marvel's Guardians of the Galaxy (2021)
Platforms: PC, Xbox One/Series X/S, PS4/5, Nintendo Switch (streaming)
Developer: Eidos-Montréal
After missing the mark with Marvel's Avengers (2020), Square Enix's second triple-A Marvel game faced an uphill battle with journalists and fans, yet it went on to garner critical acclaim and win several big awards, despite failing to meet sales expectations.
Guardians of the Galaxy feels like developer Eidos-Montréal sticking to what the studio has always done best; tight single-player experiences with tons of soul and memorable world-building. This game is big and epic, yet it finds its biggest strength in the little moments with each member of our favorite band of spacefaring misfits.
8. LEGO Marvel Super Heroes
Platforms: PC, MacOS, PS3/4, Xbox 360/One, Wii U, Nintendo Switch
Developer: Traveller's Tales
LEGO video games are the gift that keeps on giving and Traveller's Tales' ambitious take on the Marvel universe did not disappoint. While the sequel — Lego Marvel Super Heroes 2 — may have expanded on many of the game's systems and gone deeper with the character roster, the first LEGO Marvel Super Heroes remains king of the LEGO Marvel games.
This one might be the best pick in the list for the whole family, with an easy-to-access co-op mode included, a huge open-world worth exploring, and more playable Marvel legends than anyone could hope for.
7. The Incredible Hulk: Ultimate Destruction
Platforms: PS2, Xbox, GameCube
Developer: Radical Entertainment
The Hulk's best solo days in the mainstream came following the release of Ang Lee's middling 2003 movie Hulk. That adaptation spawned a notable game tie-in as well as one of the most brutal open-world games ever in The Incredible Hulk: Ultimate Destruction.
After being released in 2005, Ultimate Destruction quickly became one of the biggest power fantasies on the market and a top-notch take on Hulk's comic book legacy, and we think it's still worth checking out today if you get the chance. The game provides super-powered smashing on a huge scale that is only topped by the same studio's two Prototype games.
6. Midnight Suns
Platforms: PC, Xbox Series X/S, PS5
Developer: Firaxis Games
Midnight Suns is the most recent Marvel game on this list and one of the IP's weirdest projects ever, but one that we're thankful for. Despite the glowing reviews and positive fan reception, it has underperformed financially, but Firaxis' bold take on both the tactical strategy genre and the darkest corner of the Marvel universe feels truly unique.
The "downtime" between missions — mostly focused on social interactions and calm exploration — might be too slow for some players, but if you're into learning more about who your iconic comrades are and how they feel, Midnight Suns can be much more than an engrossing turn-based RPG.
5. Ultimate Spider-Man
Platforms: PC, PS2, Xbox, GameCube
Developer: Treyarch, Beenox
The huge success of Sam Raimi's Spider-Man movie trilogy (2002 - 2007) made Marvel's most famous superhero even more famous during the 2000s, and we got all kinds of competent video game adaptations as a result.
While some of you probably expected to see the Spider-Man 2 tie-in game make the cut (we all love pizza time), we think that the most unique and memorable Spidey release of that era is Ultimate Spider-Man. It had an excellent artistic design that hasn't been done again for the character and was consistently fun to play. The game even allowed players to control Venom and explore the story from a different point of view.
4. X-Men Legends II: Rise of Apocalypse
Platforms: PC, PS2, PSP, Xbox, GameCube
Developer: Raven Software
Activision truly had it all when it came to Marvel in the 2000s, and the X-Men Legends games quickly became one of the company's best offerings for the home consoles and PC. Our personal pick is Rise of Apocalypse, a sequel that elevated everything that worked in the original.
For many players and casual Marvel fans, X-Men Legends II marked the first contact with Apocalypse, one of the mutant's fiercest antagonists. Furthermore, it put an uneasy alliance between the X-Men and Magneto's Brotherhood of Mutants front and center, paving the way for much of the franchise's future on the big screen.
3. Marvel: Ultimate Alliance
Platforms: PC, PS2/3/4, PSP, Xbox, Xbox 360/One, Wii
Developer: Raven Software
Roughly a year after X-Men Legends II launched, Raven Software went much bigger — using the same game systems — and crafted a beautiful love letter to the Marvel universe as a whole that went beyond the X-Men and the most famous Avengers.
Ultimate Alliance's promise of building the definitive Marvel superhero team paid off big time thanks to tons of variety and accessible action-RPG mechanics. The game spawned two sequels, but there's a big quality gap between the first entry and the rest of the series.
2. Marvel's Spider-Man
Platforms: PS4/5, PC
Developer: Insomniac Games
After a trip down memory lane, a return to modern video games inevitably leads us to Insomniac's Spider-Man, which is arguably the most immersive and cutting-edge Marvel title to date. Originally a PlayStation exclusive, it's now also available on PC with even sharper graphics and plenty of user-made mods.
The game's spin-off, Marvel's Spider-Man: Miles Morales raised the tech even higher and stands well on its own, but the first game, remastered or not, still hasn't been topped as the definitive Spider-Man experience. In fact, few fans will argue against it being one of the finest Spidey stories ever in any form of media. We're expecting a full-blown Spider-Man 2 later this year and we can't wait.
1. Ultimate Marvel vs. Capcom 3
Platforms: PC, Xbox 360/One, PS3/4/Vita
Developer: Capcom, Eighting
Our last pick isn't recent nor ancient, but we're sure it's still the best Marvel fighting game around. Capcom has delivered time and again when working alongside Marvel — except for Marvel vs. Capcom: Infinite, let's forget about that one — but the extended cut of the third entry in their hit crossover series is by far the meatiest one.
Ultimate Marvel vs. Capcom 3 represents the peak of accessible 2D fighting games without sacrificing all the depth that veterans of the genre require to become the very best in tournaments. Moreover, it packs one of the best transitions from pixel art to 3D graphics we've ever seen. As a bonus, you get plenty of X-Men characters before Disney started boycotting Fox's big-screen efforts and downplaying their (borrowed) characters' presence for years.
Get the Space.com Newsletter
Breaking space news, the latest updates on rocket launches, skywatching events and more!
Fran Ruiz is our resident Star Wars guy. His hunger for movies and TV series is only matched by his love for video games. He got a BA of English Studies, focusing on English Literature, from the University of Malaga, in Spain, as well as a Master's Degree in English Studies, Multilingual and Intercultural Communication. On top of writing features and other longform articles for Space.com since 2021, he is a frequent collaborator of VG247 and other gaming sites. He also serves as associate editor over at Star Wars News Net and its sister site, Movie News Net.