Blue Origin suffered an anomaly during an uncrewed space mission today (Sept. 12) but managed to recover its capsule successfully, officials said during a live broadcast.
The company's uncrewed New Shepard capsule activated its emergency escape system today after a problem occurred with the New Shepard booster a little before the mission reached an altitude of 30,000 feet (9,000 meters). The escape system worked as planned, jetting the capsule away from trouble and allowing it to descend safely to Earth under parachutes. What happened to the booster is unknown, but it presumably was destroyed.
New Shepard lifted off today from Blue Origin's West Texas launch site at 10:27 a.m. EDT (1427 GMT) after being delayed nearly an hour for reasons the company has not disclosed. Officials have not yet said what caused the issue during launch, which may take some time to investigate. "More information to come as it is available," Blue Origin wrote in a tweet.
Live video from Blue Origin of the launch cut away from the booster shortly after the anomaly occurred 1 minute and 5 seconds after launch, turning instead to focus on the capsule rather than the rocket.
Related: New Shepard: Rocket for space tourism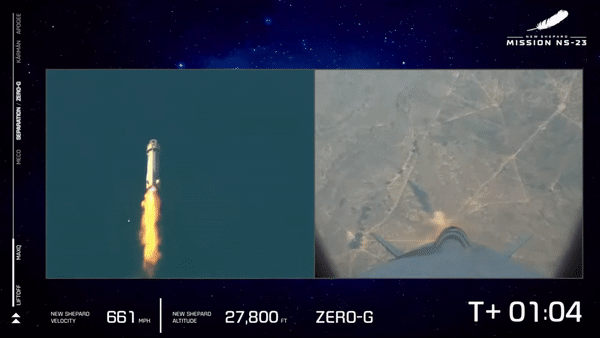 It is unclear what effect this issue will have on future uncrewed or crewed missions, which use different variants of the New Shepard spacecraft.
This is only the second in-flight anomaly experienced by the New Shepard program. The first happened during the vehicle's debut launch in 2015, when the first-stage booster crashed instead of landing; that payload reached suborbital space as planned.
Blue Origin originally hoped to launch today's mission — called NS-23, because it was the 23rd New Shepard flight — on Aug. 31 and then Sept. 1, but bad weather conditions prevented the liftoff on both days, company representatives said.
The NS-23 mission wasn't carrying any space tourists aloft today. Instead, it was a cargo-only flight that aimed to take 36 payloads on a brief jaunt to suborbital space and back, 18 of them funded by NASA. How the payloads fared during the anomaly is unclear.
In photos: Blue Origin's 1st New Shepard passenger launch with Jeff Bezos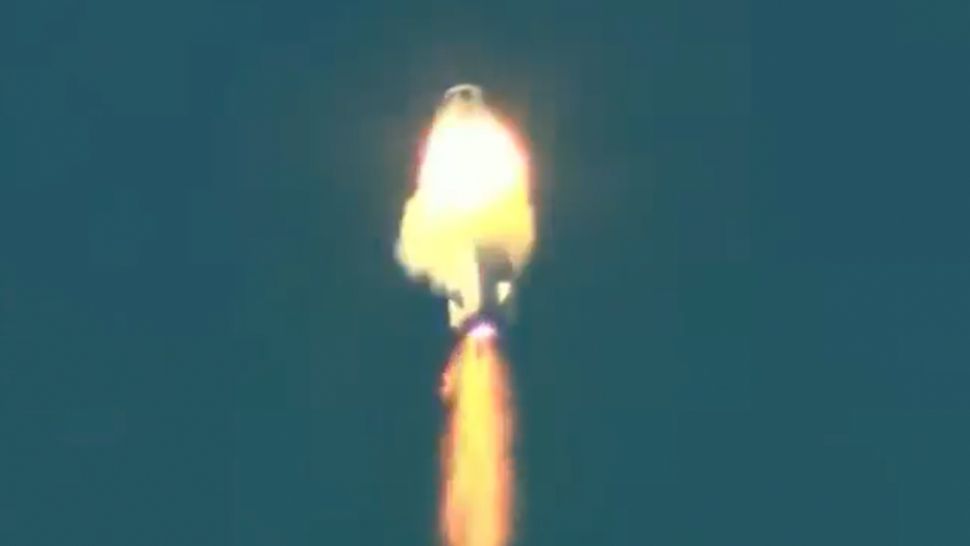 "Twenty-four payloads are from K-12 schools, universities and STEM-focused organizations," Blue Origin wrote in an Aug. 24 update, which includes detailed descriptions of some of the experiments. ("STEM" stands for "science, technology, engineering and math.")
"This is double the number of education-focused payloads from previous payload flight manifests," the company, which is run by Jeff Bezos, added in the update. "In many cases, these payloads expose students as young as elementary school to STEM skills like coding, environmental testing and CAD [computer-aided design] design often not taught until college."
New Shepard consists of a rocket and a capsule, both of which are reusable. Blue Origin currently operates two New Shepard vehicle assemblies, one for space tourism and one for payload-only flights.
The company has launched six crewed missions to date, beginning in July 2021. NS-23 was the first payload-only flight since August of last year.
Mike Wall is the author of "Out There" (Grand Central Publishing, 2018; illustrated by Karl Tate), a book about the search for alien life. Follow him on Twitter @michaeldwall.
Space.com staff writer Elizabeth Howell contributed reporting about the anomaly. Follow us on Twitter @Spacedotcom or on Facebook.