On Monday (April 3), NASA announced the crew of its Artemis 2 mission, which will send four astronauts around the moon in late 2024.
One of those four Artemis 2 flyers is Canadian astronaut Jeremy Hansen, who will become the first person from his country to leave Earth orbit. Canada earned the Artemis 2 seat through its contributions to NASA's Artemis program, in particular Canadarm3, the big robotic arm that will service the moon-orbiting Gateway space station.
On Sunday (April 2), Space.com spoke with the top Canadian government official responsible for space: François-Philippe Champagne, the Minister of Innovation, Science and Industry. Space.com asked Champagne, who directly advises Canada's prime minister, about Artemis 2, the broader Artemis program and Canada's role in space going forward.
Related: Everything you need to know about NASA's Artemis program
Space.com: You have held many offices related to the Canadian Space Agency's (CSA's) work: Minister of Foreign Affairs, Minister of Infrastructure and Communities and Minister of International Trade. Now you're the CSA's minister. So where do you see the CSA's role in government?
Champagne: The President of the United States said it best [in late March] when he said, Canada and the United States can do big things because we do them together. So yes, the CSA brings all the portfolios together. There's the aspect of the space economy, or aspects that will benefit communities in the Arctic with health and nutrition in harsh environments. CSA brings in the foreign affairs portfolio because with our American friends, we're going to be building Canadarm3 to maintain the Gateway station. So it's kind of a full circle [for me], and I think it's pretty exciting. I hope Canadians will be proud to see our astronauts blasting off and going to the moon.
Space.com: The new federal budget [released March 28] said the CSA is key to our economy. In what ways do you think it's going to be able to benefit Canadians, to be investing in the moon and related programs?
Champagne: Space exploration is all about science, technology and innovation. And as a reminder, the science of today is the economy of tomorrow. You don't need to go very far to see the dividends that space is bringing: just think about GPS, which is now something commonly used by everyone. But that started with the space program.
In Canada, we have a harsher environment and more isolated communities. When you're going to go to the moon and Mars, you really have to rethink how you deliver health, for example, in very challenging environments, or storing food. So I think the technologies that we're going to develop will certainly benefit Canadians writ large.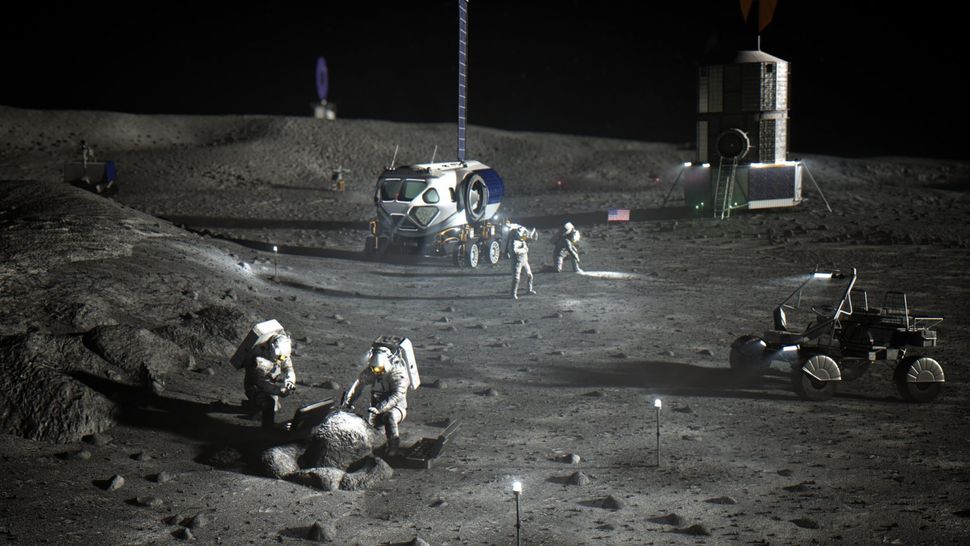 Space.com: In Budget 2023, there were several new investments in space. Are these going a bridge between the next moon missions [for Canada]? Because there's going to be the Artemis 2 mission, and then years down the road a Gateway mission by a Canadian astronaut. So are these programs in part meant to be sustaining interest in moon exploration and giving opportunities for Canadian companies in between those two astronaut journeys?
Champagne: Sure. For example, a mini lunar rover [flying in 2026] will mean that Canada will design, build and develop the technology required for rovers to go on the moon. But what Canada has been designing, building and developing will be used by other science or commercial applications. I do know that the companies who are looking at developing the rover already have an interest from a number of companies on the commercial side. So there will be the opportunities down the road.
Space.com: What kinds of consultations are being done with Canadian companies that are in space, or adjacent to space, to get their input as you're formulating the policy and the direction for the CSA?
Champagne: There's a new Canadian space council [of companies], so I've been in touch with them very much. We're talking to [Canadarm3 maker] MDA and GHGSat, which is monitoring methane. We've been with the council to really make sure that we have a strategy that will be brought in and center Canadian companies, because there's so many applications down the road.
[Looking internationally], we do want to make sure we integrate Canadian companies in the strategic supply chain. I've been talking to a number of space companies, like SpaceX, Blue Origin — and obviously talking to NASA. We're going to be launching rockets [again] soon from Canso, Nova Scotia [using facilities from Maritime Launch Services]. I think that there's an inflection point now where Canada will see commercial benefits.
Related: Maple leaf to the moon: Canadian Space Agency debuts new logo
Space.com: Concerning Canada's launching capability, when the announcement was made a few months ago, your government said at the time they were going to be considering applications on a case by case basis, and then working towards a newer set of regulations. So where are you in that process right now?
Champagne: I have to give credit to Minister Omar Alghabra and [his portfolio at] Transport Canada, because our legislation and regulations did not cover launching. We are putting a framework in place that will allow for safe launching from Canada.
I think there's a lot of interest when I spoke to different companies. In Canada, they're interested because the angle where you can put the satellites in orbit is unique, and you cannot replicate it anywhere else. I think we have some uniqueness. [To paraphrase] Volkswagen announcements, when it's good for Volkswagen, it's good for everyone.
This interview has been edited and condensed.
Elizabeth Howell is the co-author of "Why Am I Taller?" (ECW Press, 2022; with Canadian astronaut Dave Williams), a book about space medicine. Follow her on Twitter @howellspace. Follow us on Twitter @Spacedotcom or Facebook.