Nearly three dozen OneWeb internet satellites took flight today (Sept. 14), continuing to build out the company's broadband constellation.
A Soyuz rocket topped with 34 OneWeb spacecraft launched from Baikonur Cosmodrome in Kazakhstan today at 2:07 p.m. EDT (1807 GMT; 1:07 a.m. Sept. 15 local time in Baikonur).
All 34 satellites were deployed into a near-polar orbit with an altitude of 280 miles (450 kilometers) by about three hours and 45 minutes after liftoff, Arianespace representatives said (opens in new tab). The solar-powered spacecraft will now gradually make their own way to their operational orbit 746 miles (1,200 km) above Earth.
In photos: OneWeb launches new global satellite internet constellation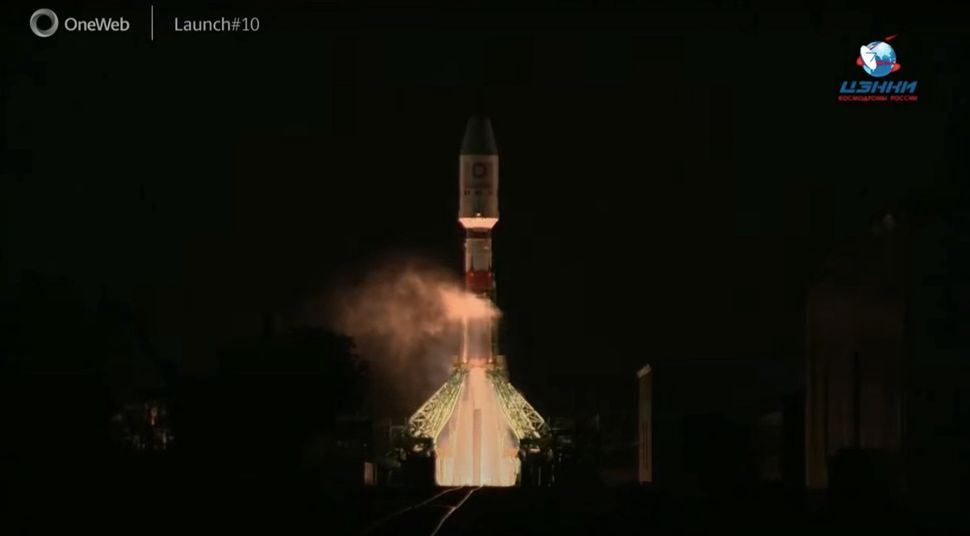 That migration will bring the number of satellites in OneWeb's constellation to 322, nearly half of its envisioned size. The London-based communications company is assembling a network of 648 spacecraft, which will beam broadband service down to people around the globe.
"Once deployed, the OneWeb constellation will enable user terminals that are capable of offering 3G, LTE, 5G and Wi-Fi coverage, providing high-speed access globally — by air, sea and land," Arianespace representatives wrote in a prelaunch statement (opens in new tab).
Arianespace has launched all of the OneWeb satellites to date over the course of 10 separate missions. The French company achieved a big milestone during today's flight: Arianespace has now lofted more than 1,000 satellites over its 41 years of launch operations. Today's launch comes on the heels of an Aug. 21 launch of 34 OneWeb satellites.
OneWeb, which emerged from Chapter 11 bankruptcy late last year, aims to start providing internet service by the end of 2021 to some of Earth's northern regions, including Canada, Alaska, Greenland, Iceland and continental northern Europe. Full global service is expected to commence in 2022.
The company has some competition in the satellite-internet business. For example, SpaceX has launched more than 1,700 of its Starlink broadband spacecraft to low Earth orbit and is already beta-testing the service they provide. Another heavy hitter, Amazon, plans to loft more than 3,200 broadband satellites of its own, though none of them have launched to date.
This story was updated at 2:30 p.m. EDT on Sept. 14 with news of the Soyuz launch, then again at 11 a.m. EDT on Sept. 15 with news of the successful deployments.
Mike Wall is the author of "Out There (opens in new tab)" (Grand Central Publishing, 2018; illustrated by Karl Tate), a book about the search for alien life. Follow him on Twitter @michaeldwall. Follow us on Twitter @Spacedotcom or Facebook.