NASA Probe Spies Jupiter's Moons and Storms in Flyby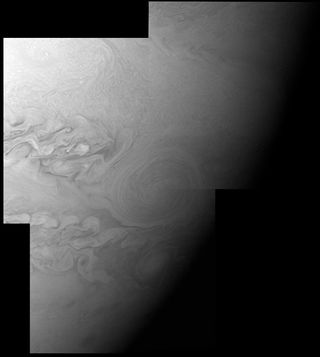 (Image credit: NASA/JHU/APL/SwRI.)
Thisstory was updated at 2:37 p.m. EST.
Visions ofa volcanic plume spewing out of Jupiter'smoon Ioand a swirling storm are among the first images returned by a NASA probe as itapproached an early-Wednesday swingpast the gas giant.
NASA'sNewHorizons spacecraft sent home the new look at Jupiter's "LittleRed Spot" [image]and the planet's volcanic moon Io [image]as it closed in on the gas giant during a planetary flyby that reachedits closest approach at about 12:43 a.m. EST (0543 GMT).
"Thisis the best image of a large volcanic plume on Io since the Voyager flybys in1979," John Spencer, deputy leader of the New Horizons Jupiter EncounterScience Team at Colorado's Southwest Research Institute (SwRI), said in awritten statement.
The flyby [image]is a major milestone for New Horizons' flight and allows missionscientists to collect new Jupiter observations in a dress rehearsal for theprobe's planned Pluto encounterin 2015 [VIDEO:Follow the Jupiter flyby].
AlanStern, the mission's principal investigator at SwRI, said NewHorizons was aiming for a 500-mile (804-kilometer) corridor around Jupiter asit flew along its path some 500 million miles (804 million kilometers) fromEarth. The spacecraft is now hurtling away from the Sun at 52,000 miles perhour (83,600 kph).
"Wehit that aim point," Alice Bowman, New Horizons mission operationsmanager, told SPACE.com after the successful flyby. "It means weare on our way to Pluto."
At itsclosest pass, New Horizons swung within 1.4 million miles (2.3 millionkilometers) of Jupiter before shooting onward on a course through the gasgiant's long magnetotail [image]-- the non-Sunward side of the Jovian magnetic field. It is during that timethat astronomers hope to uncover new secrets of the interactions between Jupiter'smagnetosphere, the Sun'ssolar wind and the gasgiant's aurora displays [VIDEO:Passport to Pluto].
"Thisis really the payback time," SwRI's David McComas, principalinvestigator for New Horizon's Solar Wind Around at Pluto (SWAP)instrument, told SPACE.com before today's planned flyby."The big show, it probably isn't just one day ortwo…we'll be inside the magnetosphere of Jupiter for manyweeks."
Launchedin January 2006, New Horizons grabbed a 9,000-mile per hour(14,484 kph) speedboost from its pass through Jupiter's strong gravity field. The extraspeed, mission managers have said, will cut three years on New Horizon'slong trek for its flyby of Plutoand its threemoons Charon,Nix andHydra [image].
The AppliedPhysics Laboratory at Johns Hopkins University in Maryland is overseeing themission for NASA and reported Wednesday that the spacecraft is in good healthafter its closest Jupiter approach.
A clutchof Jovian moons
As a sortof flyby appetizer, the fresh look at Io by New Horizons has provided theclearest view to date of the Jovian moon's Tvashtar volcano, missionmanagers said in a written statement.
The probeused its Long Range Reconnaissance Imager (LORRI) to photograph Io from a rangeof about 2.5 million miles (four million kilometers) on Feb. 26, 2007 as itneared Jupiter. Other images from the camera in the last two days include a newportrait of Jupiter's moons Ganymede [image]and Europa [image],and the immense "LittleRed Spot," a swirling storm about half the size to the planet's"GreatRed Spot" [image].
"Peoplewere over there in the science area and those guys were just grinningear-to-ear looking at the stuff that's coming down," Bowman said,adding New Horizons' new Little Red Spot and Tvashtar volcano portraitsare her current flyby favorites. "It feels good."
Firstdiscovered in 1999 in ground observations and by the Galileoprobe, the Tvashtar volcano is one of Io's most active features andcan be seen spouting a dust plume more than 150 miles (241 kilometers) high toform an umbrella-like shape [image]in the New Horizons view.
Io'sTvashtar volcano can be seen in another New Horizons image, a three-millisecondexposure aimed at resolving surface features, where it appears to be a darkspot in the 11 o'clock position surrounded by a dark ring [image].The eruption's volcanic fallout covers a region the size of Texas,New Horizons officials said.
The new Ioimages of the plume resolve features as small as 12 miles (20 kilometers) insize, which is about 12 times sharper than those taken by the Hubble Space Telescope andthree times sharper than views snapped by the Cassini spacecraft, which flewpast Jupiter in late 2000 on its way to its current orbit around Saturn, New Horizons officials said.
"Ifthe Tvashtar plume remains active, the images we take later in the encountershould be even better," Spencer said.
NewHorizons fresh Jovian system images are just some of the more than 700science observations planned during the probe's Jupiter flyby. Thebulk of those images, however, will remain locked inside the spacecraft'scomputer for later downlink to Earthin March and April, mission managers have said.
VIDEO: Follow New Horizons on its Jupiter Flyby
IMAGE MOVIE: View Jupiter's 10-Hour Day as Seen by New Horizons
VIDEO: Passport to Pluto
IMAGES: Bound for Pluto
IMAGES: The New Solar System
Reaching for the Edge: Complete Coverage of New Horizon's Pluto Mission
All About Jupiter
Get the Space.com Newsletter
Breaking space news, the latest updates on rocket launches, skywatching events and more!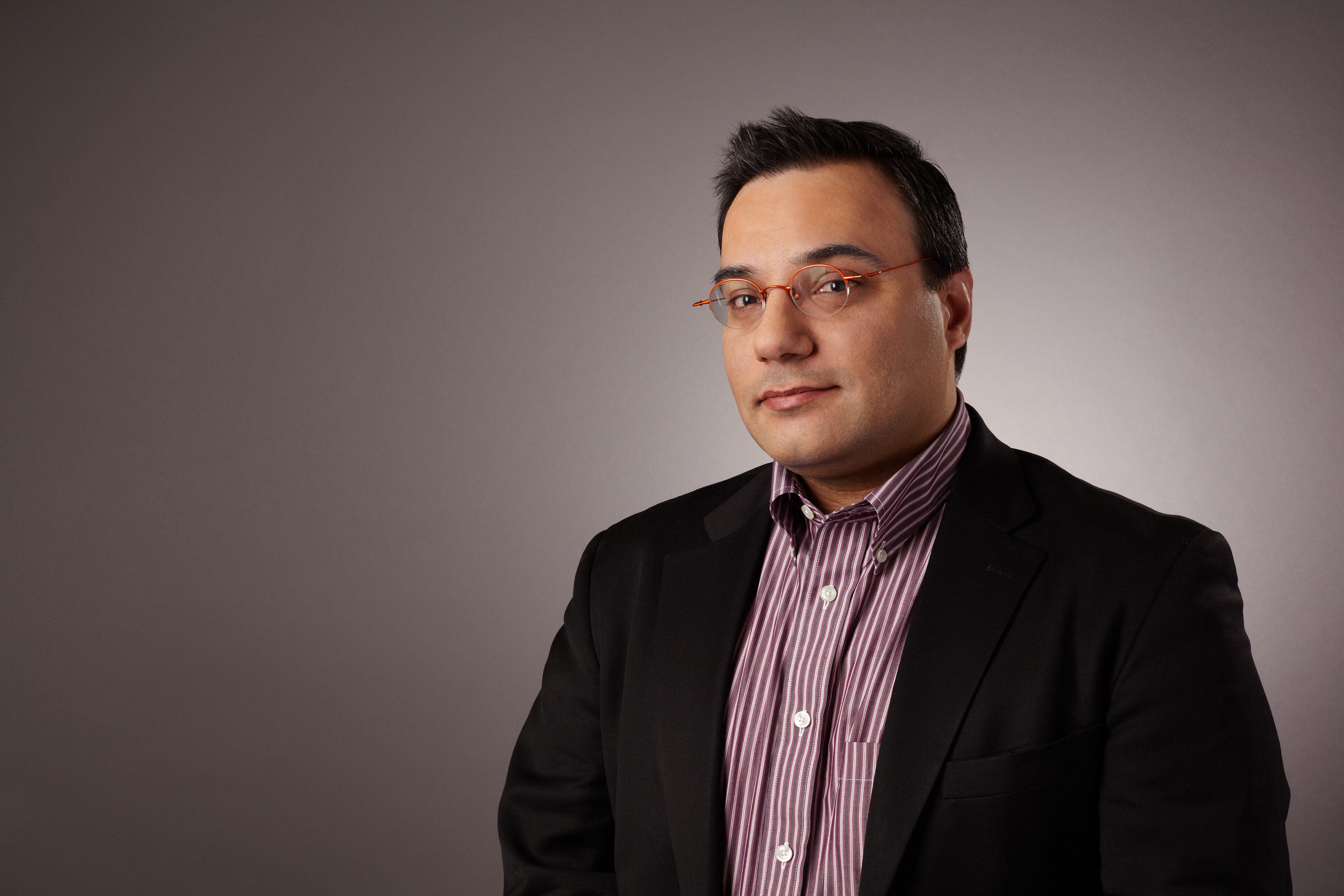 Tariq is the Editor-in-Chief of Space.com and joined the team in 2001, first as an intern and staff writer, and later as an editor. He covers human spaceflight, exploration and space science, as well as skywatching and entertainment. He became Space.com's Managing Editor in 2009 and Editor-in-Chief in 2019. Before joining Space.com, Tariq was a staff reporter for The Los Angeles Times covering education and city beats in La Habra, Fullerton and Huntington Beach. In October 2022, Tariq received the Harry Kolcum Award for excellence in space reporting from the National Space Club Florida Committee. He is also an Eagle Scout (yes, he has the Space Exploration merit badge) and went to Space Camp four times as a kid and a fifth time as an adult. He has journalism degrees from the University of Southern California and New York University. You can find Tariq at Space.com and as the co-host to the This Week In Space podcast with space historian Rod Pyle on the TWiT network. To see his latest project, you can follow Tariq on Twitter @tariqjmalik.