Reaching for Pluto: NASA Launches Probe to Solar System's Edge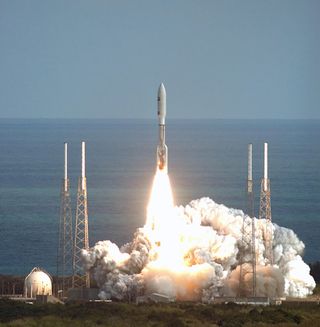 (Image credit: NASA.)
Thisstory was updated at 5:09 p.m. EST.
NASA'sfirst probe bound for the planet Pluto and beyond rocketed toward the distantworld Thursday after two days of delay due to weather.
A LockheedMartin-built Atlas 5 rocket flung the NewHorizons spacecraft spaceward at 2:00 p.m. EST (1900), sending the probespeeding away from Earth at about 36,250 miles per hour (58,338 kilometers per hour)- the fastest ever fora NASA mission. The probe should pass the Moon at 11:00 EST (0400 Jan. 20 GMT) ona nine-year trek towards Pluto.
"TheUnited States has a spacecraft on its way to Pluto, the KuiperBelt and on to the stars," said New Horizons principal investigator Alan Sternduring a post-launch press conference. "I have July 14, 2015 emblazoned onmy calendar."
Initialreports indicate that the probe is in good health. Grounds stations received theirfirst signals from New Horizons at about 2:50 p.m. EST (1950 GMT), which showedthe spacecraft's radioisotopethermoelectric generator (RTG) - which uses heat from decaying plutoniumdioxide to generate power - is online and performing as expected, missionmanagers said.
"Thevehicle looks to be right where it needs to be," NASA launch manager OmarBaez, said just after liftoff. "It was Mother Nature that was holding usback earlier, but we got through it."
Weatherwoes
Indeed,nature was the bane of New Horizons' launch from the beginning.
Flightcontrollers were forced to scruban initial Jan. 17 launch attempt when winds proved too strong at thespacecraft's Complex 41 launch pad at Cape Canaveral Air Force Station in CapeCanaveral, Florida. One day later, severe storms in Maryland preventeda second launch attempt when they knocked out power at New Horizons' missioncontrol center at Johns Hopkins University's Applied Physics Laboratory. Thelaboratory is managing the mission for NASA.
Earliertoday, thick cloud cover repeatedly forced flight controllers to push back NewHorizons' planned liftoff from 1:08 p.m. EST (1808 GMT), until the weathereased to meet launch guidelines.
"It wassuspenseful, there was no question," Stern said of today's countdown, holdingup a small stub of a pencil. "This has been our mascot for years, this littleground-down pencil...it represents perseverance."
NewHorizons mission managers took today's launch as an opportunity to honor Pluto'spast.
Ridingaboard the NASA spacecraft are ashes of the late astronomer ClydeTombaugh, who discoveredthe planet in 1930 at the Lowell Observatory in Flagstaff, Arizona. Tombaughdied in Jan. 17, 1997, nine years to the day of New Horizons first launchattempt this week.
"Iwant to point out what a great honor it is to have Clyde's widow [and family]here with us," Stern said of Patsy Tombaugh, her daughter Annette andson-in-law.
JimKennedy, NASA's Kennedy Space Center director, said earlier this week that a Floridaquarter - bearing the image of a space shuttle - is also accompanying theprobe to Pluto.
Onwardto Pluto
The $700million New Horizons mission began in earnest as the probe popped free from itsthird stage to begin the long, nine-year trek toward Pluto. The spacecraftshould swing past Jupiter, grabbing a gravity boost in the process, in lateFebruary 2007, NASA officials said.
"Thismission is going to the far frontier of our solar system," said Richard Binzel,a science team co-investigator from the Massachusetts Institute of Technology (MIT),before today's launch. "In some ways, our basic knowledge about Pluto could fiton a three-by-five inch note card."
Pluto isthe only member of the traditional nine-planet solar system not visited by aspacecraft, a statistic New Horizons hopes to change. The probe carries sevenprimary instruments to study Pluto, its moon Charonand twoother objects - currently dubbed P1 and P2 - discovered orbiting the planetlast year.
Thespacecraft is designed to begin observing Pluto about five months before itsscheduled flyby in July 2015, which will take place about three billion miles(five billion kilometers) from Earth on the 50th anniversary of Mariner4's flyby of Mars - NASA's first ever red planet flyby, Stern said.
Missionmanagers expect New Horizons to speed past the planet at about 31,000 miles perhour while using its instrument package to build detailed maps of the planet,as well as study its composition and tenuous atmosphere.
About ninemonths after the encounter, the 1,054-pound (478-kilogram) spacecraft should finishsending its Pluto observations to Earth, which will take about 4.5 hours toreach researchers on the ground.
Theinformation New Horizons will send to Earth about Pluto and its moons willlikely alter our view of the distant, icy world, researchers said.
"I think it'sexciting that all the textbooks will have to be rewritten," Stern said.
Thursday'sspace shot marked the second Atlas 5launch for NASA - the Mars ReconnaissanceOrbiter flight was the first -and the seventh flight overall for the Lockheed Martin rocket. The launch alsomarked the second success for NASA this week.
The spaceagency's Stardustprobe - which collected samples of interstellar dust and fragments of CometWild 2 (pronounced "Vilt 2") - landed safely on the Utah desert on Jan. 15.
""Thisweek, NASA has accomplished an amazing one-two punch for...exploration," said AndrewDantzler, director of the solar system division at NASA's Washington, D.C.headquarters. "It's been a great day."
Reaching for the Edge: New Horizons Spacecraft Bound for Pluto
Full Circle: NASA's Stardust Probe Returns Home with Comet Samples
Get the Space.com Newsletter
Breaking space news, the latest updates on rocket launches, skywatching events and more!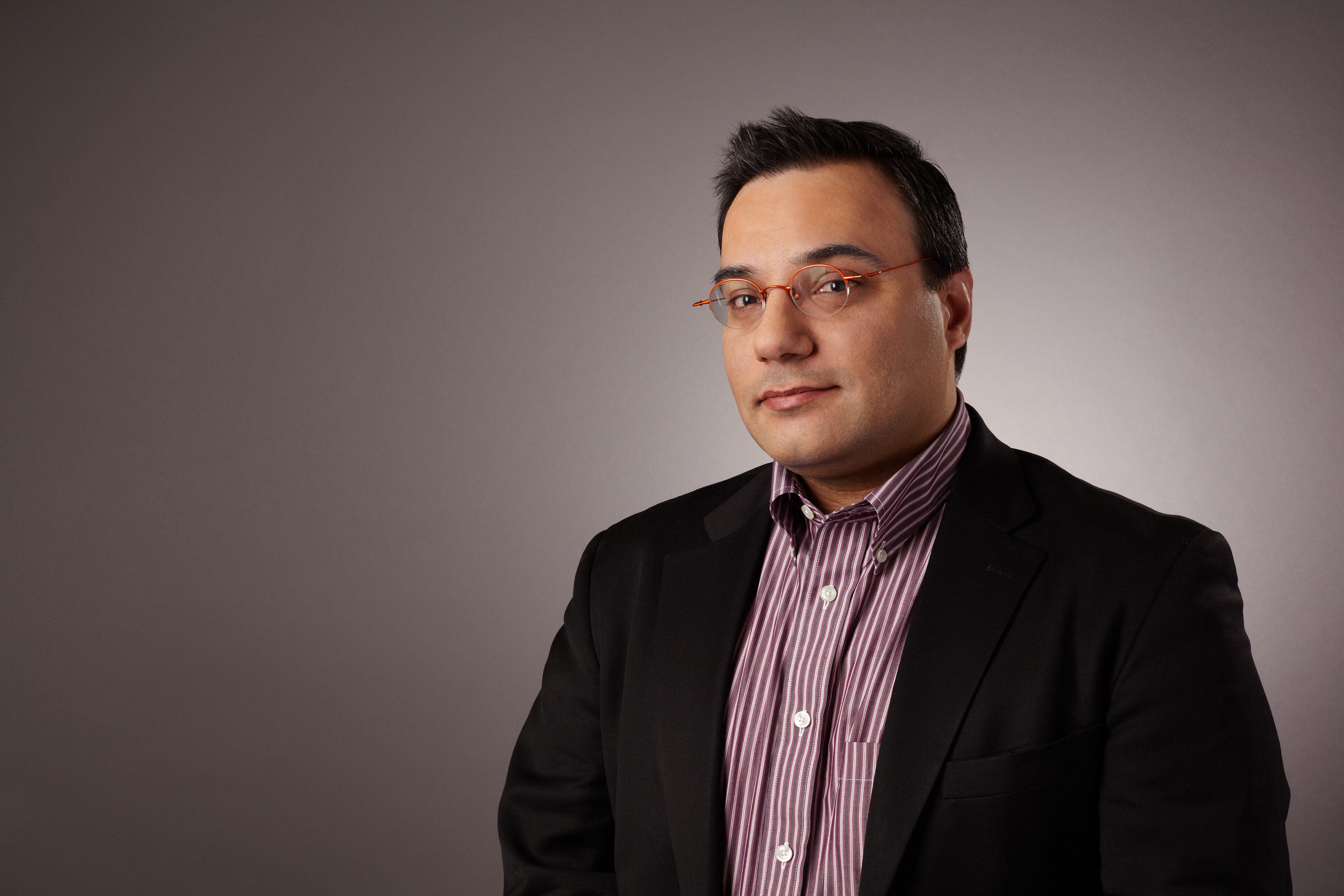 Tariq is the Editor-in-Chief of Space.com and joined the team in 2001, first as an intern and staff writer, and later as an editor. He covers human spaceflight, exploration and space science, as well as skywatching and entertainment. He became Space.com's Managing Editor in 2009 and Editor-in-Chief in 2019. Before joining Space.com, Tariq was a staff reporter for The Los Angeles Times covering education and city beats in La Habra, Fullerton and Huntington Beach. In October 2022, Tariq received the Harry Kolcum Award for excellence in space reporting from the National Space Club Florida Committee. He is also an Eagle Scout (yes, he has the Space Exploration merit badge) and went to Space Camp four times as a kid and a fifth time as an adult. He has journalism degrees from the University of Southern California and New York University. You can find Tariq at Space.com and as the co-host to the This Week In Space podcast with space historian Rod Pyle on the TWiT network. To see his latest project, you can follow Tariq on Twitter @tariqjmalik.