Astronauts enjoy overcrowded space station
Friday, April 29, 2021: Eleven occupants of the International Space Station, members of Crew-1, Crew-2 and Soyuz MS-18, pose for a photo inside the somewhat overcrowded orbital outpost as they await the decision on the departure of the three Crew-1 members. NASA and SpaceX cancelled the planned return on Friday, April 30, due to bad weather in Florida. The mission teams have not yet agreed on a new return date.
The crew members keep themselves busy with scientific experiments, lab maintenance and emergency gear training, NASA said in a blog post. On Thursday, April 29, the crew collected urine samples and conducted experiments to study how space affects grip and movement. They also swapped fuel bottles supporting combustion experiments and installed new hardware to activate a high-performance space computer study.
After the departure of Crew-1, Japan's Akihiko Hoshide will lead the Expedition 65 until October 2021. Hoshide's Crew-2 crewmates NASA's Shane Kimbrough and Megan McArthur, and European astronaut Thomas Pesquet, are staying on the space station together with Soyuz MS-18 crewmates Mark Vande Hei of NASA and Roscosmos cosmonauts Oleg Novitskiy and Pyotr Dubrov. -- Tereza Pultarova
Giant lunar rocket core stage arrives at Kennedy
Thursday, April 29, 2021: The core stage of NASA's Space Launch System (SLS) rocket that will send the Artemis I mission to the Moon later this year has arrived at Kennedy Space Center in Florida on Tuesday, April 27, after a 900-mile (1,440 km) journey aboard a special barge called Pegasus.
The 212-foot (65 m) tall core stage, the largest rocket stage NASA has ever built, is the final piece of SLS hardware to have arrived at Kennedy. In this image, the core stage emerges from the Pegasus barge after its arrival at the Launch Complex 39 from Stennis Space Center in Mississippi where it completed a series of Green Run tests. The stage is now being moved to the iconic Apollo-era Vehicle Assembly Building for integration with a stack of solid rocket boosters.
The unmanned Artemis I mission, scheduled for launch in November this year, will pave the way for humanity's return to the Moon. NASA and its partners plan to establish a permanent space station in orbit around the Moon, as well as a base on the lunar surface, which will provide the stepping stone for a future mission to Mars. -- Tereza Pultarova
Jupiter life-searching spacecraft JUICE fully assembled
Wednesday, April 28, 2021: The European Space Agency's (ESA) Jupiter-exploring spacecraft JUICE has left the integration facilities of Airbus Defence and Space in Friedrichshafen, Germany, on Tuesday April 27, ready to commence a 12-month test campaign that will prove its fitness to withstand a seven-year journey to the solar system's largest planet. In this picture, taken ahead of the spacecraft being loaded into the transportation container, Airbus engineers celebrate the completion of 12-months of integration.
Scheduled to launch in May next year, JUICE (or Jupiter Icy Moons Explorer), is now heading to the European Space Research and Technology Centre in Noordwijk, the Netherlands. Upon arrival, it will spend 31 days in the Large Space Simulator to get its first taste of a space-like environment including the exposure to vacuum, freezing temperatures and simulated cosmic radiation.
Expected to arrive at Jupiter in October 2029, JUICE will study in detail not just the giant planet but also three of its largest moons - Ganymede, Callisto and Europa - which are believed to harbour potentially life-bearing oceans. The ultimate question for JUICE to answer is, indeed, could there be life on the moons of Jupiter? -- Tereza Pultarova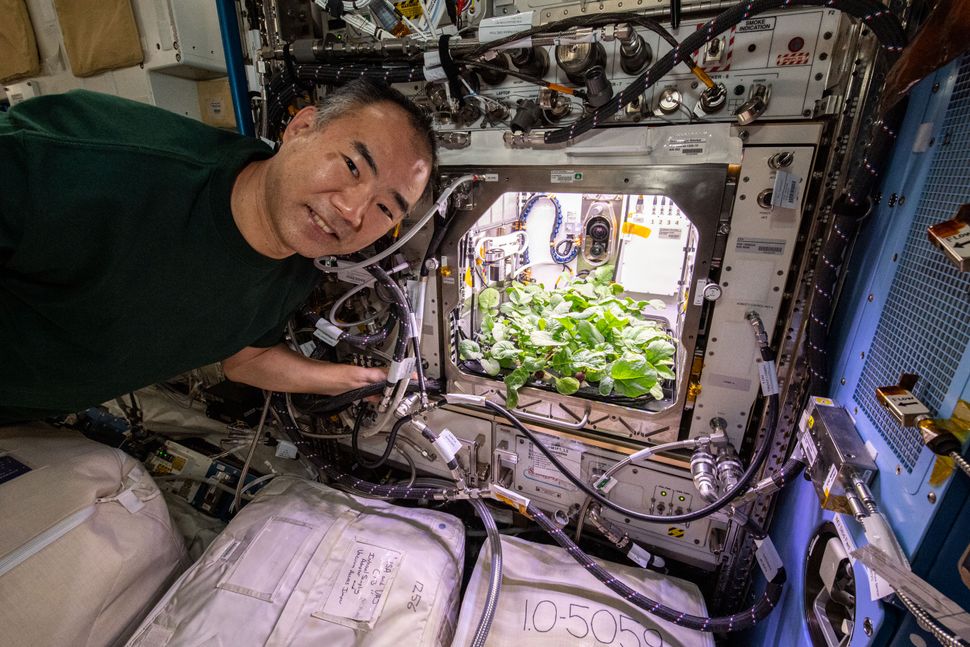 April 27, 2021: JAXA astronaut Soichi Noguchi poses here with a fresh crop of radish plants aboard the International Space Station. Noguchi is currently serving as a flight engineer for Expedition 64 aboard the orbiting laboratory. These radishes are being grown as part of an ongoing scientific investigation with the automated plant-growing facility, the Advanced Plant Habitat. With this technology, researchers hope to better understand how future astronauts might grow food for long-duration space exploration missions. -- Chelsea Gohd
Seeing Mars from the air
April 26, 2021: NASA's Ingenuity helicopter on Mars captured this first aerial photo of the Martian surface in another historic feat. The photo was taken on April 22 during Ingenuity's second flight on Mars and shows a view of the Martian surface from a height of 17 feet (5.2 meters) looking down. Tracks from NASA's Perseverance rover, which delivered Ingenuity to Mars, are clearly visible crisscrossing the ground, with Ingenuity's shadow also making an appearance. -- Tariq Malik
Crew-2 takes off!
April 23, 2021: This morning at 5:49 a.m. EDT (0949 GMT), SpaceX's Crew-2 mission lifted off successfully from pad 039A at NASA's Kennedy Space Center in Florida. The mission will carry four astronauts, including two NASA astronauts and astronauts from both ESA and JAXA, to the International Space Station. Following a flawless launch, the astronauts on board the Crew Dragon capsule safely entered Earth's orbit, on their way to dock with the orbiting lab. -- Chelsea Gohd
Percy watches from afar
April 21, 2021: NASA's Mars helicopter Ingenuity took flight for the first time Monday (April 19), with data confirming the flight beaming back down to Earth later that morning. This photograph of Ingenuity the day of its first flight was captured by NASA's Perseverance rover, which carried the helicopter to Mars and released it onto the planet's surface. As Ingenuity makes its 5 total flights, Perseverance will watch from nearby, providing valuable imagery to mission teams back on Earth. -- Chelsea Gohd
Falcon 9 is ready to launch
April 20, 2021: In this sunset image, you can see a SpaceX Falcon 9 sitting on the launch pad at Launch Complex 39A at NASA's Kennedy Space Center in Florida. The rocket is holding the company's Crew Dragon spacecraft, which will launch four astronauts to the International Space Station on April 22 as part of SpaceX's Crew-2 mission. The Crew-2 mission will include NASA astronauts Shane Kimbrough and Megan McArthur, ESA astronaut Thomas Pesquet and JAXA astronaut Akihiko Hoshide. -- Chelsea Gohd
An extraterrestrial Wright brothers moment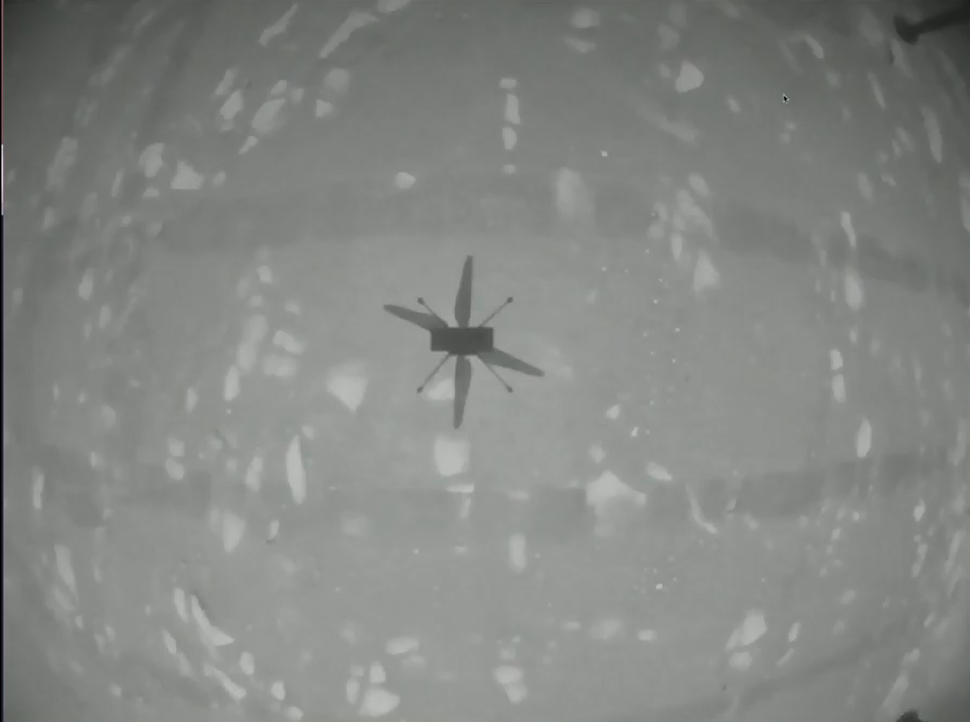 April 19, 2021: This image was captured by NASA's Mars helicopter Ingenuity, showing its own shadow as it flies over the Martian surface. Today, Ingenuity took its first flight on Mars: the first powered flight ever conducted on another world. At about 6:15 a.m. EDT (1015 GMT), data beamed back to Earth confirming that the flight took place. The little craft flew to a maximum of 10 feet (3 meters) above the surface of the planet, and the flight lasted a total of about 40 seconds. -- Chelsea Gohd
Rolling out for Crew-2
April 16, 2021: Rolling down the road is a SpaceX Falcon 9 rocket with the company's Crew Dragon spacecraft attached in preparation for the launch of the Crew-2 mission. Crew-2 is expected to launch from NASA's Kennedy Space Center in Florida from Pad 39A on Thursday April 22. -- Chelsea Gohd
Keeping time in space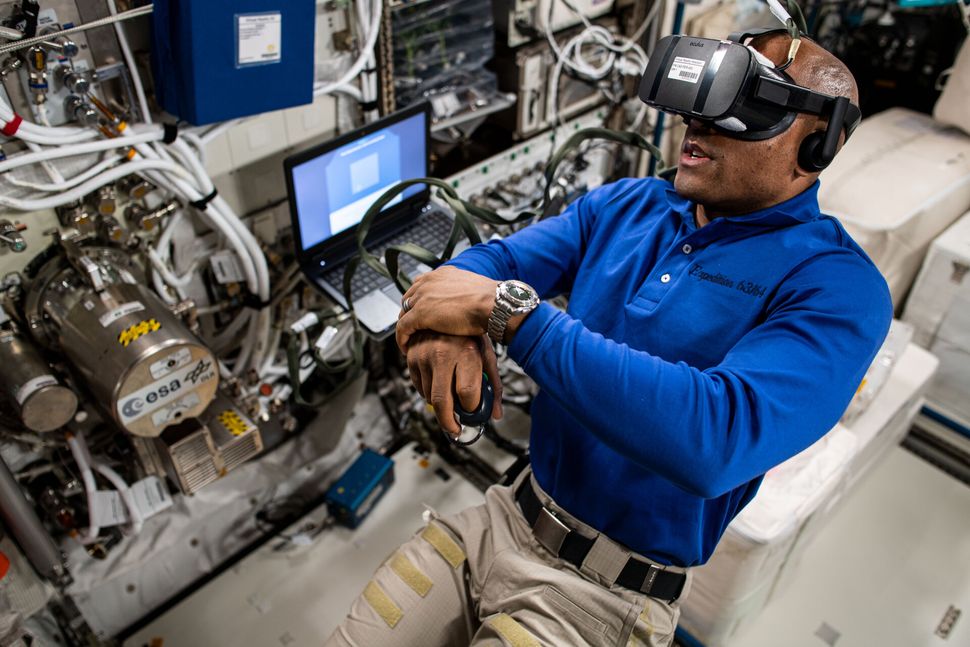 April 15, 2021: NASA astronaut Victor Glover tests out the European Space Agency's Time experiment in this image, snapped aboard the International Space Station where Glover is currently staying. The experiment uses virtual reality technology to see how being in space changes an astronaut's perception of time. -- Chelsea Gohd
Hubble spots a spiral
April 13, 2021: In this breathtaking image captured by the Hubble Space Telescope, the bright heart of the "starburst" galaxy M61 shines, surrounded by outstretched, winding arms. M61 is classified as a starburst galaxy because of its bright, glowing spots of star formation that can be seen as "rubies" of reddish light in this image. -- Chelsea Gohd
60 years in space
April 12, 2021: Today marks exactly 60 years since cosmonaut and Soviet pilot Yuri Gagarin became the first human being to travel to space, on April 12, 1961. On this day, he was launched into space from Baikonur Cosmodrome, where astronauts are still launched aboard Soyuz capsules today. During the flight, Gagarin orbited Earth a single time and landed back on Earth, parachuting down after ejecting from his capsule. -- Chelsea Gohd
A Soyuz launches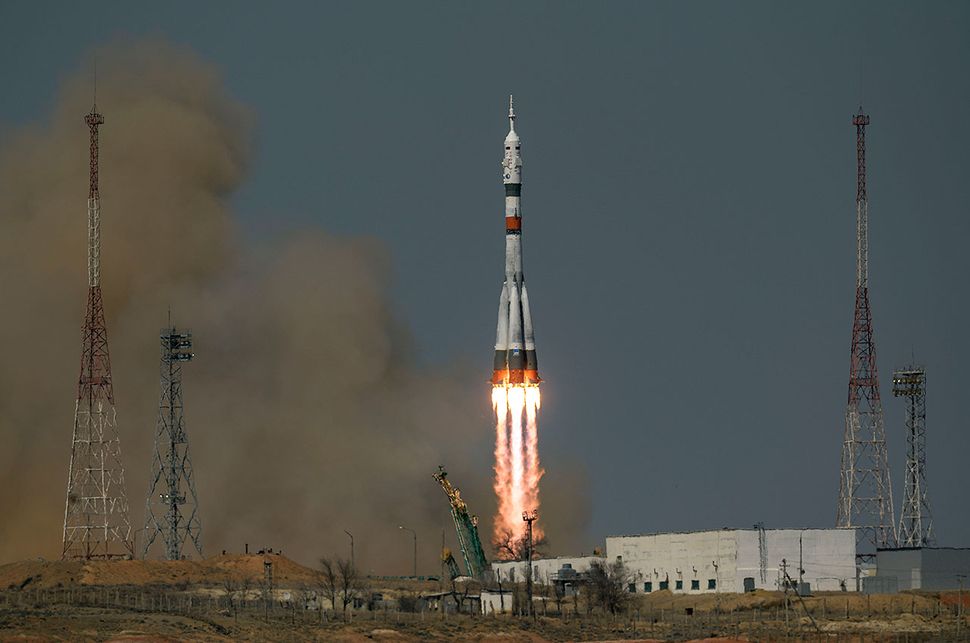 April 9, 2021: 60 years after the first human spaceflight launched cosmonaut Yuri Gagarin off of Earth, Russia launched a Soyuz named after Gagarin to the International Space Station. Today at 3:42 a.m. EDT (0742 GMT or 12:42 local time), Russia's Soyuz MS-18 spacecraft, the "Yu.A. Gagarin," launched from site 31/6 at the Baikonur Cosmodrome in Kazakhstan near where Gagarin made his historic flight April 12, 1961. -- Chelsea Gohd
Blue Dunes
April 8, 2021: While it might look like a painting or a still from a science fiction film, this is actually an image of dunes on the surface of Mars. This image shows dark dunes surrounding Mars' northern polar cap. The scene is colorful, but these are false colors with cooler temperatures showing as blue and warmer areas seen as yellowish. The scene, created from images taken from 2002 to 2004 by the Mars Odyssey orbiter's thermal emission imaging system instrument, was released as part of a series of images celebrating Odyssey's 20th anniversary. -- Chelsea Gohd
Ready to launch
April 6, 2021: The crew for SpaceX's upcoming Crew-2 mission is all smiles as we get closer to launch. The four astronauts are set to launch to the International Space Station April 22 and there will meet up with the Crew-1 astronauts who have been living up on the orbiting laboratory. From the left is European Space Agency astronaut Thomas Pesquet, NASA astronauts Megan McArthur and Shane Kimbrough and JAXA astronaut Akihiko Hoshide. -- Chelsea Gohd
The veil nebula
April 5, 2021: This Hubble Space Telescope image of the Veil Nebula is seriously one to behold. While this is an older photo, new processing techniques have more recently been applied to the image to bring out even more detail and highlight the absolute brilliance of this sight. The Veil Nebula can be found about 2,100 light-years from Earth, nestled in the constellation Cygnus (The Swan), and in this photo you can see just a piece of the magnificent, expansive nebula. -- Chelsea Gohd
Uranus X-ray emissions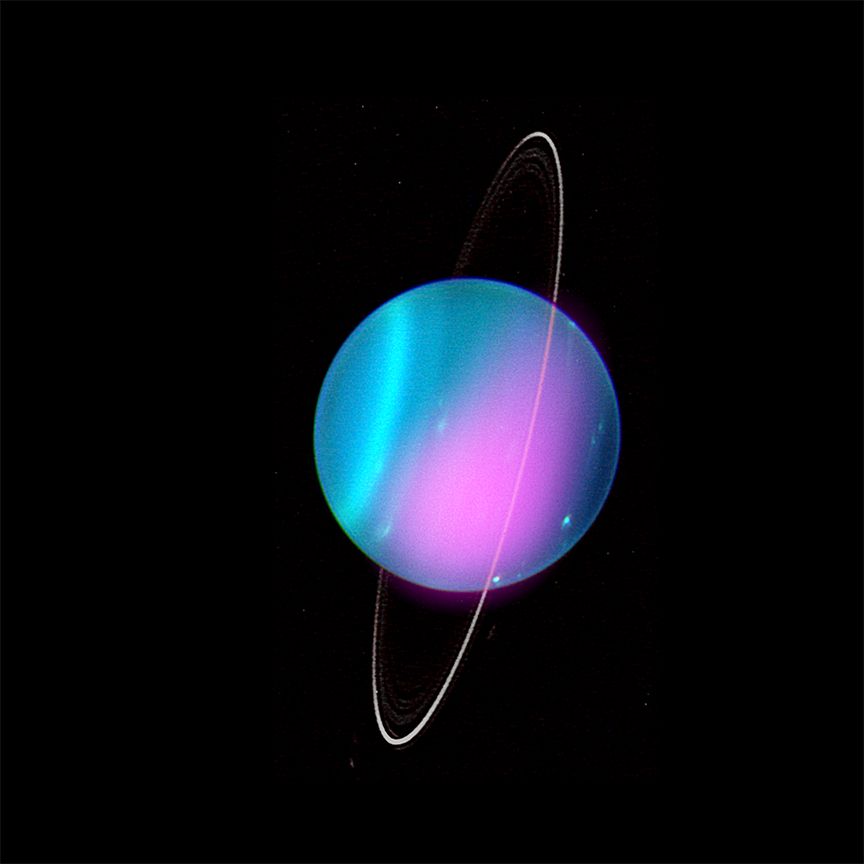 April 2, 2021: This composite image of the planet Uranus shows X-rays that astronomers have detected being emitted (the X-rays emissions are depicted in pinkish purple). Astronomers detected these X-rays being emitted from the planet using NASA's Chandra X-ray Observatory in 2002 and 2017 and detailed their observations and these strange emissions in a new study. -- Chelsea Gohd
Practicing capturing spacecraft
April 1, 2021: This snapshot shows NASA astronauts Bob Hines and Kjell Lindgren and European Space Agency astronaut Samantha Cristoforetti practicing capturing visiting vehicles like a Cygnus cargo spacecraft from the International Space Station.
Hines and Lindren have been announced as part of the crew for SpaceX's Crew-4 mission, which will send astronauts aboard a SpaceX Crew Dragon spacecraft to the space station. The next SpaceX Crew launch is Crew-2, which is set to launch in April, 2021. -- Chelsea Gohd