Photographer captures Rocket Lab's return to flight in picturesque New Zealand dusk
Friday, July 30, 2021: Amateur photographer Joseph Baxter travelled 250 miles (400 kilometers) to capture the successful return to flight of Rocket Lab's Electron rocket on Thursday (July 29).
Baxter, who makes living as a factory worker, told Space.com he had to "convince his boss to let me have a day off" so that he could drive all the way from Masterton, a town in the south of New Zealand's North Island, to the Mahia Peninsula from where Rocket Lab launches.
"I used a Lumix G100 camera and a 7artisans fisheye lens," said Baxter, who publishes his images on Instagram at @j.baxters_photos. "[The] image was made using live composite mode. Exposure time was about 5 mins total."
The launch marked Electron's successful return to flight after a failure in mid-May, which led to the loss of two geospatial intelligence satellites of American company BlackSky Global. This time, the rocket successfully delivered to orbit a satellite developed by the Air Force Research Laboratory which tests an innovative deployable sensor. — Tereza Pultarova
Siberia on fire
Thursday, July 29, 2021: A smoke cloud larger than Germany can be seen hovering above northeastern Russia where out of control wildfires have destroyed thousands of square miles of forest.
The image, taken by the European Sentinel-3 satellite on Wednesday, July 28, shows wildfires in the Siberian Republic of Sakha, also known as Yakutia, which is currently the most affected region of Russia.
According to the Russian Federal Forestry Agency, 7,300 square miles of vegetation have been destroyed across the country by wildfires, which are so widespread that about 55% of them are not attended to.
The smoke cloud in this image, covering an area of 183,00 square miles (475,000 square kilometers), forced local authorities to close the local airport in Yakutsk due to low visibility.
About 85% of all fires currently active in Russia are burning in the Republic of Sakha. -- Tereza Pultarova
Starliner ready to go
Wednesday, July 28, 2021: Boeing's Starliner CST-100 space capsule can be seen attached to the top of the United Launch Alliance Atlas V rocket ahead of its second unmanned flight to the International Space Station later this week.
The flight, scheduled for Friday, July 30, is a major milestone for Boeing and NASA, paving the way for Starliner to join SpaceX's Crew Dragon in ferrying astronauts to and from the orbital outpost.
During its first test flight in December 2019, Starliner failed to reach the space station due to software glitches and errors in its communication system. NASA and Boeing spent months mitigating the issues.
For its upcoming flight, Starliner will carry a modest 400 pounds (180 kg) of cargo and a crash test dummy designed to measure the mechanical forces that future astronauts will experience during lift-off and landing.
The capsule is expected to dock autonomously with the space station on Saturday, July 31, about 24 hours after launch. It will spend 5 to 10 days at the space station before returning to Earth. -- Tereza Pultarova
Starliner test flight crew member readies for launch
Tuesday, July 27, 2021: A crash-test dummy called Rosie sits in the commander's seat of Boeing's CST-100 Starliner space capsule ahead of a test flight to the International Space Station later this week.
The dummy, outfitted with 15 sensors, will help Boeing and NASA understand the mechanical pressures that astronauts will experience during the flight. Rosie was onboard the Starliner capsule already during the first unmanned flight in December 2019, which failed to reach the space station due to software glitches and problems with its communication systems.
Starliner is scheduled to make its second attempt to dock with the space station this weekend. It will launch from Cape Canaveral on Friday (July 30). If all goes well, the spacecraft will start ferrying astronauts to the orbital outpost later this year. -- Tereza Pultarova
Wildfires in the western U.S. seen from space station
Monday, July 26, 2021: Wildfires ravaging the western U.S. can be seen in this image taken from aboard the International Space Station by NASA astronaut Mark Vande Hei on Saturday (July 24).
"Very sad to see these fires in the Western United States late Saturday afternoon," Vande Hei tweeted with the image. "My thoughts and prayers go out to all of those affected."
Wildfires are raging in many areas in the western parts of the U.S, sending choking plumes of ash and smoke into the atmosphere. NASA reported last week that the fires are affecting air quality across the country with many places on the east coast suffering from fire-related air pollution blown over by wind from the west.
In southern Oregon, the Bootleg Fire is still raging, having destroyed 408,930 acres of land. In California, the Dixie Fire, for example, has already devoured 190,000 acres of forest.
At the end of last week, the National Interagency Fire Center reported that 79 wildfires in total have burned more than 2,263 square miles (5,860 square kilometers) in the U.S. -- Tereza Pultarova
Astrophotographer captures Nauka in orbit as ground teams battle to fix its engines Friday, July 23, 2021: British astrophotographer Martin Lewis captured Russia's Multipurpose Laboratory Module Nauka in orbit a few hours after its launch to the International Space Station.
Lewis, who posts his images on the website Skyinspector.co.uk, took the photo shortly after 10 pm BST on Wednesday (July 21) from his back garden in St. Albans, some 20 miles (35 kilometers) north of London, using his home-built 222mm Dobsonian telescope.
Lewis said he was preparing to image the passing International Space Station (ISS) on that day and was alerted to the Nauka pass by another astrophotographer only at about 9pm BST. The skywatchers originally expected Nauka to follow seven minutes after the space station and were caught by surprise by the module's arrival five minutes earlier.
"I set up [the telescope] with a 2.7x Barlow lens and 642 nm filter with a large-chipped fast ASI174MM digital video camera," Lewis told Space.com. "I took a stream of video frames of the ISS with 0.7 millisecond exposure, hand-guiding the telescope and keeping the ISS on cross-wires of the finder. Only on finishing the ISS recording did I realise how close behind the Nauka module was."
Lewis said he managed to take only "19 good video frames" as he "panicked" slightly due to the lack of preparation time.
While Lewis was scrambling to get his snaps, Nauka ground control teams were fighting a more serious battle as it transpired shortly after the module's separation from the Proton M rocket that some of its communications and propulsion systems were not working properly. Eventually, engineers managed to correct the issue, commencing Nauka's ascent towards the orbital outpost with a short delay.
Nauka was conceived in the 1990s and waited for nearly two decades for its launch. Some of its systems are therefore somewhat obsolete. The module, which represents the largest Russian contribution to the space station, is expected to dock with the orbital outpost next week. — Tereza Pultarova
Chandra images the brightest known pulsar
Thursday, July 22, 2021: NASA's X-ray space telescope Chandra has obtained new images of the brightest pulsar in the sky.
The M82 X-2 pulsar, a fast spinning neutron star, is located in the galaxy Messier 82 some 12 million light-years from Earth. M82 X-2's brightness varies but at its brightest it can be more than 10 times brighter than any other known pulsars of this type, NASA said on Twitter.
The pulsar, which defies some of the physical limits for pulsar brightness, rotates around its axis very fast, completing one rotation every 1.37 seconds. Being extremely dense, the pulsar draws to itself matter, which generates the X-ray light detected by Chandra. -- Tereza Pultarova
Blue Origin crew having fun in microgravity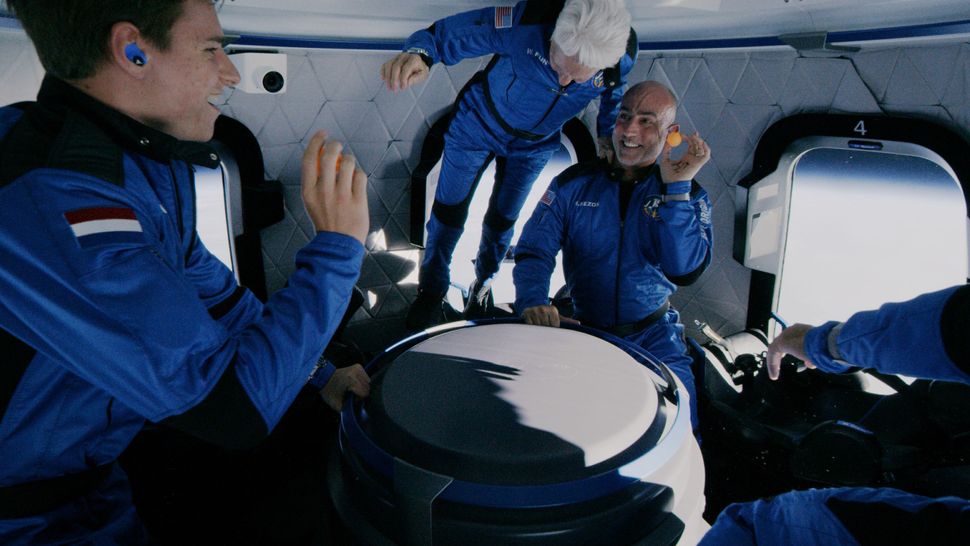 Wednesday, July 21, 2021: The first crew to get to the edge of space on board of Blue Origin's New Shepard rocket is enjoying their moments in microgravity during the historic flight.
82-year-old aviator Wally Funk is floating inside the capsule while Jeff Bezos' brother Mark and Dutch space tourist Oliver Daemen play with ping pong balls.
Funk, who was refused her chance to fly to space in the 1960s because of her gender, became the oldest person ever to fly to space, fulfilling a life-long dream. 18-year-old Daemen, Blue Origin's first paying customer, is, on the other hand, the youngest man to have flown to space. -- Tereza Pultarova
Hubble back at work after computer recovery snaps bizarre galaxies
Tuesday, July 20, 2021: The Hubble Space Telescope has returned to work after recovering from a computer anomaly with new snaps of odd galaxies hundreds of millions lightyears away.
The image on the left is the first ever high resolution picture of ARP-MADORE2115-273, a pair of interacting galaxies some 297 million light-years away from Earth, which can be seen in the southern sky. The image, released on Monday (July 19), shows an intricate interaction with a rich network of stars and gas.
The image on the right shows the large spiral galaxy ARP-MADORE0002-503 some 490 million light-years away. The galaxy's long spiral arms, three times longer than those of the Milky Way, have a radius of 163,000 lightyears. On the other hand, ARP-MADORE0002-503 has only three spiral arms, while most spiral galaxies tend to have an even number of arms.
The images mark Hubble's return to full science operations after a month-long hiatus. The telescope stopped working on June 13 when its more than 30-year-old main computer experienced an error. Engineers managed to recover the iconic telescope by activating some onboard back-up hardware. -- Tereza Pultarova
Boeing's astronaut space taxi readies for unmanned test flight
Monday, July 19, 2021: Boeing's CST-100 Starliner space taxi has been mated to the Atlas V rocket, which will launch it for its second unmanned test flight to the International Space Station later this month.
Over the weekend, engineering teams moved the capsule from the Commercial Crew and Cargo Processing Facility at the NASA Kennedy Space Center in Florida to the United Launch Alliance's Vertical Integration Facility at Cape Canaveral Space Force Station some 10 miles (16 kilometers) away.
The rocket and the capsule, which is expected to soon join SpaceX's Dragon in ferrying astronauts to and from the space station, are now fully integrated, Boeing said in a statement. Engineers will now test whether the rocket and the capsule properly communicate with each other ahead of the launch, which is scheduled for July 30.
"Seeing the Starliner atop the Atlas V just days away from launch is symbolic of how proud our team feels about executing this mission," John Vollmer, vice president and program manager of Boeing Commercial Crew Program said in the statement. "Orbital Flight Test-2 is a critical milestone on our path to crewed flights, and we're all ready to see our hard work come to life with a successful mission from beginning to end."
During its first mission, Orbital Test Flight 1, in December 2019, the Starliner capsule failed to reach the space station due to software errors and issues with the communication systems.
Boeing has worked with NASA to identify and correct the problems ahead of the second attempt, which has been postponed several times.-- Tereza Pultarova
NASA tests moon rocket engine
Friday, July 16, 2021: A cloud of smoke generated by the RS-25 engine, which will propel the Space Launch System (SLS) rocket to the moon, can be seen in this image taken during a hot fire test at the NASA Stennis Space Center in Mississippi.
The engine, made by Aerojet Rocketdyne, is currently undergoing extensive testing. During the latest test, which took place on Wednesday (July 14), engineers fired the engine for more than 8 minutes at 111% of its original power level, which would be required during the launch to the moon, and at 113% to test a safety margin.
The SLS rocket will be fitted with four such engines, which will, together with two solid rocket boosters, generate 1.6 million pounds of thrust at launch and 2 million pounds during ascent, NASA said in a statement.
SLS, set to become the world's most powerful rocket, will send the unmanned Orion capsule for a trip around the moon in November this year to test the technology ahead of a mission with astronauts in 2023. -- Tereza Pultarova
Smoke from Canadian wildfires spreading to Europe
Thursday, July 15, 2021: Smoke from North American wildfires can be seen spreading across the Davis Strait between Canada and Greenland in this image taken by the European Copernicus Sentinel-3 satellite on Thursday (July 14).
The thick ash cloud has crossed the American continent from west to east in only a few days and is forecasted to spread further across the Atlantic Ocean to northern Europe. The Copernicus Atmosphere Monitoring Service predicts the cloud will reach the coast of Norway on Saturday or Sunday (July 17 or 18).
Wildfires erupted across western Canada and the American Northwest during a record-breaking heatwave that saw temperatures reach scorching 121.3 degrees Fahrenheit (49.6 degrees Celsius) at the end of last month. The village of Lytton, where the temperature record was broken on June 29, was destroyed in a blaze only a day later, leaving the town's over one thousand residents without homes. Fires still rage in many places in British Columbia. According to Canadian authorities, over 1,500 people in the Cariboo Regional District were ordered to evacuate their homes this week. -- Tereza Pultarova
Spaceport America hours before Virgin Galactic flight in a radar image
Wednesday, July 14, 2021: Spaceport America in New Mexico captured in a radar image two hours before the successful launch of Virgin Galactic's SpaceShipTwo on Sunday (July 11).
The image was acquired by a satellite operated by San Francisco-based Capella Space, which is developing an innovative constellation of synthetic aperture radar (SAR) satellites that can see through clouds and in the dark. The company released the image on Monday (July 12), one day after the ground-breaking flight that took billionaire and Virgin Galactic owner Richard Branson to the edge of space.
Currently consisting of five satellites, Capella Space's constellation can image the surface of Earth in all weather conditions and at night, unlike more common optical satellites. While optical imagers rely on natural light reflected off objects, just like traditional photography, SAR sends its own pulses of energy to the imaged area and detects the returning signal. -- Tereza Pultarova
Life-saving tech installed on Orion moon capsule
Tuesday, July 13, 2021: Engineers at the NASA Kennedy Space Center in Florida are adding a launch abort system to the Orion capsule that will return humans to the moon two years from now. The capsule seen in this image is the prototype that will fly uncrewed to Earth's natural satellite later this year as part of the Artemis I mission. Still, the module has to be equipped with the launch abort system (the tall, thin structure seen in this photo), which can save the crew's lives in case of a launch failure.
The unmanned Artemis I mission is scheduled for launch in November this year. It will test the new technology capable of carrying humans to the moon ahead of the first flight with astronauts in 2023.
The Orion capsule was moved to the Launch Abort System Facility earlier this week. Its next stop will be the Vehicle Assembly Building where the capsule will be stacked on top of the recently assembled Space Launch System rocket. -- Tereza Pultarova
It's a bird! It's a plane! It's Richard Branson!
Monday, July 12, 2021: British billionaire Richard Branson flies like Superman inside the Virgin Galactic spaceship VSS Unity during a suborbital launch to space on July 11, 2021.
Virgin Galactic launched Branson and five crewmates to an altitude of about 53 miles during their flight from Spaceport America, New Mexico. They experienced about four minutes of weightlessness before returning to Earth to make a smooth runway landing.
Branson, who founded Virgin Galactic in 2004, called it the "experience of a lifetime" and the pinnacle of the many "ridiculous" things he's done in his lifetime. - Tariq Malik
Moon rocket another step closer to completion
Friday, July 9, 2021: Engineers at the NASA Kennedy Space Center in Florida lowered the 5,500-pound (2,480 kilograms) Interim Cryogenic Propulsion Stage (ICPS) on top of the Space Launch System lunar rocket earlier this week, moving another step closer to completing its assembly.
The ICPS, which sits above the 212-foot (65 m) tall core stage just below the Orion module, will give the Orion space capsule the final push needed to get beyond the moon.
Located between the launch vehicle stage adapter and the Orion stage adapter, the stage is fitted with the tried and tested liquid oxygen and liquid hydrogen RL 10 engine used on the United Launch Alliance's Delta IV rockets.
Next, the engineers will stack the Orion stage adaptor atop the rocket before moving on to integrating the Orion space capsule. In November this year, the rocket will launch the Artemis I mission, the unmanned test flight around the moon designed to test the entire system before the first trip with a human crew, which is expected to take place in April 2023. -- Tereza Pultarova
Dragon packed with urine samples ahead of departure from space station
Thursday, July 8, 2021: Over 4,400 pounds (2,000 kilograms) of scientific samples and other material can be seen packed inside the Dragon cargo capsule ahead of its departure from the International Space Station today.
The European Space Agency (ESA) astronaut Thomas Pesquet tweeted the image just as the crew was preparing to send off the spacecraft for its 37-hour-long return journey to Earth.
In another tweet, the French spaceman shared details about the contents of some of the experiments: "Just before closing the hatch, we pack it full of our frozen bodily fluids: blood, urine, saliva... and more that I won't mention," he wrote.
The return of the CRS-22 Cargo Dragon mission to Earth has been delayed since Tuesday (July 6) due to severe weather in Florida caused by tropical storm Elsa. -- Tereza Pultarova
SWOT's inside?
Wednesday, July 7, 2021: A next generation instrument that will revolutionize the study of ocean circulation and fresh water bodies on land has arrived at Thales Alenia Space facilities in Cannes, southern France, for integration with the satellite.
The instrument, the so-called swath interferometer, was designed by NASA Jet Propulsion Laboratory (JPL) in California, and will fly to space in November 2022 as part of the Surface Water and Ocean Topography mission SWOT. Instead of measuring water surface levels one point at a time, directly below the satellite, as existing altimeters do, SWOT will take measurements of two 60m-wide swaths of the surface below. This will allow the mission to, for the first time, precisely measure water surfaces of relatively small water bodies such as lakes and rivers.
According to Thales Alenia Space, SWOT will offer a ten times better resolution when monitoring ocean circulation than available technology. The mission will help scientists to better understand the effects of water circulation in coastal regions on marine life, ecosystems, water quality and energy transfer, and lead to better models of the behaviour of oceans and the atmosphere. -- Tereza Pultarova
Astronauts practice for fire on space station
Tuesday, July 6, 2021: Astronauts who will fly to the International Space Station later this year practiced how to deal with a fire outbreak in space during an exercise at the NASA Johnson Space Center in Houston, Texas.
Five members of the upcoming Expedition 66/67 took part in the training, donning smoke protection masks inside a space station mock-up.
"Fire, depressurisation or toxic atmosphere – on the @Space_Station we have to be prepared for anything," European Space Agency (ESA) astronaut Matthias Maurer tweeted with a series of images from the training. "In such extreme situations, teamwork and coordination are vital, which is why we practice emergency procedures together."
Maurer will fly to the space station in late October this year as part of Crew-3 aboard a brand new SpaceX Crew Dragon capsule that is currently being built. NASA astronauts Raja Chari, Thomas Marshburn and Kayla Barron will fly on the same mission.
Russian cosmonaut Anton Shkaplerov, who will arrive at the space station in early October aboard Russian Soyuz MS-19 mission, took part in the exercise as well. Shkaplerov will arrive at the space station with two space tourists, Russian film director Klim Shipenko and actress Yulia Peresild. The two will spend a week on the station filming a movie and will depart with Russian cosmonaut Oleg Novitsky. -- Tereza Pultarova
Tropical storm Elsa seen from space station
Monday, July 5, 2021: NASA astronaut Megan McArthur took a picture of tropical storm Elsa on Sunday (July 4) as it was making its way through the Caribbean towards the coast of Florida.
The storm approached Jamaica and the south of Cuba on Monday morning (July 5), forcing the evacuation of 180,000 people. The storm is forecasted to hit Florida north of Tampa on Tuesday night or Wednesday morning. With current wind speeds of 65 mph, Elsa has the potential to strengthen into a hurricane over the shallow and warm Caribbean waters, according to Accuweather. The storm previously briefly reached the intensity of a hurricane on Friday but has weakened over the weekend. -- Tereza Pultarova
Wildfires in Canada triggered by heatwave seen from space
Friday, July 2, 2021: Massive wildfires in western Canada triggered by a record-breaking heatwave have been captured by the European Sentinel-2 satellite on Thursday (July 1). Sentinel-2 orbits Earth at the altitude of 490 miles (786 kilometers) but the wildfires were so massive that they could be seen even by satellites in the geostationary orbit 22,000 miles (36,000 kilometers) away from Earth, according to NOAA.
The fire in this image, near the town of Lytton in British Columbia some 125 miles (200 kilometers) northwest of Vancouver, broke out in the last days of June when temperatures were hitting record-breaking 120 degrees Fahrenheit (49 degrees Celsius). The blaze forced residents to leave their homes, many of which were later destroyed by the fire.
The massive plumes of smoke generated by the wildfires fuelled the formation of enormous thunderstorms, which at some point covered an area the size of England and reached 58,000 feet (17.5 kilometers) into the sky, Oxford University Research Fellow Simon Proud said on Twitter.
"Massive storms, sadly, have the potential to start more fires," Proud said.
An earlier image acquired by Sentinel-3 on June 27 showed that surface temperatures near Lytton reached 145 degrees F (63 degrees C) in the days before the fire broke out. -- Tereza Pultarova
Active sun could produce a giant flare
Thursday, July 1, 2021: Three active regions on the sun spotted by the European Space Agency's (ESA) Proba 2 spacecraft can be seen in this image captured on Wednesday (June 30). ESA's Space Weather Office said on Twitter the active region 12835 in the lower half of the image has a 24% probability of producing an M class solar flare, the second most powerful type of solar flare. The amount of charged particles that M class solar flares release could cause brief radio blackouts and aurora borealis displays in Earth's polar regions if they hit the planet. The image was obtained by the Sun Watcher using Active Pixel System detector and Image Processing (SWAP) telescope, which provides images of the sun's outer atmosphere, the corona, at wavelengths of about 17.4 nanometers. This wavelength corresponds to temperatures of about 1 million degrees Celsius (1.8 million degrees Fahrenheit). The extremely high temperatures of the sun's corona, several orders of magnitude higher than the temperatures of the sun's surface, are one of the biggest mysteries in solar physics. -- Tereza Pultarova