New HDTV Satellite Reaches Orbit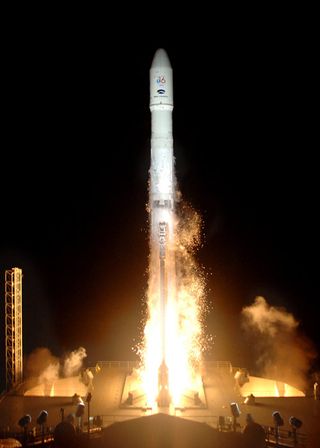 (Image credit: Sea Launch.)
A new broadcastingsatellite for high definition television across the United States roared intospace Sunday from a floating platform in the Pacific Ocean.
The commercial Sea LaunchZenit 3SL booster began the successful 60-minute ascent carrying the Galaxy 16spacecraft at 3:50 a.m. EDT (0750 GMT) from a converted oil-drilling platformpositioned in equatorial waters of the Pacific about 1,400 miles (2,253kilometers) south of Hawaii.
The two Ukrainian-madelower stages of the rocket performed their firings to propel the Russian BlockDM-SL upper stage and Galaxy satellite out of the atmosphere during the initialeight-and-a-half minutes of flight.
The upper stage then tookover, completing an initial engine burn to reach a preliminary orbit less than16 minutes after launch. The rocket coasted for a half-hour, flying over SouthAmerica, before re-igniting for a five-minute firing to accelerate the payloadinto an elliptical geosynchronous transfer orbit with a high point of 22,149miles (35,645 kilometers) and low point of 1,429 miles (2,299 kilometers).
Restraints holding the10,229-pound (4,639-kilogram) satellite to the spent rocket motor weredetonated over Africa, allowing $172 million Galaxy 16 to separate and beginits 15-year mission in space.
"Another greatlaunch," said Rob Peckham, president and general manager of Sea Launch."We're obviously delighted with today's mission."
The satellite will use anonboard engine to reach a circular geostationary orbit 22,300 miles (3,701kilometer) above the equator where it can match Earth's rotation and seemparked over one spot of the globe. That slot will be 99 degrees West longitudeto cover the continental United States, Alaska, Hawaii, Canada and Mexico.
Once in service, thesatellite will replace the Galaxy 4R craft currently in that orbital position.The satellites are operated by PanAmSat, which flies a fleet of two dozenspacecraft capable of reaching over 98 percent of the world's population.
Galaxy 16 was built bySpace Systems/Loral using the 1300-series spacecraft design. It is equippedwith a communications package of 24 C-band and 24 Ku-band transponders for highdefinition TV broadcasts and corporate data relay services.
Customers of the satellitewill include ABC, Comcast, FOX Broadcasting, Warner Bros., Buena Vista,Televisa, National Public Radio and Hughes Network Systems.
"We promised customersthat we would have the most extensive and reliable neighborhood of satellitesin the U.S. to deliver standard and HDTV television channels and Galaxy 16expands on that reality. We've also promised shareholders to build satellitesin a capital efficient manner and to launch them with our customers' designrequirements. And that's exactly what we've done: Galaxy 16 takes over forGalaxy 4R and the satellite is nearly sold out," said Joe Wright,PanAmSat's CEO.
"Galaxy 16 is abroadcasters' dream satellite. With its remarkable power and expansivefootprint reaching from Maine to Alaska and Hawaii, it can deliver today andtomorrow's technological advancements. In addition to providing the veryclearest broadcast signal, this versatile spacecraft has the digital muscle todeliver IPTV, HDTV or VOD. Galaxy 16 is one blockbuster of a satellite forexisting and emerging technologies."
This is PanAmSat's 43rdsatellite since Galaxy 1 in 1983 and likely the company's last launch beforeits merger with Intelsat.
It also marked the fourthtime Sea Launch has deployed a PanAmSat payload, following PAS-9 in 2000,Galaxy 3C in 2002 and Galaxy 13/Horizons-1 in 2003.
"This is our fourthflawless launch," Ken Lee, a PanAmSat vice president, told the crowd ofVIPs monitoring the liftoff from Sea Launch Home Port in Long Beach,California. "Thank you very much."
Get the Space.com Newsletter
Breaking space news, the latest updates on rocket launches, skywatching events and more!
Justin Ray is the former editor of the space launch and news site Spaceflight Now, where he covered a wide range of missions by NASA, the U.S. military and space agencies around the world. Justin was space reporter for Florida Today and served as a public affairs intern with Space Launch Delta 45 at what is now the Cape Canaveral Space Force Station before joining the Spaceflight Now team. In 2017, Justin joined the United Launch Alliance team, a commercial launch service provider.