Trapped Mars Rover Finds Signs of Buried Martian Water in Recent Past
This mosaic of images shows the dirt in front of NASA's Mars rover Spirit, after the rover got stuck and made a series of short drives to try to extricate itself in January and February 2010. Spirit analyzed the dirt, finding evidence that water trickled through it in the relatively recent past.
Opportunity Rover Self-Portrait From 2007
NASA's Mars Exploration Rover Opportunity used its panoramic camera (Pancam) during the mission's sols 1282 and 1284 (Sept. 2 and Sept. 4, 2007) to take the images combined into this mosaic view of the rover. The downward-looking view omits the mast on which the camera is mounted. Image released Feb. 17, 2012.
Shadow Self-Portrait by Opportunity at Endeavour Crater
NASA's Mars Exploration Rover Opportunity captured this view of its afternoon shadow stretching into Endeavour Crater during the 3,051st Martian day, or sol, of Opportunity's work on Mars on Aug. 23, 2012.
Opportunity Rover Breaks US Driving Record
On the 3,309th Martian day, or sol, of its mission on Mars (May 15, 2013) NASA's Mars Exploration Rover Opportunity drove 263 feet (80 meters) southward along the western rim of Endeavour Crater, bringing its total Red Planet odometry to 22.22 miles (35.76 kilometers).
Curiosity Rover Self-Portrait at Drill Site
The 1-ton Curiosity rover touched down on Mars in August 2012. This self-portrait, composed of more than 50 images taken by Curiosity's MAHLI camera on Feb. 3, 2013, shows the rover at the John Klein drill site. A drill hole is visible at bottom left.
Curiosity Panorama at John Klein Drill Site
This panorama showing Curiosity at the John Klein drill site is composed of more than 20 images the rover took with its navigation cameras on March 23, 2013.
Mars Rover Curiosity Studying Outcrop
This mosaic, stitched together from more than 40 raw images taken Jan. 25-26, 2013, shows NASA's Mars rover Curiosity at the John Klein drill site with arm deployed and massive Mt. Sharp in the background.
Three Generations of Mars Rovers in Mars Yard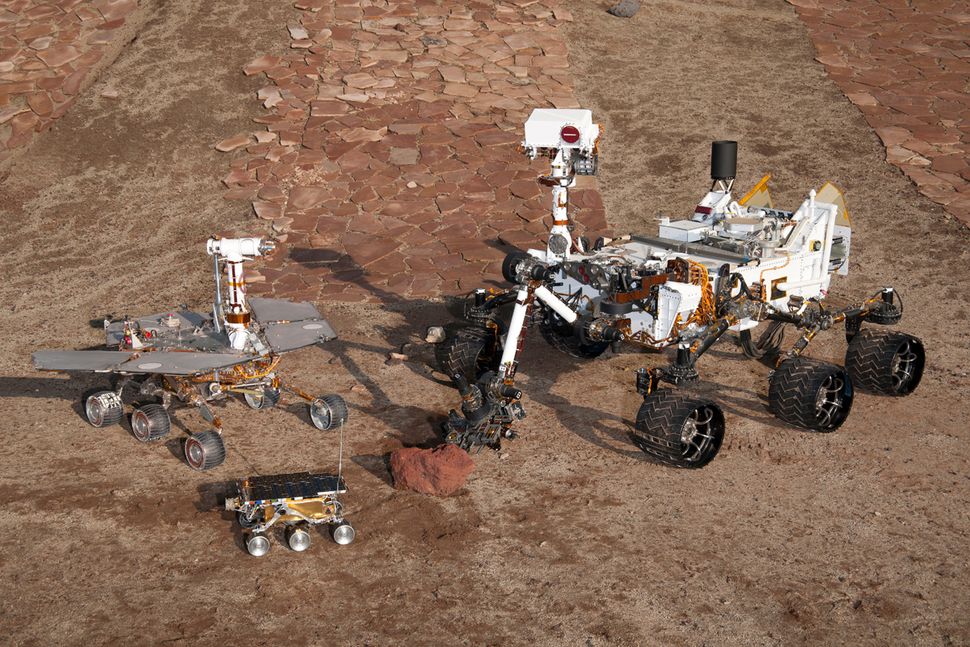 This grouping of two test rovers and a flight spare provides a graphic comparison of three generations of Mars rovers developed at NASA's Jet Propulsion Laboratory, Pasadena, Calif. The setting is JPL's Mars Yard testing area. At center is the flight spare for the first Mars rover, Sojourner, which landed on Mars in 1997 as part of the Mars Pathfinder Project. On the left is a Mars Exploration Rover Project test rover that is a working sibling to Spirit and Opportunity, which landed on Mars in 2004. On the right is a Mars Science Laboratory test rover the size of that project's Mars rover, Curiosity, which landed on Mars in August 2012.
Off-Planet Driving Records
This chart illustrates comparisons among the distances driven by various wheeled vehicles on the surface of Earth's moon and Mars.
Hayabusa Infographic
Electric propulsion powered Japan's Hayabusa probe, which launched in May 2003 and returned pieces of the asteroid Itokawa to Earth in June 2010.