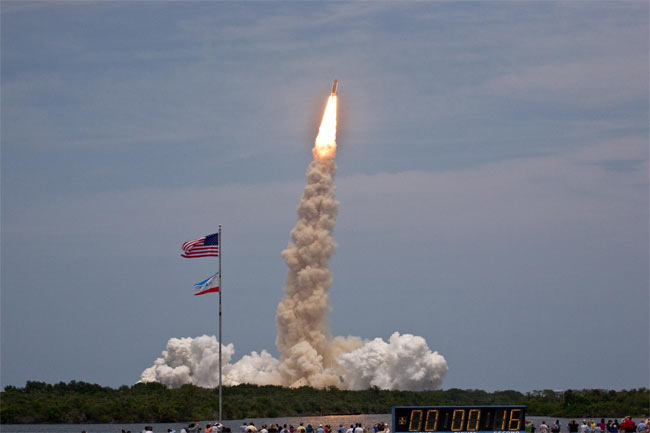 CAPE CANAVERAL, Fla. - Astronomers and NASA managers alike rejoiced the successful Monday launch of the space shuttle Atlantis to give the Hubble Space Telescope one last tune-up, but now comes the hard part: actually fixing the 19-year-old observatory.
?It?s amazing, but now of course come all the hard parts,? astrophysicist Mario Livio told SPACE.com just after Atlantis roared toward Hubble. ?We will be holding our breath over the next 10 days to see that everything goes okay.?
Livio is a senior astrophysicist with the Space Telescope Science Institute that oversees Hubble. He said he adores Hubble just like some people love cars that they?ve spent years fixing up and maintaining.
?It?s really an emotional commitment,? he said.
NASA launched Atlantis on a $1.1 billion mission to overhaul Hubble for the fifth and final time. The shuttle is slated to arrive at Hubble on Wednesday with the first spacewalk repair to follow a day later.
The 11-day flight was initially slated to launch in 2002 but was waylaid by the Columbia shuttle tragedy, and then canceled outright because of its risk. NASA resurrected the orbital service call in 2006 and has primed a second shuttle, the Endeavour orbiter, to launch a rescue mission in case Atlantis is damaged beyond repair. The most recent delay - a seven-month slip - cropped up last fall when a vital part broke on Hubble.
Ed Weiler, NASA?s chief of science missions, said there was a tinge of sadness as he watched Atlantis rocket into space after its rollercoaster ride so far.
?I?m happy to see the launch, but it?s sad knowing it?s the last shuttle mission to the Hubble Space Telescope,? Weiler said after liftoff. NASA?s three aging space shuttles are due to retire next year and their capsule-based replacement Orion is not large enough to haul the spare parts and number of people typically employed in a servicing flight.
Ambitious fixes ahead
Commanded by veteran shuttle commander Scott Altman, Atlantis? seven-astronaut crew will perform five challenging spacewalks to bring Hubble back to health. They will replace the space telescope?s main batteries and gyroscopes and attempt to fix two other instruments - Hubble?s main camera and a vital spectrograph - that were never designed to be repaired in space.
?We?ll take our best shot,? Weiler said. ?Let?s all remember, these instruments are dead right now. If they don?t get fixed we haven?t lost anything.?
If everything goes right, the repairs and upgrades to Hubble by the Atlantis astronauts will extend the space telescope?s life through at least 2014.
?This is a great start to a very challenging mission, and we?ll see how the mission unfolds throughout the next couple of days,? said NASA?s space operations chief Bill Gerstenmaier after launch.
The first order of business for Altman and his crew is to prepare for a day-long inspection of Atlantis? heat shield on Tuesday to scan for dings caused by fuel tank debris. It was a chunk of fuel tank foam that damaged the shuttle Columbia?s left wing and led to the loss of its astronaut crew.
NASA said a few pieces of foam were spotted falling from Atlantis? fuel tank just before launch, but none appeared to strike the spacecraft.
Just after launch, Mission Control radioed the Atlantis astronauts to report that an initial look at video of their blast off found no cause for concern. The astronauts will use a camera at the end of Atlantis' robotic arm later today to try to get ahead on tomorrow?s inspection.
But for Livio and other scientists, the shuttle?s smooth launch had an added flair. Atlantis launched toward Hubble - one of the world?s most famous telescopes - in 2009, which is the International Year of Astronomy to mark the 400th anniversary of Galileo Galilei's first telescope observations of the night sky
?What could be more appropriate?? Livio said.
SPACE.com is providing continuous coverage of NASA's last mission to the Hubble Space Telescope with senior editor Tariq Malik at Cape Canaveral and reporter Clara Moskowitz in New York. Click here for mission updates and SPACE.com's live NASA TV video feed.
New Video Show - Hubble's Final Service Call
Image Gallery - The Hubble Repair Missions: Part 1, Part 2