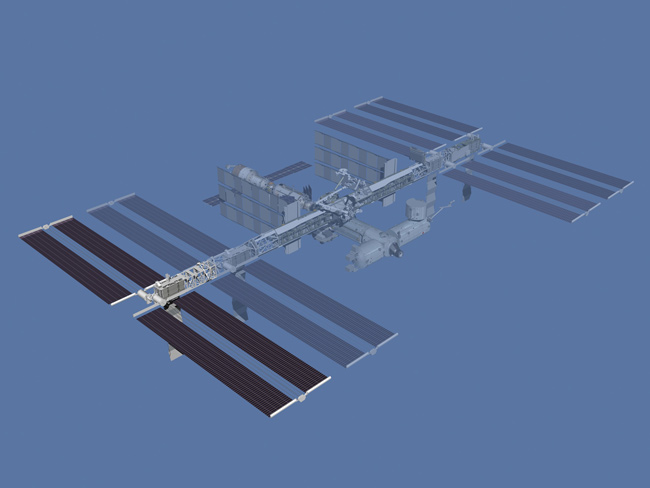 It?s moving day for the last major American-built piece of the International Space Station: a 16-ton girder tipped with a pair of folded solar wings.
Astronauts aboard the station will use the orbiting lab?s robotic arm to gently pluck the massive segment out of the payload bay of NASA?s space shuttle Discovery, which delivered the $298 million addition when it arrived at the outpost on Tuesday.
?We?re looking forward to [Tuesday] when we really get down to business and take our payload out of the bay,? shuttle commander Lee Archambault radioed down to Mission Control last night.
Packed tight inside Discovery?s payload bay is the Starboard-6 (S6) truss, a 45-foot (nearly 14-meter) long girder destined to be installed on the right side of the space station?s backbone-like main truss. It weighs 31,000 pounds (14,061 kg) and is the final piece of the station?s 11-segement truss, which will span more than 300 feet (91 meters) from end-to-end - or longer than an American football field - when complete.
Two wing-like solar arrays, each 115 feet (35 meters) long, are folded away like oversized maps on the end of the new segment. Discovery astronauts plan to install the arrays in a Thursday spacewalk and unfurl them later in the mission. They are the fourth, and last, set of U.S. solar arrays for the space station?s power grid, which will generate enough electricity to power 42 average sized homes, NASA has said.
?It?s going to give us all sorts of power to get us to do the kind of science the space station was designed for,? shuttle flight director Paul Dye told reporters late Tuesday.
Robotic arm rhumba
Before astronauts can plug in the new solar wings, they have to transfer them out of Discovery?s payload bay in an orbital dance that will require the use of robotic arms aboard both the space station and shuttle. At times, the 16-ton truss will be just inches away from the space shuttle, with little room for error.
?We?ve got to be really careful about it,? Discovery astronaut John Phillips said in an interview before the shuttle?s Sunday evening launch. ?A few inches off target side-to-side ? and we would hit something.?
Phillips and Discovery astronaut Sandra Magnus will use the station?s Canadarm2 robotic arm to latch onto the starboard-side truss, then ease it out of the shuttle?s cargo bay. They?ll hand the segment off to Discovery?s robotic arm, and then move their own station appendage into position to take back the massive girder and park it overnight.
The move is slated to begin at about 11:18 a.m. EDT (1518 GMT) and last about six hours.
?It?s going to be a very full robotics day,? Dye said. ?I think it?s going to be a very full day from start to finish.?
Dye said every move must be controlled perfectly to avoid breaking the robotic arms, losing control of the massive girder at the end of the outstretched limbs, or overtaxing the space station?s attitude control system.
?Obviously we want to make sure that we don?t bump into anything,? Dye said.
Shuttle pilot Dominic ?Tony? Antonelli and mission specialist Joseph Acaba will control Discovery?s robotic arm during the move. Acaba, a teacher-turned-astronaut, and fellow educator astronaut Richard Arnold II are also due to discuss their spaceflight with the Channel One educational channel later today.
Discovery?s seven-astronaut crew is in the midst of a 13-day mission to deliver the new solar arrays and swap out one member of the station?s Expedition 18 crew. Japanese astronaut Koichi Wakata, who launched aboard Discovery, replaced Magnus as a station flight engineer late Tuesday. Magnus will return home aboard the shuttle when it lands on March 28.
NASA cut a day and a spacewalk from the mission, which was initially slated to include four spacewalks and run 14 days, in order to complete the construction flight before the arrival of a previously scheduled Russian Soyuz flight bearing a new station crew and an American space tourist.
Dye told reporters that mission managers continue to rework the mission plan for Discovery?s crew, including moving tasks from the canceled spacewalk into the flight?s third excursion.
?I think you?re going to see non-stop action, especially on the station,? Dye said.
SPACE.com is providing continuous coverage of STS-119 with reporter Clara Moskowitz and senior editor Tariq Malik in New York. Click here for mission updates and SPACE.com's live NASA TV video feed.
New Video - Discovery?s STS-119 Night Launch

Video - Discovery's Mission: Space Station Power Up!

New Show - Inside the International Space Station