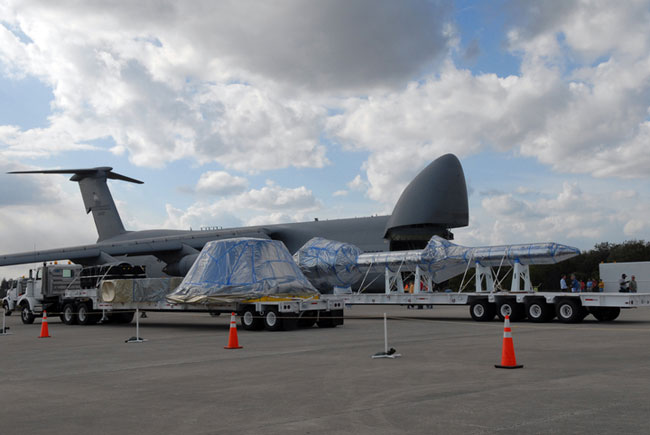 CAPE CANAVERAL - Aerodynamically exact mock-ups of NASA's Orion spacecraft and a launch abort system arrived at Kennedy Space Center on Wednesday, marking a key milestone in work toward launch this year of the first Ares I test flight.
The $360 million mission - dubbed Ares I-X - will show critics whether first-stage flight control systems will keep the slender "single-stick" rocket on course and intact during flight.
The rocket's parachute recovery system and the system that separates its first and second stages will be tested.
The flight also will show whether launch-induced vibrations might shake the rocket enough to damage critical systems or injure an astronaut crew.
"One good test is worth a thousand expert opinions," NASA deputy mission manager Jon Cowart said.
Tentatively set for launch July 11, the mission will be the first of four test flights slated to be carried out under a $1.8 billion contract to develop the rocket's first stage: a five-segment solid rocket booster.
It also will be the first demonstration of a critical piece of a new U.S. space transportation system set to replace the shuttle, sending astronauts to orbit by 2015 and the moon by 2020.
The Ares I-X test flight will employ a four-segment shuttle booster topped with a dummy fifth segment and mock-ups that simulate the mass and outer mold line of an Ares I second stage, Orion spacecraft and launch abort system.
An Air Force C5 Galaxy aircraft arrived at KSC with the Orion command module and launch abort system simulators secured in its expansive cargo hold. The hardware joined segments of the rocket's upper stage simulator in the KSC Vehicle Assembly Building.
Four solid rocket booster segments that will power the Ares I-X first stage are expected to be delivered from an ATK plant in Utah in late February.
NASA will decide in mid-March whether to keep the Ares I-X mission launch in July or push it back until summer or fall.
The Ares I-X mission will launch from pad 39B. But NASA is keeping that pad "shuttle-ready" in case a mission to rescue a Hubble Space Telescope servicing crew is required in May.
NASA would have to launch both the Hubble servicing flight and the rescue mission, if required, from pad 39A to maintain the July 11 launch date for Ares I-X.
Video - NASA's Constellation Journey Begins: Part 1, Part 2
Published under license from FLORIDA TODAY. Copyright ? 2009 FLORIDA TODAY. No portion of this material may be reproduced in any way without the written consent of FLORIDA TODAY.