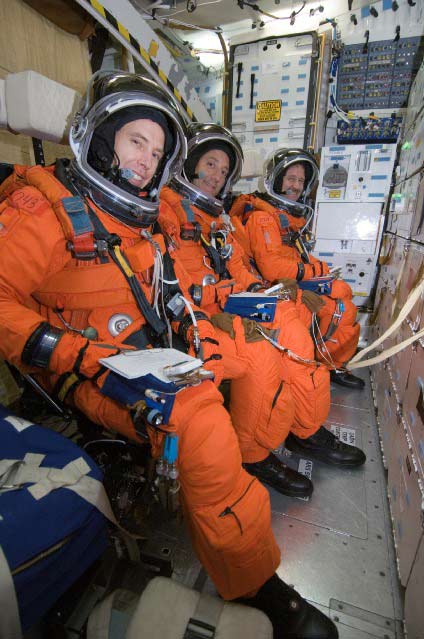 HOUSTON — Seven NASA astronauts are gearing up to tackle a risky shuttle mission to repair the Hubble Space Telescope.
Commanded by veteran astronaut Scott Altman, the STS-125 astronaut crew and NASA?s space shuttle Atlantis are set to launch on Oct. 10 and soar 350 miles (563 km) above Earth to reach Hubble, which would leave the crew without the safety net of the International Space Station to fall back on in case of emergency. But the crew?s three veterans of previous Hubble servicing flight are confident of mission success.
"I think about how much more we know now about the environment, our inspection capability, and our repair capability," said Altman, a retired U.S. Navy captain making his second trip to Hubble, in a briefing here at NASA?s Johnson Space Center. "This is a mission that can and should be flown."
Altman, a three-time spaceflyer, formerly flew F-14 Tomcats from the U.S. Navy base at Miramar, but now helms Atlantis? STS-125 flight, NASA?s fifth and final shuttle mission to overhaul the 18-year-old Hubble observatory. He and his crew will perform five back-to-back spacewalks during their planned 11-day mission to install new cameras, replace old batteries, gyroscopes and thermal insulation, make tricky repairs to two other instruments and attach a docking mechanism for future spacecraft.
Atlantis mission specialists John Grunsfeld and Michael Massimino also bring spacewalking experience with Hubble to the rest of the crew, which includes shuttle pilot Gregory C. Johnson and mission specialists Andrew Feustel, Michael Good, and Megan McArthur. Grunsfeld is making his fifth spaceflight — and third to Hubble — while the flight will be Massimino?s second to the observatory.
Grunsfeld and Feustel anticipate conducting three of the five spacewalks scheduled over five days, while Massimino and Good plan to handle the remaining two excursions to repair Hubble. McArthur will serve as a quarterback of sorts by moving the spacewalkers about on the shuttle's robotic arm.
"I'm really excited to be this close to flight," said Tony Ceccaci, lead flight director for the shuttle mission, during a briefing in Houston. "We're a month away. The team is ready."
Since Atlantis must fly to a higher orbit and along a different inclination that the space station to reach Hubble, its crew will be unable to seek refuge if their spacecraft?s vital heat shield is damaged. Instead, NASA shuttle commander Dominic Gorie heads another four-person crew that would launch on Atlantis? sister ship Endeavor as a last-ditch rescue option, if required. NASA plans to ready Endeavour for launch atop a second launch pad before Atlantis lift off, but mission managers and Altman view the scenario as extremely unlikely.
Atlantis will also carry repair kits to take care of possible damage to its belly-mounted heat tiles and protective panels lining its wing leading edges. NASA has kept close watch on heat shield integrity since the tragic 2003 loss of the shuttle Columbia and its crew.
Such options become even more important because the STS-125 flight plan takes Atlantis into a higher-risk area with micrometeorites and orbital debris from shattered rockets and satellites, mission managers said.
Atlantis must also rely upon a more extensive inspection with its camera and laser mounted on a long orbiter boom, instead of the usual visual inspection from the space station crew. A nine-hour inspection on the second day of flight adds the unusual step of eyeballing the belly heat tiles that protect the shuttle during fiery reentry.
The remote possibility of having to make their way from Atlantis to Endeavour means that all seven Atlantis crew members are certified spacewalkers.
Both shuttle crews have spent time practicing their contingency spacewalks if a rescue mission took effect, but the focus of the Atlantis crew remains on getting Hubble back into shape.
"If we ever did get into a rescue situation, it's relatively straightforward compared to anything we're doing in the Hubble nominal mission," Grunsfeld said.
Video - Hubble Service Mission 4 Countdown

New Hubble Images - When Galaxies Collide