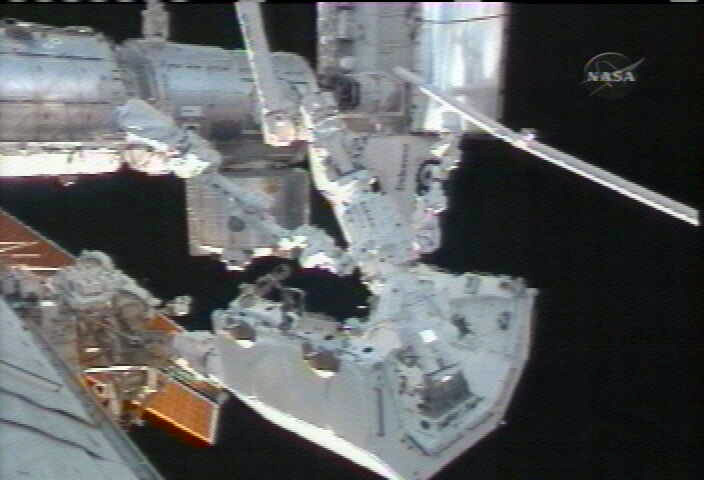 This story was updated at 1:37 a.m. EDT March 17.
HOUSTON - A new mechanical handyman perched outside the International Space Station (ISS) is in fine shape after a Sunday health check-up as astronauts prepare to complete its assembly in a spacewalk, mission managers said.
Astronauts inside the station remotely tested the brakes in the arm joints of Canada?s massive Dextre maintenance robot and geared up for a Monday spacewalk to attach its tool belt and other hardware.
?It was a good day,? said Pierre Jean, acting ISS program manager for the Canadian Space Agency, which built the two-armed Dextre robot.
Jean said Dextre easily passed each of its electronic systems checks, with all but one of 14 intricate joints passing brake tests earlier today. The brake on a wrist pitch joint at the end of the robot?s 11-foot (3.4-meter) left arm slipped slightly more than the general acceptable limit, but the glitch is not expected to be a lasting concern.
?This is something that we?re very confident that is not going to be an issue,? Jean said in a briefing here at NASA?s Johnson Space Center.
The 12-foot (3.7-meter) tall Dextre (pronounced ?Dexter?) weighs 3,440 pounds (1,560 kilograms) and sports two, dexterous hands designed to replace the role of a spacewalking astronaut on simple fix-it jobs outside the space station. The more than $200-million robot is Canada?s third major contribution to the ISS and joins the Canadian-built Canadarm2 arm and a Mobile Base System for the robotic appendages.
Endeavour shuttle astronauts attached Dextre?s arms during a Saturday spacewalk after an earlier excursion to attach hands to each of the limbs. Commanded by veteran spaceflyer Dominic Gorie, Endeavour?s STS-123 crew is in the midst of 16-day mission to deliver Dextre, the first piece of Japan?s three-segment Kibo laboratory and spare parts to the ISS over the course of five spacewalks.
Earlier today, newly arrived ISS flight engineer Garrett Reisman and shuttle astronaut Robert Behnken put Dextre through its meticulous brake tests, moving the seven joints on each of the robot?s arms in tiny increments.
?We?re just jumping the gun having fun moving the arms,? Reisman told Mission Control. ?It was really neat for us to see [Dextre] come to life.?
Reisman arrived at the station aboard Endeavour last week and will stay aboard to relieve French astronaut Leopold Eyharts as a member of the station?s Expedition 16 crew. Eyharts will return to Earth with Endeavour?s STS-123 crew on March 26.
Behnken and fellow spacewalker Rick Linnehan will attach more pieces to Dextre during a Monday spacewalk, the third of five planned for the STS-123 mission, which will include the addition of a tool carrier, a spare parts platform and the removal of several thermal covers. The robot has fully recovered from a power glitch, since traced to a faulty cable on its carrier platform, which delayed its activation last week. The hefty repair robot has gained the nickname ?Mr. Dextre? from its flesh-and-blood astronaut crewmates.
?We?ve worked on Dextre for about 10 years now,? said Jean, adding that the station?s Canadarm2 is still referred to as ?it.? ?I guess as we started treating it like one of the gang. Dextre has become kind of an entity.?
NASA is broadcasting Endeavour's STS-123 mission live on NASA TV. Click here for SPACE.com's shuttle mission coverage and NASA TV feed.
NEW GALLERY: Launch Day for Shuttle Endeavour