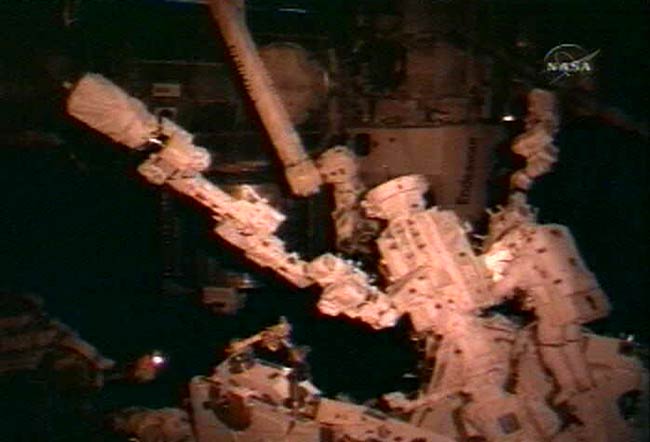 This story was updated at 6:13 a.m. ET.
HOUSTON ? Two astronauts spent their Saturday night assembling a giant robot outside the International Space Station (ISS), wrangling with stubborn bolts to attach the machine's two massive arms.
Astronauts Rick Linnehan and Mike Foreman, who both arrived at the space station in NASA's shuttle Endeavour, worked in the vacuum of space for 7 hours and 8 minutes to assemble the 1.7-ton Dextre maintenance robot. Several stuck bolts on a U-shaped shipping platform slowed down the two spacewalkers, but ultimately didn't stop them from piecing together the Canadian-built "Mr. Dextre."
"Hey Dom, how's the view from the flight deck?" Linnehan radioed STS-123 shuttle commander Dominic Gorie as the giant robot received its arms.
"It is unbelievable," Gorie said of Dextre's ongoing assembly. "You guys are making us all proud."
The overnight spacewalk marks the second of no less than five planned for the STS-123 shuttle mission, and came after fears that Dextre's vital heaters couldn't be powered. Mission controllers here at Johnson Space Center, however, quickly discovered a flawed power cable in the giant robot's Spacelab Pallet and remedied the glitch Friday evening.
Linnehan and Foreman kicked off their orbital construction work at 7:49 p.m. EDT (1149 GMT) Saturday and finished their excursion Sunday morning at 2:57 a.m. EDT (0657 GMT). It was Foreman's first foray into the vacuum of space, Linnehan's fifth ? giving the veteran spaceflyer 35 hours and 30 minutes of total spacewalking time ? and the 106th total spacewalk dedicated to building the space station.
Grunt work
The spacewalking duo quickly ran into trouble after they left the safety of the station's Quest airlock, meeting several stubborn bolts known as expansion diameter fasteners holding down Dextre's gangly 11-foot (3.4-meter) arms.
Linnehan and Foreman tried to unscrew the restraints, but the two resorted to a crowbar tool to pull them out like bent nails. The heavy-handed work elicited grunts from the crewmembers inside of their bulky white spacesuits.
"Sorry for the sound effects," Foreman said after prying at a stuck fastener. "I'll have to get the ? jackhammer."
"Do we have one of those?" joked Linnehan, lead spacewalker for the outing. "We're really having to get medieval on Mr. Dextre."
The astronaut duo eventually pulled out the retention bolts, allowing Linnehan to relocate each of Dextre's two 775-pound (352-kilogram) arms out of the pallet ? a move that allowed Linnehan to raise the robot's giant torso out of its temporary home.
"It's really eerie out here," Linnehan said as he lifted Dextre's massive trunk from the end of the space station's robotic arm. "It's pitch black and it's just this big white kind of demonoid looking thing below me, with arms and legs."
With Dextre's torso propped up out of the platform it rode into space on, Linnehan and Foreman made quick work of latching on the arms to the automaton's shoulders.
"We now have a one-armed monster," announced Bob Behnken, the spacewalk's choreographer and STS-123 mission specialist, as the first limb was secured. The second seven-jointed arm soon followed, allowing Linnehan and Foreman to return to the safety of the airlock.
So far, so good
Their efforts left behind a nearly complete two-armed Dextre maintenance robot ready for completion this week. During a third planned spacewalk, Linnehan and Behnken will pair up to give the robot a tool belt, camera eyes and a storage platform, then ready it for installation on the space station.
Dana Weigel, space station flight director, said during a briefing after the spacewalk that tests show the robot and its new additions are functioning perfectly so far.
"It's beyond the keep-alive point where we had it last night," Weigel said. "It's in a functional mode and looking great."
Garrett Reisman, an ISS flight engineer who helped install Dextre's hands, said that he can't wait to see the robot fully assembled.
"He'll be a great helper for us," Reisman told SPACE.com Saturday morning. "He'll be able to set the scene for us, carry all the big bulky stuff that's hard for us to carry around."
In addition to finishing Dextre in remaining spacewalks, Behnken and Foreman will also perform on-orbit experiments, test a gooey heat-resistant tile repair gun and store Endeavour's sensor-tipped inspection boom on the space station for the next shuttle flight.
Endeavour and its seven-astronaut crew launched from Cape Canaveral, Fla., on March 11 and docked at the space station on March 13. The 100-ton orbiter is currently cleared for landing on March 26.
NASA is broadcasting Endeavour's STS-123 mission live on NASA TV. Click here for SPACE.com's shuttle mission coverage and NASA TV feed.
NEW GALLERY: Launch Day for Shuttle Endeavour