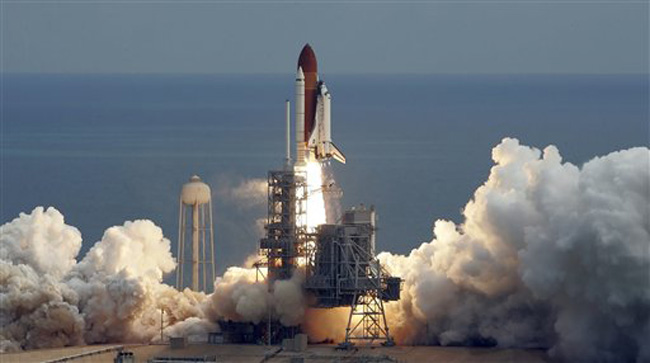 CAPE CANAVERAL, Fla. - The successful Tuesday launch of NASA?s shuttle Discovery has opened the gate for a busy few months of construction at the International Space Station (ISS).
Discovery and its seven-astronaut crew launched into space at 11:38 a.m. EDT (1538 GMT) from NASA?s Kennedy Space Center here to deliver the Harmony connecting node that will anchor future laboratories to the ISS.
?This is a great start to a very challenging mission in front of us,? said NASA?s space operations chief Bill Gerstenmaier said after liftoff. ?I can?t think of a better start to this mission than what we got today.?
The shuttle?s STS-120 crew, commanded by veteran spaceflyer Pamela Melroy, will install Harmony, ferry a new station crewmember to the ISS and move a massive solar power segment during a complicated 14-day spaceflight.
Once the mission is complete, the space station?s Expedition 16 crew will begin a three-week work marathon to outfit Harmony with a shuttle docking port and move the module to the front of the ISS so NASA?s shuttle Atlantis can dock in December to deliver Europe?s Columbus laboratory. No less than 10 spacewalks by shuttle and ISS astronauts are planned before the end of the year.
?Am I worried? No, we?ll do fine,? said Gerstenmaier, adding that there is more a sense of anticipation, rather than relief, that a new stage of ISS construction is under way. ?Is it exciting? Yes, [and] that?s okay.?
NASA launch director Mike Leinbach told reporters that Discovery?s liftoff marked the first time since the agency resumed shuttle flights in 2005 that it launched an orbiter on time for the third time in a row. The shuttles Atlantis and Endeavour, which launched in June and August, respectively, also lifted off on their first attempts.
?It?s been quite some time,? said Leinbach, adding that he hopes Atlantis?s planned Dec. 6 launch will continue the streak.
Heat shield inspection on tap
Gerstenmaier said the agency is now turning its attention to imagery and video taken of Discovery during liftoff to determine the health of the spacecraft?s heat shield.
A preliminary review found six separate instances of foam debris popping free from Discovery?s fuel tank during flight, but none of them occurred early enough to cause significant damage to the orbiter, Gerstenmaier said. ?
Aboard Discovery, STS-120 mission specialist Scott Parazynski reported what he deemed ?no visible loss of big pieces of foam? after photographing the shuttle?s discarded fuel tank as it floated away.
?It?s preliminary only, but it looks like a clean ascent,? astronaut Terry Virts told Discovery?s STS-120 crew from NASA?s Mission Control in Houston, Texas.
?That?s great news,? Melroy replied.
Much of a small patch of ice on a liquid hydrogen pipe running between the aft end of Discovery and its external tank before launch appeared to shake off during liftoff as expected, mission managers said. The ice was attached to a baggy material, allowing the ice to fall off on the launch pad where it posed no risk to the shuttle, Leinbach added.
A detailed inspection of Discovery?s wing-mounted reinforced carbon-carbon (RCC) panels, which experience the most extreme temperatures during landing, will be conducted by the STS-120 astronauts on Wednesday. The astronauts will scan each wing a bit slower than usual with a sensor-tipped extension of Discovery?s robotic arm to look for any hints of defects in the exterior coating of their heat-resistant panels.
Before launch, shuttle engineers were split on whether to replace three of Discovery?s 44 RCC panels after a new inspection technique showed indications of possible coating defects. After a lengthy discussion last week, top mission managers found Discovery safe for launch.
Gerstenmaier stressed after today?s successful launch that the decision to fly was not a rush to judgment.
?We?re not in any shape or form playing fast and loose,? Gerstenmaier said. ?We?re going above and beyond to make sure we are safe to go fly.?
NASA is broadcasting Discovery's STS-120 launch and mission operations live on NASA. Click here for mission updates and NASA TV from SPACE.com.
SPACE.com Video

Interplayer

: Delivering 'Harmony' with NASA's STS-120 Mission

Test Your Smarts: Space Shuttle Countdown Quiz

Complete Space Shuttle Mission Coverage