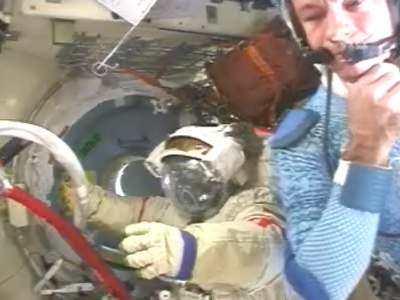 Two astronauts will venture outside the International Space Station (ISS) today for a short round of orbital golf and laboratory maintenance.
ISS Expedition 14 commander Michael Lopez-Alegria and flight engineer Mikhail Tyurin are slated to spend six hours working outside the station in what will mark the first of four planned spacewalks during their six-month mission.
NASA TV will broadcast today's spacewalk live beginning at 5:00 p.m. EST. Click here.
Among the highlights of today's spacewalk--scheduled to begin at 6:00 p.m. EST (2300 GMT)--will be Tyurin's golf shot, a stunt spurred by a commercial agreement between Russia's Federal Space Agency and the Canadian golf equipment firm Element 21.
"The crew is taking this very, very seriously," said Holly Ridings, NASA's lead Expedition 14 flight director for today's spacewalk. "So they've been doing a lot of practice, some of it on their own time."
Tyurin will lead today's extravehicular activity (EVA), the entirety of which takes place on the space station's Russian-built segments. He and Lopez-Alegria will wear their identically red-striped Orlan spacesuits during the activity. Their fellow Expedition 14 crewmate, European Space Agency astronaut Thomas Reiter, will remain inside the ISS during the spacewalk.

Video: Spacewalk Golf
Expedition 14 lead spacewalk officer Glenda Laws narrates plans for a Nov. 22, 2006 spacewalk.
Par for the orbital course
Almost immediately after stepping into space today, Tyurin and Lopez-Alegria will set up for their orbital golf shot on a ladder jutting out from their starting point: the station's Russian-built Pirs docking compartment [image].
"I will be behind him yelling, 'Fore!'" Lopez-Alegria has said of Tyurin's orbital golf session. "I guess we'll just have to see how far it goes. It depends how much of it he gets."
Tyurin, a veteran Russian cosmonaut, will use a gold-plated six iron and an ultra-light golf ball that weighs just one-tenth of an ounce (three grams) [image]. Because his movements are restricted inside the bulky Orlan spacesuit, Tyurin must hit the ball with a sort of one-handed swat.
"He'll be directing it with a putting-type motion," Glenda Laws, NASA's lead Expedition 14 spacewalk officer, said of he space shot. "And it will head out over the aft end of the [Zvezda] service module."
Tyurin will carry three golf balls into space with him, but may not hit all of them, Laws said. That decision will be made by the cosmonaut and Russian flight controllers, she added.
Lopez-Alegria, meanwhile, will stand by to help stabilize Tyurin and film his golf shot. The video will later be used in an Element 21 commercial.
"We kind of though that this was going a kind of fun thing to do because we're using a space material and we're introducing that in the golf industry," Element 21 president and CEO Nataliya Hearn told SPACE.com.
NASA and Russian safety officials have found that the upcoming golf shot poses no debris risk to the ISS or a December shuttle mission, but disagree on how long the golf balls may stay in orbit. NASA expects them to deorbit after a few days, while Russian studies yielded maximum flight times of three years or so.
ISS maintenance
Today's planned spacewalk is a breather of sorts between a pair of busy shuttle missions to complete assembly of the orbital laboratory.
"On this EVA, I think the bulk of the activities are research oriented," said Kirk Shireman, NASA's deputy ISS program manager, adding that certain activities will aid future tasks aboard the station.
One such task includes the relocation of a navigation antenna at the aft end of the station's Zvezda module. The antenna will help guide an unmanned European cargo ship to the Zvezda docking port some time in mid-2007.
A Russian-built Progress cargo ship is currently docked at Zvezda. Another spacewalk chore calls for Tyurin and Lopez-Alegria to lash down an antenna on that Progress 23 vehicle that did not properly stow itself when the spacecraft arrived last month [image].
ISS managers want to make sure the antenna does not catch a nearby handrail when it undocks next year.
"When we depart, basically, the hooks open and there's a spring force that pushes away," Shireman said. "So if any part of the Progress vehicle was attached still to the station, it would cause the Progress to swing and its trajectory would not be what we intended and could pose a hazard to the ISS."
New science
The spacewalkers will also inspect a telescoping Russian crane and install a new science instrument known as BTN Neutron to monitor charged and neutral particles in low-Earth orbit, especially during solar flares and other events.
If time permits, the Expedition 14 astronauts may also retrieve a Russian materials exposure experiment and replace it with a fresh one.
The golf shot, too, has been referred to as an experiment. Element 21 officials hope it will inspire people on Earth, as well as commemorate the 35th anniversary of NASA astronaut Alan Shepard's lunar tee off [image] during the 1971 Apollo 14 mission to the Moon.
"[S]pace seems to be very esoteric, and whatever happens there seems to have very little relationship to whatever happens down here," Hearn said, adding that it is a welcome coincidence that the golf shot comes during Expedition 14. "And when you've got Alan Shepard playing golf on the Moon, a sport played by millions in the U.S., it brings a little bit of space back to Earth.
"It makes it more real, it makes it more human, and more tangible," she said.
NASA will provide a live broadcast of the ISS Expedition 14 crew's spacewalk on NASA TV beginning at 5:00 p.m. EST (2200 GMT). You are invited to follow the spacewalk using SPACE.com's NASA TV feed, which is available by clicking here.
Complete Coverage: ISS Expedition 14
IMAGES: Launch Day for Expedition 14 Crew, Anousheh Ansari
IMAGES: Anousheh Ansari Prepares for Launch