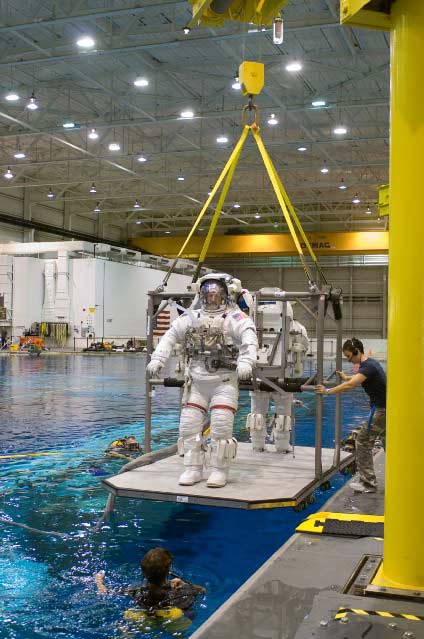 Four astronauts will turn the International Space Station (ISS) into an orbital construction zone during three complicated spacewalks next week.
Working in teams of two, the spacewalkers and other crew of NASA's STS-115 mission aboard Atlantis will spend a total of four days to complete the three extravehicular activities (EVAs) in what will be NASA's first major ISS construction flight to since late 2002. The mission is set to launch at 4:30 p.m. EDT (2030 GMT) on Aug. 27 aboard NASA's shuttle Atlantis.
"These spacewalks are very complex," said STS-115 spacewalker
Heidemarie Stefanyshyn-Piper
in a preflight briefing. "They like to call it the choreography because it does require a significant amount of choreography to get everything done."
STS-115 mission specialists Joseph Tanner and Stefanyshyn-Piper will perform the first and third spacewalks of their mission, with their crewmates Daniel Burbank and Canadian Space Agency astronaut Steven MacLean tasked with the second EVA.
The four spacewalkers have trained so heavily during their more than four-year road to flight - which was delayed as NASA recovered from the 2003 Columbia tragedy - that the two teams can perform each others duties.
"We were tallying up the number of days that we have spent actually underwater in the Neutral Buoyancy Lab training for these spacewalks and we're upwards of 80 nominal timeline runs," Burbank said this month, referring to NASA's massive spacewalk training pool. "And that's an awful lot more than crews ordinarily would have."
Each of the three STS-115 EVAs are expected to run at least 6.5 hours to install a pair of new station trusses and solar wings, as well as perform maintenance outside the orbital laboratory.
"We've been preparing for it for quite a long time, four years, training a great crew," said John Haensly, lead EVA officer for the STS-115 mission, praising the team effort between astronauts and trainers to reach this point. "When the crew goes out and performs an EVA, they make it look easy."
Three spacewalks, one goal
Before Tanner and Stefanyshyn-Piper even step out of the space station's Quest airlock on Flight Day 4, the work will have already begun to add the integrated Port 3/Port 4 (P3/P4) segments to the port side of the ISS's main truss.
MacLean and ISS astronaut Jeffrey Williams will wield the space station's robotic arm to attach the 17.5-ton truss segment to the outboard end of the station's Port 1 (P1) truss. Once three of four motor driven bolts have secured the segment to the ISS, Tanner and Stefanyshyn-Piper begin their spacewalk to connect vital power and cooling, deploy two phone booth-sized cylinders - each containing solar arrays masts - and swing out arm-like boxes holding the folded up solar blankets for each array.
The primary goal of EVA 2 on Flight Day 5 seems basic - removing a plethora of locks and restraints that secured the P3/P4 truss segments in place during Atlantis' launch. But for Burbank and MacLean, the tasks are vital.
The two astronauts will spend more than six hours prying open thermal covers and removing 16 launch locks - and six restraints - latching a car-sized wheel called the Solar Alpha Rotary Joint (SARJ) in place. The joint, located between the P3 and P4 truss, will allow outbound port trusses to rotate independently of the ISS so their solar arrays continuously track the Sun.
"This will be the first one of those that we've installed and it's almost a car-sized mechanism to turn this entire structure," Paul Hill, NASA's mission operations shuttle manager, told SPACE.com of the SARJ unit. "So it will be interesting to see how this guy performs in orbit."
The SARJ unit will be put to the test before solar array deployment on Flight Day 6, when it will be used to turn the entire P4 truss 180 degrees. Once there, astronauts inside the ISS will remotely unfurl the station's new solar wings taking care to watch for sticking panels and make sure tensions lines stay on track.
The third spacewalk, also by Tanner and Stefanyshyn-Piper, has been compared to a clean up job. The astronauts will venture out on Flight Day 7 to deploy a radiator to cool the P4 solar array. They will also clear a path on the truss for the station's railcar-like Mobile Transporter - used to move the outpost's robotic arm during construction, and perform a series of maintenance tasks.
Camping out
One feature that sets the STS-115 spacewalks apart from past ISS construction flights will be the first use of the station's Quest airlock as a pre-EVA campground to save time getting astronauts suited up and out the hatch.
Known as an airlock campout, the activity was first tested earlier this year by ISS Expedition 13 flight engineer Jeffrey Williams and Expedition 12 commander Bill McArthur and calls for spacewalkers to spend the night prior to an EVA locked inside the Quest airlock at a lower than normal pressure.
By dropping the pressure inside from the station's normal 14.7 pounds per square-inch (psi) - or about the same pressure at sea level on Earth - to 10.2 psi, spacewalkers camping out before an EVA can save up to an hour or more typically spent exercising and breathing pure oxygen to purge nitrogen from their blood. The nitrogen purge helps prevent astronauts from developing the bends during spacewalks.
"We save about an hour of time the way we lay it out and we expect that we'll get that the morning of each EVA," Haensly said.
Lost EVA
The STS-114 crew originally planned four spacewalks outside the ISS during their busy mission, but the final outing was pulled to eas3e an already heavy spacewalking work load.
"Things on that EVA were not critical to continuing assembly," Haensly told SPACE.com. "They were either moved to other missions or we decided we wouldn't do those anymore."
But STS-115 spacewalkers said there is a chance that, if push came to shove, a fourth spacewalk could be scheduled if the primary goals of the first three EVAs are left incomplete.
"We still have a potential for doing one," Tanner told reporters, adding that Atlantis' STS-115 mission includes 11 days plus several more to handle weather issues during landing and extra time in orbit. "The capability is always there."
VIDEO: Shuttle Commander Brent Jett
Gallery: Prepping Atlantis
Gallery: STS-115 Crew Training
Complete Space Shuttle Mission Coverage
NASA's STS-115: Shuttle Atlantis to Jump Start ISS Construction
The Great Space Quiz: Space Shuttle Countdown