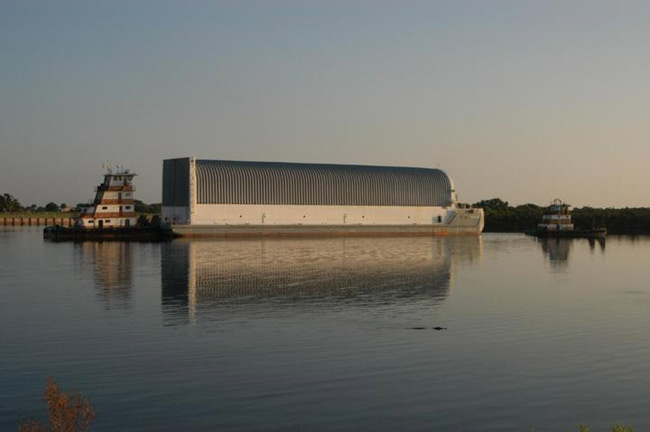 After a series of hurricane-related delays, a space shuttle fuel tank is finally on heading back to its New Orleans factory.
The external tank, one of several to be returned to NASA's New Orleans-based Michoud Assembly Facility from Kennedy Space Center (KSC) in Florida, rode a barge out to sea Monday to begin the five-day trip.
"It's just a signal that everything is getting back to normal," NASA KSC spokesperson Jessica Rye told SPACE.com.
The delivery of External Tank-119 (ET-119) to Michoud is vital for NASA's return to flight effort - which is aimed at launching the space shuttle Discovery and its STS-121 crew to the International Space Station next year. The ET-119 fuel tank is currently slated to help launch the STS-121 mission, NASA's second planned orbiter flight since the Columbia disaster.
But first, engineers must determine how to reduce the chances of potentially harmful pieces of insulating foam from popping free from protective ramps, known as a protuberance air load (PAL) ramps, on the tank's exterior during launch. Engineers have been studying the problem at Michoud between hurricanes and hope to pick apart ET-119 for a closer look.
"The first step is the non-destructive evaluation on both the hydrogen and oxygen PAL ramps," explained Martin Jensen, a NASA spokesperson and Marshall Space Flight Center in Alabama where the agency's External Tank Project Office is based. "Then we'll do some dissection of those PAL ramps and cut into them. That's the near-term plan."
Foam debris shedding doomed the space shuttle Columbia in 2003 when a 1.67-pound chunk of foam fell from its tank during liftoff and pierced the orbiter's heat shield along its left wing leading edge. The resulting damage allowed hot gases to enter the wing during atmospheric reentry, which ripped apart the vehicle and killed its seven-astronaut STS-107 crew.
After two and half years of study and safety modifications, NASA launched Discovery on STS-114, its first return to flight mission, on July 26, only to find unacceptably large pieces of foam fall from the PAL ramp - previously thought safe - and other locations during launch. While none of those pieces caused significant damage to the orbiter, NASA pledged to address the shedding problem once more before the shuttle's next space shot.
The need for more study forced NASA to abandon plans to launch the STS-121 mission aboard Atlantis this year, and instead target March 2006 for the next shuttle mission.
Last week, NASA chief Michael Griffin told the Washington Post that the space agency will likely target May 2006 for its next shuttle flight in order to recover time lost from facility closures caused by Hurricane Katrina. That storm - and its successor Hurricane Rita - damaged Michoud and Mississippi's Stennis Space Center during Katrina and Johnson Space Center (JSC) during Rita.
"But nothing has been decided," NASA's Dean Acosta, Griffin's spokesperson, told SPACE.com, adding that any definite launch target change would be made in an official announcement.
Jensen said it should take ET-119 and its barge Pegasus until Sunday to reach Michoud in New Orleans, with engineers currently expected to unload it on Monday.
NASA officials said that the next fuel tank to make the trip from KSC to Michoud will be ET-120. That shipment should leave Florida in the next few weeks, they added.