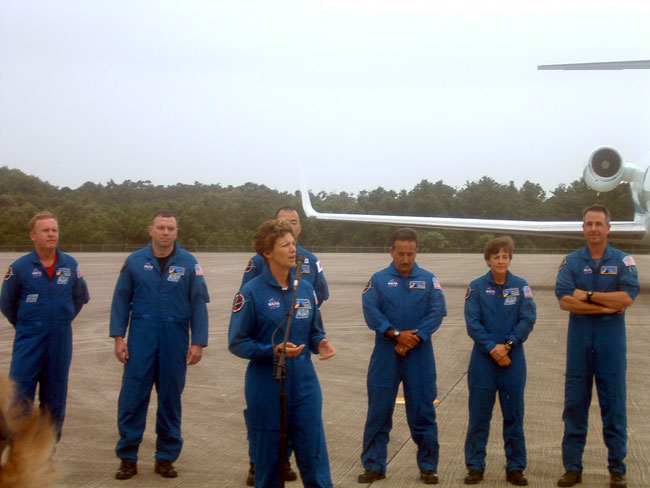 CAPE CANAVERAL - The next astronaut crew of the space shuttle Discovery arrived at their launch site today, flying in under a cloudy sky but looking forward to a July 13 space shot that NASA hopes will be the first orbiter launch since the Columbia disaster.
Clad in blue flight suits, STS-114 commander Eileen Collins and her six fellow crewmates stepped off their transport plane and onto the runway here at NASA's Kennedy Space Center (KSC) at about 6:30 p.m. EDT (2230 GMT). Their arrival, originally slated for July 10, was pushed up a full day on Friday due to the Gulf Coast approach of Hurricane Dennis.
"This shuttle flight is the beginning of a new chapter in space exploration, we're going to finish building the space station and do the science up there that needs to be done," Collins said. "It's going to be a very exciting time...people's hearts are beating."
Discovery's STS-114 mission is NASA's first scheduled shuttle flight since the 2003 Columbia accident that destroyed one orbiter and killed seven astronauts. Columbia broke apart while reentering the Earth's atmosphere on Feb. 1, 2003 after hot gases penetrated its wing through a hole gouged by launch debris two weeks earlier at liftoff.
"It's been two and a half years since a crew stood here before you, and that's way too long," said STS-114 mission specialist Andrew Thomas. "It is definitely time that we went back to flight and back to space."
Discovery is currently sitting atop KSC's Launch Pad 39B, where engineers are preparing it to launch on July 13 at 3:51 p.m. EDT (1951 GMT) mission. The spaceflight's launch window stretches through July 31.
In addition to Collins, pilot James Kelly and mission specialists Andrew Thomas, Stephen Robinson, Wendy Lawrence, Charles Camarda and Soichi Noguchi - a Japanese Aerospace Exploration Agency astronaut - round out the STS-114 crew.
"I will say the same thing in English," Noguchi said after addressing reporters in Japanese. "Let's go fly."
The STS-114 mission is the first of two scheduled shuttle launches to shakedown new orbiter hardware and procedures to inspect the spacecraft in orbit and increase flight safety. NASA has spent the last two and a half years modifying shuttle external tanks to prevent the type of debris damage that doomed Columbia, and to reduce ice buildup on critical areas where managers feared it could shake loose during launch.
Discovery's upcoming spaceflight will also be the first orbiter to visit the International Space Station since December 2002, and will carry a cargo module laden with food, supplies, equipment and spare parts for the orbital facility.
"I am very proud of this crew that's standing behind me," Collins told reporters. "They are very prepared and ready to fly this mission."
Fixing NASA: Complete Coverage of Space Shuttle Return to Flight