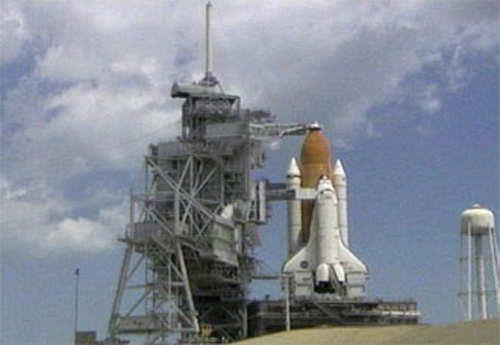 CAPE CANAVERAL - NASA faces a number of hurdles in its bid to return the shuttle fleet to service, but managers are confident Discovery will fly in July.
Now perched on Kennedy Space Center's launch pad 39B, Discovery is scheduled to roll back to the Vehicle Assembly Building on Thursday for extra safety modifications.
The spaceship will be outfitted with a new external tank and then moved back to the pad. The ultimate aim is to have Discovery ready for a test flight to the International Space Station at the opening of a launch window that extends from July 13 to July 31.
"We roll back out to the pad in mid-June, and that sets us up fine for the beginning of the launch window," said Mike Leinbach, a Scottsmoor resident who leads the shuttle launch team.
"The only thing that would change that is if we determine that we want to do some other testing," added Bill Parsons, a Merritt Island resident and NASA's top shuttle program manager.
Challenges ahead include passing extra safety inspections and completing work on the recommendations of the Columbia Accident Investigation Board.
Among the unresolved issues:
NASA is delaying Discovery's rollback so technicians can inspect mechanical linkage that opens the shuttle's main landing gear doors and holds them in place.
A small crack was found on the linkage on Atlantis' right main landing gear door, and engineers want to make sure Discovery doesn't have the same problem. The linkage on Atlantis is being replaced. No cracks were found on Endeavour.
Once Discovery is back in the 52-story assembly building, technicians will remove the shuttle orbiter from its external tank and attached solid rocket boosters.
On June 7, the orbiter will be connected to a tank-booster set NASA had planned to use on its second post-Columbia flight.
The new tank is being outfitted with a heater designed to keep ice from building around a 70-foot propellant line on the outside of the fuel-reservoir.
NASA managers decided the heater is needed after a dangerous amount of ice formed on the propellant line on Discovery's current tank when it was filled with supercold liquid hydrogen and liquid oxygen during a mid-April fuel-loading test.
Engineers feared ice could break off during flight and damage the shuttle's heat shield.
A 1.7-pound chunk of external tank foam insulation blasted a six- to 10-inch hole in Columbia's left wing, allowing hot gas to tear the ship apart during re-entry.
NASA will decide by early June whether to conduct another tanking test before clearing Discovery for launch.
An initial test was done to check out safety changes that have been made to the tank since the Columbia accident. A second test was carried out last week to pinpoint the causes of valve and sensor problems that cropped up during the first test.
Should NASA decide another is needed, the planned July 13 launch likely would be delayed a few days, Parsons said.
The completion of an independent review.
A group of experts led by former astronauts Tom Stafford and Richard Covey must complete an assessment of NASA's work to implement recommendations made by accident investigators.
NASA has finished work on seven of 15 return-to-flight recommendations, which range from fixing the tank to providing astronauts with ways to make emergency repairs in space.
The group will meet with shuttle program officials the week of June 6 to review work done on six of the recommendations. Work on the other two recommendations -- fixing the tank and hardening the skin of shuttle orbiters -- is expected to be complete by late June.
Published under license from FLORIDA TODAY. Copyright ? 2005 FLORIDA TODAY. No portion of this material may be reproduced in any way without the written consent of FLORIDA TODAY.
Fixing NASA: Complete Coverage of Space Shuttle Return to Flight