The Trek world continues its mission to explore strange new worlds.
Paramount+'s "Star Trek: New Worlds" Season 1 was a triumphant success for the venerable sci-fi franchise that returned to lighter "planet-of-the-week"-style episodes which defined "Star Trek: The Original Series" and "Star Trek: The Animated Series."
Now "Strange New Worlds" Season 1 is destined for a home video launch for a closer look at its colorful outer space adventures with a Blu-ray, DVD, and Limited Edition Blu-ray Steelbook release coming on March 21, 2023 courtesy of CBS Home Entertainment and Paramount Home Entertainment.
And don't miss our exclusive clip above from the Blu-ray/DVD release featuring Ethan Peck discussing Spock's intense Vulcan mind meld scene with Christina Chong's La'an Noonien-Singh!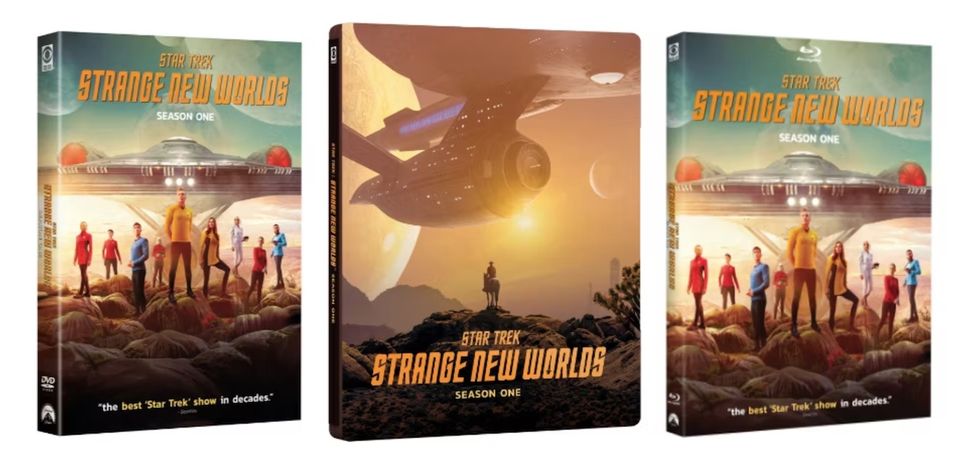 This premium collection is packed with more than 90 minutes of special bonus features, fresh cast and crew interviews, deleted scenes, marketing material, exclusive episode commentary from Anson Mount and co-creator/co-showrunner Akiva Goldsman, and a fun blooper gag reel.
"Strange New Worlds'" inaugural season became a refreshing, fan-pleasing affair when it arrived on Paramount+ beginning May 5, 2022 for a thrilling 10-episode run. It chronicled the years when Captain Christopher Pike (Anson Mount) occupied the center seat of the U.S.S. Enterprise prior to the period that Captain James T. Kirk gallivanted around the galaxy aboard that same iconic Federation starship.
The show presented the continuing missions of characters first appearing on "Star Trek: Discovery Season 2," and besides Mount's charismatic commander, the cast also included Rebecca Romijn as Number One and Ethan Peck as Science Officer Spock as they explored the limitless final frontier.
"Strange New Worlds" co-stars Jess Bush, Bruce Horak, Christina Chong, Celia Rose Gooding, Melissa Navia, and Babs Olusanmokun. Season 2 is already filming with Paul Wesley portraying James T. Kirk.
Per the CBS and Paramount press release, check out the highlighted featurettes included in the first season sets:
● PIKE'S PEAK (Exclusive) - Anson Mount takes fans through his journey as Captain Christopher Pike in the first season of "Star Trek: Strange New Worlds," providing a glimpse into his portrayal with intimate footage throughout the season.
● WORLD BUILDING - Led by Production Designer Jonathan Lee and his team, the season's production design utilized cutting-edge technology to create worlds prior to shoots, allowing the actors to fully immerse themselves into scenes rather than imagine the worlds around them in a green room. Through interviews with producers, cast and crew, fans will learn about the expertise involved in the development process and how the powerful technology was seamlessly integrated into the show.
● EXPLORING NEW WORLDS (Exclusive) - Fans explore the storylines and characters that bring Star Trek: Strange New Worlds to life with writers, cast and crew.
"Star Trek: Strange New Worlds" Season 1 lands on Blu-ray, DVD, and Limited Edition Blu-ray Steelbook on March 21, 2023 and 4K UHD Steelbook on May 16, 2023.
Follow us @Spacedotcom, or on Facebook and Instagram.