Key specs:
Platforms: PS5
Price: $549.99/£529.99
Resolution: 2000 x 2040 per eye
Field of view: 110 degrees (approx.)
Refresh rate: 90Hz, 120Hz
Controllers: PlayStation VR 2 Sense Controller x 2
Unique features: Eye/gaze tracking, headset rumble, adaptive triggers
The young medium of virtual reality is having a growth spurt in 2023. One of the major highlights of this banner year for the platform is the introduction of the PlayStation VR2 (PSVR2). This is the much-anticipated follow-up to 2016's PlayStation VR which continued to excel and surprise in the software department, even though the headset and controllers were doing what they could with admittedly limited technology.
The PlayStation VR2 is an expansion in nearly every direction. Most compelling is the light, living room-friendly design; there's only one cable this time instead of the absurd maze of boxes and wires seen in the original. And, instead of relying on ancient PS3 tech, the PSVR2 now has dedicated Sense Controllers with rumble technology comparable to the PS5's DualSense, as well as unique features that set the headset apart, like Eye Tracking and Headset Rumble.
Despite its expensive price tag, the PlayStation VR2 is one of the best VR headsets. This excellent package offers an inviting, user-friendly on-ramp to the world of virtual reality, especially for gamers who already own the necessary console. The only thing holding it back right now is the roster of games available, which is small by comparison to its competitors. Even so, it makes a strong case to be the third mid-tier option in the never-ending Meta Quest 2 vs Valve Index debate.
PlayStation VR 2 review: Design
Light but sturdy, and only one cable!
Lovely to look at, fits with PS5
Generous suite of comfort options
As a virtual reality headset in 2023, the PlayStation VR2 hits all the right notes from a design perspective. Aesthetics-wise, it fits nicely next to the white monolithic PS5, and there are some lovely embossed PlayStation details across the kit. There's only one connecting cable, and you could pick up the headset with a couple of fingers, never mind a hand. The plasticky outer feels strong enough to withstand long-term everyday use, too.
The weight distribution looks to protect all the major technology, but not so much that it's uncomfortable on your head. The halo strap has a hefty buffer zone of sweat-friendly foam at both ends, making it comfy at your noggin's front and back. A malleable trim casing extends from the lenses to your temples when you wear it, too, so you feel like you're in your own world. This also comes with the added benefit of making the headset cozy for glasses wearers.
Pulling it on and off is an easy process, and I didn't find myself burdened by the HMD whatsoever. A nice, big, bouncy button at the back loosens the fit, surrounded by a clicky wheel that lets you tune the tightness. You can modify the lens distance with an easy-to-find button on the top of the lens hub and adjust the IPD (interpupillary distance) via a wheel on the other side. This is all very easy to do when you're wearing the headset, and the same tracks for activating the shockingly clear passthrough camera with the button at the bottom – which sits next to the PSVR2's microphone that provides impressive in-game voice chat quality.
Sadly, the stereo headphones you get with the PSVR2 put a bit of a dampener on the package. They work fine, but earbuds can be a love/hate kind of thing – I even prefer the Meta Quest 2's onboard audio system to this, and knowing the PS5's 3D Audio systems, it just feels like a huge shame to skimp here. I swapped them out for a pair of Bluetooth cans pretty much immediately.
The Sense Controllers are a mixed bag. They're basically a DualSense controller split in half without the D-Pad. This means the triggers are best-in-class for tensile immersion, the stick is grippy, and the buttons are mapped in a way that is easy to understand for PS5 users familiar with the control scheme. The tracking is fantastic in-game, and they sit nicely in your palms and don't weigh you down.
However, they're both surrounded by a large orb of white plastic that scuffs easily, gets in the way, and feels dated at this point. They also feature some finger tracking, but it's a far cry from the intricacy of Valve's immersive Knuckles controllers. They charge at an awkward angle, too, especially if you don't have the dock. Plus the straps, while self-tightening, sit on the inside in an odd position, so slipping them on when you've already got the headset on is something you'll likely never get right first try.
PlayStation VR 2 review: Set-up & performance
Speedy stress-free set-up
Games explicitly made for PSVR2
Mind-blowing eye-tracking and rumble features
Overall, the PlayStation VR 2's connection to the PS5 is certainly a limiting factor in some respects. However, it has to be said that the PlayStation VR 2's set-up process is an absolute breeze. Plug the (one) USB-C input cable into the dedicated slot on your PS5, turn the headset on, and you're instantly booted into VR's best onboarding tutorial yet. You'll scan the area around you with the cameras, then carefully earmark and paint the playspace in a manner similar to the Meta Quest 2. You can really work in the corners and awkward architecture with this system, and once that's done, you just need to configure the eye tracking, which is over in a few minutes.
The easy set-up is perfect for newcomers to VR and those who do not want the hassle of mounting and setting up lighthouses, logging into accounts, or tweaking PC graphics settings (we have a how to build a PC for VR guide which might be helpful for this).
Much like the set-up, the PSVR2's performance is something that you largely won't have to worry about. The industry-leading lenses, specs under the hood, as well as the all-important tether to the very-powerful PS5, all ensure a solid performance across the board.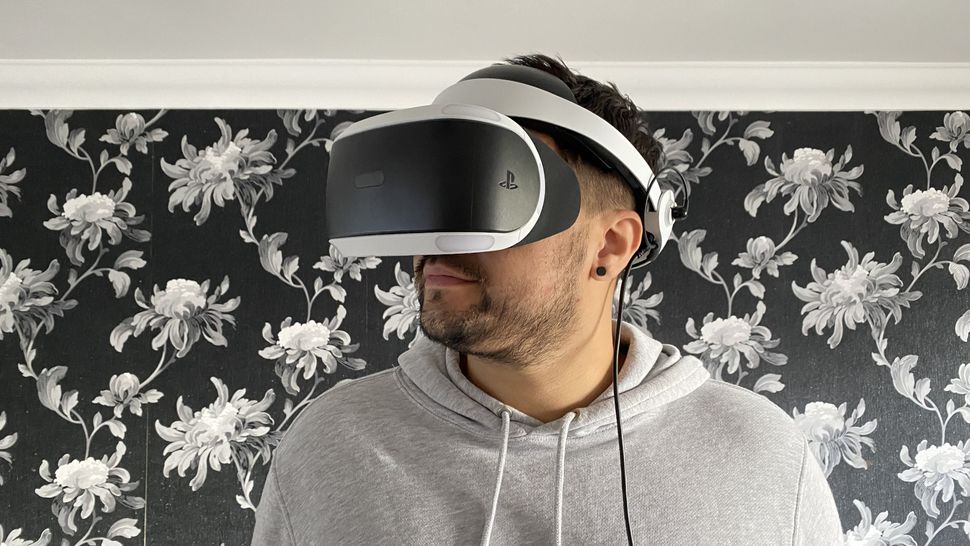 One disadvantage of the PSVR2 is that players are locked out from the original PSVR library. However, because every game has to be a dedicated PSVR2 game to work with the headset, it means that many of them have been tweaked precisely for use on the PSVR2. So, in many cases they are the best versions you can try, especially when it comes to the classics. For example, games like Pavlov VR and Pistol Whip greatly benefit from the headset's unique features, like headset rumble and adaptive triggers.
It's worth noting that because of this all the physical on-headset comfort features are often accompanied by plenty of fine-tuned in-game options for you to alter if you feel motion sickness in VR. Broadly though, the streamlined PSVR2 experience has meant that I haven't had many nauseous wobbles beyond when I was pushing the options. The average consumer should fare well; I'd just work up to physical movement games like Pavlov VR.
The PSVR2's passthrough, which lets you see the real world around you in black and white via the front-facing tracking cameras, is my favorite implementation of the tech so far across all of the VR headsets I've used. You activate it via a simple button, not a weird gesture, and it's perfect for when you need to google something, answer a text, or talk to someone nearby without getting fully interrupted and kicked out of the immersion zone.
The fluid passthrough is matched by the PSVR2's in-game visuals, which are consistently clear and crisp thanks to the high-resolution OLED lenses. Old VR favorites get a noticeable graphical revamp, but the realism of the water and environments in modern games like Kayak VR: Mirage and Gran Turismo 7 astounded me, even as someone used to the fidelity of the Valve Index. It really does feel like a combined 4K HDR experience in a VR headset, which is one hell of a selling point.
The excellent Sense Controller tracking makes it easy to get lost in the atmosphere of games, too. I loved feeling the trigger heft of the lasers in Star Wars: Tales from the Galaxy's Edge and was nearly in a trance climbing cliffsides in Call of the Mountain.
PlayStation VR 2 review: Games & unique features
Small, curated library of quality games
No PSVR1 games is a let-down, but future exclusives provide hope
Cinematic Mode is very promising
At the time of writing the PSVR2 library is modest, with around 50 games available for purchase. This is, naturally, incomparable to the Meta storefront or Steam VR which boasts hundreds more. The original PSVR library being locked off is most of the problem, as it keeps some of the best PSVR space games like Astro Bot: Rescue Mission (ranked as one of our best VR space games of all time) and Blood and Truth behind closed doors, as well as the countless ports that made it on there. This is one of the headset's most significant drawbacks. Even so, what is here is, broadly, of excellent quality, and you can't turn your nose up at killer exclusives like Gran Turismo 7.
Knowing that you can also play flatscreen games like God of War Ragnarök on the PSVR2 in Cinematic Mode only adds to the alluring promise of the headset. Playing massive PS5 exclusives in a world of your own will be quite the draw, especially if you haven't got a TV that can manage 4K 120hz.
GoodbyeWorld Games' emotional odyssey Before Your Eyes, which uses the headset's eye-tracking as its main mode of interaction (your blinks and eye movements propel the story), launched exclusively on the platform in early March 2023 and quickly became one of my favorite VR experiences of all time. Pair that with the impressive demo for Enhance's forthcoming HUMANITY and games like C-Smash VRS on the horizon and it's clear that Sony is setting the bar pretty high regarding the future of PSVR2 exclusives, as they did with the original headset.
There are a few prominent options for those looking for space-themed games. Your first port of call should be Star Wars: Tales from the Galaxy's Edge, a galaxy-hopping wish-fulfilment experience for fans, full of crunchy adaptive trigger blasters and famous faces. There's also Startenders: Intergalactic Bartending, a hilarious, mechanically polished adventure where you mix drinks for dodgy punters in a cosmic cantina.
Over on the science-fiction side of things, Jurassic World Aftermath Collection is a haptic thrill ride where the 3D audio system augments the terrifying closeness of the raptors. After the Fall is a challenging zombie horde shooter that you can play with your friends, and Runner is an anime-inspired cyberpunk motorbike shooter which is bound to be somebody's favorite game.
Long-term investments are also available, like the atmospheric horror survival game Song in the Smoke: Rekindled. There's also the easygoing Townsmen VR, which transposes a strategic city builder seamlessly into virtual reality, letting you cosplay as a medieval god. And, if you're looking for something more narrative-focused, Dyschronia Chronos Alternate has you taking part in a cinematic murder mystery set in the future where you perform memory dives to investigate suspects.
Where platforms like Steam and the Meta store may have tons more games, the PlayStation Store certainly feels like a curated selection of the best and brightest VR has to offer.
PlayStation VR 2 review: Price
An attractive mid-tier option… if you own a PS5
Expensive if you need the console
'Optional' accessories could add up
The PlayStation VR 2 costs $549.99 in the U.S., and £529.99 in the U.K., or $599.99/£569.99 for the bundle with Horizon Call of the Mountain. You'll need a PlayStation 5 as well to use it, which at its cheapest costs $399.99/£389.99. This puts it close to the 1k mark for a full set-up without any optional accessories.
For many people, it will just be a case of buying the headset, which is a much more attractive fiscal gambit, as it places it firmly between low-end affordable headsets like the Meta Quest 2 and proper enthusiast set-ups like the HTC Vive Pro 2. It's a solid third choice in the middle ground if you're happy to spend extra money on a more future-proof kit than the Quest 2.
Should you buy the PlayStation VR 2?
If you've got a PS5 already, I think $549.99/£529.99 is a fair price for a top-of-the-range VR experience. You get what you pay for, as the PSVR2 boasts top-class performance and specs. This is further complimented by the uniquely tactile immersive features, stress-free set-up, and comfortable design.
If you're serious about getting into VR and you want a no-fuss set-up, then PSVR2 is the VR headset for you. It's set-up is a breeze and won't cause you any headaches, and you can also enjoy some of the best games and share them with your family, knowing that there is plenty of excitement to come in the future.
However, if you're in a position where you'd have to buy a PS5 and a PSVR2, then it's a trickier conversation. If you're on a budget and want to dip your toe into virtual reality and see if it's for you, then the Meta Quest 2 is still a fine option that would scratch the itch without being too costly.
On the other hand, if money is less of an object, and you have designs to be a full-on VR enthusiast (or you already are one), then a proper room-scale PC VR setup would better suit your needs. You'd have to build a gaming PC alongside it, (check out our tips on how to build a PC for VR) but in the end you wouldn't be limited by the small library or the lack of creative software, development tools, or game mods you may want to explore.
If the PlayStation VR 2 isn't for you
The obvious choice for VR beginners on a budget is the Meta Quest 2 due to its many proven great games and easy standalone wireless experience. But the recent price increase puts the Quest 2 at $399.99/£399.99, which is creeping close to the PlayStation VR 2. So, if you can stomach the extra $150/£130 then I'd say it'd be worth it to pull the trigger on the PSVR2. You would be getting access to a more immediately astounding, future-proof VR experience, even though it does forego some of the medium's classic games right now.
There are two main options on the higher end of the scale if you're looking for an enthusiast room-scale set-up (and are prepared to put big money on a gaming PC to power it). The HTC Vive Pro 2 is arguably the most technically impressive headset on the market, as it boasts 2448 x 2448 lenses and can be used wirelessly (at a cost).
However, the Valve Index has a more seamless, proven on-ramp into VR due to its finer focus on the Steam ecosystem. The booming integrated speakers and best-in-class finger-tracking Knuckles controllers also set it apart from the pack. If you want to play Half-Life: Alyx how it was meant to be experienced, and explore the world of VR beyond games, then the Index is the best high-end choice for those who want the best VR experience and don't want to compromise.