Patrick Stewart has enjoyed an enviable career in show business spanning 60 years.
At the age of 83, the acclaimed actor has finally paused to pen a comprehensive portrait of his astounding stage and screen life, a new autobiography called "Making It So: A Memoir."
Released on Oct. 3, 2023 by Gallery Books, this addictive 480-page volume chronicles everything from the distinguished performer's early days growing up in Yorkshire, England, to his formative time with the Royal Shakespeare Company, to his trek to Tinseltown in the 1980s, where he eventually took the center seat in "Star Trek: The Next Generation" before advancing into "Star Trek" features prior to playing Professor Charles Xavier in the blockbuster "X-Men" movies.
Related: Why 'Picard' symbolizes hope for 'Star Trek's' Patrick Stewart
According to an exclusive book excerpt featured in The Hollywood Reporter, Stewart had a troubled beginning settling into his first syndicated TV series on "Star Trek: The Next Generation." He was trying to make a mark for himself by remaining gravely serious in his endeavor playing Captain Jean-Luc Picard.
Co-stars such as Jonathan Frakes, Denise Crosby and Brent Spiner frequently teased him or chuckled after goofing their own lines, a habit that Stewart didn't like at all.
"I could be a severe bastard," he writes. "My experiences at the Royal Shakespeare Company and the National Theatre had been intense and serious … On the 'TNG' set, I grew angry with the conduct of my peers, and that's when I called that meeting in which I lectured the cast for goofing off and responded to Denise Crosby's, 'We've got to have some fun sometimes, Patrick' comment by saying, 'We are not here, Denise, to have fun.'
"In retrospect, everyone, me included, finds this story hilarious. But in the moment, when the cast erupted in hysterics at my pompous declaration, I didn't handle it well. I didn't enjoy being laughed at. I stormed off the set and into my trailer, slamming the door."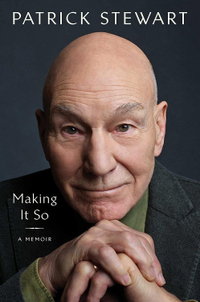 Making It So: A Memoir: $24.48 from Amazon
Patrick Stewart of 'Star Trek' fame discusses his long and eventful career in "Making It So: A Memoir."
Stewart continues by explaining how Frakes and Spiner visited his private trailer to smooth things over after the abrupt episode.
The duo "acknowledged that yes, there was too much goofing around and that it needed to be dialed back," he notes. "But they also made it clear how off-putting it was — and not a case study in good leadership — for me to try to resolve the matter by lecturing and scolding the cast. I had failed to read the room, imposing RSC behavior on people accustomed to the ways of episodic television — which was, after all, what we were shooting."
Stewart told The Hollywood Reporter that the amusing anecdotes and behind-the-scenes tales found in "Making It So: A Memoir" are 100% true.
"Absolutely nothing is made up. Not at all. It's all for real. And, I must say, surprised about how many recollections I had and how vividly some of the recollections were experienced."
"Making It So: A Memoir" is available now at book stores and online outlets.