Superstar astrophysicist and sagacious citizen of the universe Neil deGrasse Tyson really needs no formal introduction when it comes to all matters of a cosmic nature.
The esteemed scientist, lecturer, author, podcaster, NASA consultant, online educator and TV personality enjoys a popularity usually ascribed to heavy metal rock idols, and his role as an elder statesman of astronomy provides laypersons a broad understanding of everything from black holes to time travel.
Now the host of the Emmy Award-winning "Cosmos" has teamed up with longtime StarTalk colleague Lindsey Nyx Walker to provide fresh perspectives on the latest astronomical discoveries in their new 320-page book released September 12 from National Geographic titled "To Infinity and Beyond: A Journey of Cosmic Discovery."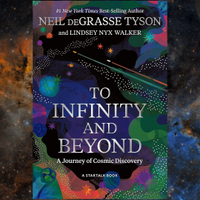 To Infinity and Beyond: A Journey of Cosmic Discovery: $27.00 at Amazon
Neil deGrasse Tyson and StarTalk senior producer Lindsey Nyx Walker draw from on mythology, history, and literature — alongside Tyson's trademark wit and charm — to bring the farthest realms of space within reach of any reader.
Here's the book's official synopsis:
"No one can make the mysteries of the universe more comprehensible and fun than Neil deGrasse Tyson. Drawing on mythology, history, and literature — alongside his trademark wit and charm — Tyson and StarTalk senior producer Lindsey Nyx Walker bring planetary science down to Earth and principles of astrophysics within reach. In this entertaining book, illustrated with vivid photographs and art, readers travel through space and time, starting with the Big Bang and voyaging to the far reaches of the universe and beyond. Along the way, science greets pop culture as Tyson explains the triumphs — and bloopers — in Hollywood's blockbusters: All part of an entertaining ride through the cosmos.
"The book begins as we leave Earth, encountering new truths about our planet's atmosphere, the nature of sunlight, and the many missions that have demystified our galactic neighbors. But the farther out we travel, the weirder things get. What's a void and what's a vacuum? How can light be a wave and a particle at the same time? When we finally arrive in the blackness of outer space, Tyson takes on the spookiest phenomena of the cosmos: parallel worlds, black holes, time travel, and more."
We recently connected with Tyson regarding this informative and highly entertaining guide covering a multiverse of mindblowing material, and how its topical contents should keep backyard astronomers and space junkies fixated for an eternity.
Space.com: What makes this book different from similar volumes about space science, cosmology and astronomy?
Neil de Grasse Tyson: Yes, there's updated content from any book that was published even just a few years ago, any book that's attempting to bring people into the know about the status of our understanding of the universe. It's the third StarTalk book in a series of collaborations with National Geographic Books. "To Infinity and Beyond" continues to capture the StarTalk DNA, which is science blended with humor and pop culture. It's that threading that we've found has the greatest reach. For people who don't need the humor, I've got other stuff for them. There are people who just want to have fun and think a little bit, I've got stuff for them too.
This is the perfect combination that we've landed upon to tell the story of the human quest to ascend Earth's surface. Going back to Icarus and the consequences of what it was to build wax wings. People thought back then that the higher you go, the closer to the sun you get. It gets hotter and melts the wings and he falls to his death. Not knowing that the sun heats the Earth's surface, it does not directly heat the air.
As you ascend it gets colder and colder. So we have to ask what would our response be when hearing the story of Icarus. Is it, 'Okay we're not trying that ever again.' Or is it advice on how to build a better flying device? How do you respond to failure?
Space.com: How did you organize sections of "To Infinity and Beyond" to provide a logical stairway to the heavens for readers to absorb and ponder?
Tyson: There are four sections that go from Earth into the air, then Earth into the planets, then among the stars, galaxies and then the universe and all of the methods and tools of science and technology that get us there. It's not just the greatest hits.
That's too easy and everybody's written that. It's where did we fail as well, and how did people recover and what kind of delay did it put if people were scared. So it's a candid look at the history of human attempts to go from Earth into the universe and back. Throughout, we draw upon examples in pop culture, typically first-run films or songs or things that you otherwise care about because it's in pop culture, but then you learn there's a lesson or insight in there. And that's part of the threading of what makes StarTalk a unique product on this landscape of science education.
Space.com: Some of the more extreme material exists towards the back of the book so readers can warm up before plunging deep into the astrophysical abyss. Which elements of that final cerebral section did you enjoy presenting?
Tyson: In the "Beyond" part, we talk about traveling through space and serious restrictions that exist on time machines. Next time you see a movie about time travel think about this: You step into the time machine and let's say you go back a week to fix something. You go back a week and then pop out of the machine and if they did it right you'd be in the vacuum of empty space. Earth is not here a week ago. So any time machine has to also be a space-time machine. All the platforms on which you're conducting your time travel are in motion. The sun, and everything in orbit around it, is moving around the center of the galaxy. Earth is rotating. If you go back an hour in your time machine, then you're in an entire time zone away. These are little things to consider and we talk about the consequences if you don't do it right.
In the film "Back to the Future," they pretty much did it right. When Marty goes back in time, he goes back exactly 30 years, from 1985 to 1955. So if you go back in year increments, Earth is going to be in the same place in its orbit. In the wee hours of the morning he ends up at the farm where the strip mall was built. They get a thumbs up for thinking that through.
Space.com: In compiling this far-reaching book, were there any fringe subjects touched upon that reignited discoveries you hadn't thought about for a while?
Tyson: This is the great value of a co-author. Lindsey Walker has been with StarTalk for seven or eight years as producer. She cut her teeth as a journalist writing about astrobiology for NASA's astrobiology magazine, so her mind is there and she's a great writer. More importantly, she was able to think about the biological dimension of what we would add to this. Human physiology in the past and in the future. What can we survive? Her input was to make sure that that part of these conversations were explored. What would be the physiology of an alien be if we come upon one?
Any movies to reference that could highlight that? It adds an important side of this talk about space as this book unfolded as a project. Also it was her initiative to have as much attention that we gave to space-time diagrams. It was a little risky because plotting something doesn't always make things easier for people.
We also talk about a space elevator. If you're a fan of science fiction sometimes it's a big part of the story and the idea that in a geostationary orbit you can just hoist yourself up a cable. So we talk about the feasibility of that and why you might want to do that. It hasn't been realized yet, but that's to infinity and beyond. If we're going to do it, is that any different than Icarus? These are our efforts to send us into space and have space become our next and final frontier.
"To Infinity and Beyond: A Journey of Cosmic Discovery" was released on Sept. 12, 2023.