NASA's new moon rocket, its most powerful ever, rolls out for 1st time
The Artemis 1 moon rocket is NASA's first Space Launch System booster.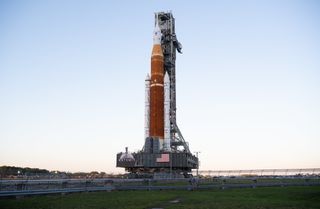 (Image credit: NASA/Joel Kowsky))
CAPE CANAVERAL, Florida — NASA's new megarocket for its Artemis 1 moon mission is on the launch pad for the first time.
On Thursday (March 17) at 5:47 p.m. EDT (2147 GMT), with the largest doors in the world wide open at the Vehicle Assembly Building (VAB) at NASA's Kennedy Space Center (KSC) here on Florida's Space Coast, the rocket that will launch the next astronauts to the moon began rolling out to the launch pad. It reached its destination more than 11 hours later, settling atop its pad as dawn approached at 4:15 a.m. EDT (0815 GMT) on Friday (March 18), according to an agency statement.
The rocket — NASA's Space Launch System (SLS), the most powerful rocket ever built — rolled toward KSC's Pad 39B with the Orion spacecraft on top, both riding on the agency's massive "crawler." The hauler vehicle, officially called the crawler-transporter 2 (CT-2), carried the 5.5 million-pound (2.5 million kilograms) SLS and 50,000-pound (23,000 kg) Orion capsule at about 0.8 mph (1.3 kph) toward the pad.
"At these launch pads, remarkable individuals achieve unthinkable things," NASA Administrator Bill Nelson said during a live webcast of the rollout. "Today, a new generation — not the Apollo generation, but it's the Artemis generation — is preparing to reach new frontiers. This generation will return astronauts to the moon, and this time, we will land the first woman and the first person of color on the surface to conduct groundbreaking science."
"NASA's Artemis program will pave the way for humanity's giant leap — future missions to Mars," Nelson added. "There's no doubt that we are in a golden era of human space exploration, discovery and ingenuity in space. And it all begins with Artemis 1."
Live updates: NASA's latest Artemis 1 moon mission in action
Related: NASA's Artemis 1 moon mission explained in photos
The SLS and Orion will now endure a few weeks of testing at the pad ahead of their launch with Artemis 1, the first mission of NASA's Artemis program, which aims to land the first humans on the moon since NASA's last Apollo moon landing in 1972. Artemis 1, which will send an uncrewed Orion on a journey around the moon, is currently set to launch no earlier than May.
The biggest next step for the mission after the rollout is a "wet dress rehearsal," which will see the mission team fuel up SLS on the launch pad, conduct a practice countdown and, essentially, run through the full procedures leading up to launch (minus the actual launch).
The wet dress rehearsal is set to occur in a few weeks, in early April. This trial will be followed by eight to nine days of additional testing at the pad before SLS and Orion are slowly rolled back to the VAB on the crawler. There, mission team members will assess how well the wet dress rehearsal and additional testing went and if any changes need to be made to the vehicles before launch. That information will also help the mission team determine the final timeline for next steps and, ultimately, the launch.
Today's rollout is an exciting and critical step toward launching Artemis 1, which will test the space readiness and human spaceflight capabilities of both SLS and Orion.
"The Space Launch System is the only rocket capable of sending humans into deep space. It's the most powerful rocket in the world," Nelson said. "And Orion will venture farther than any spacecraft built for humans that has ever flown humans. It will stay in space longer than any spacecraft designed for astronauts … has ever done without docking to a space station."
"Artemis 1 will demonstrate NASA's commitment and capacity to extend humanity's presence on the moon and beyond," Nelson said. "But this mission is not just seeing NASA's leadership in space. It's strengthening America's small businesses. It's supporting America's universities. It's showing the might of America's scientists, mathematicians and technicians."
The Artemis program "is an economic engine for America," Nelson added, noting that it has generated $14 billion and supported 70,000 jobs across the U.S.
Artemis 1 will be followed by Artemis 2, a crewed mission around the moon, in 2024. Artemis 3, NASA's first planned moon landing since 1972, is set for no earlier than 2025.
Editor's note: This story was updated at 6:58 p.m. EDT on March 17 with comments from NASA Administrator Bill Nelson, and updated with additional comments and details at 12:55 a.m. EDT and 9:25 a.m. EDT on March 18.
Email Chelsea Gohd at cgohd@space.com or follow her on Twitter @chelsea_gohd. Follow us on Twitter @Spacedotcom and on Facebook.
Get the Space.com Newsletter
Breaking space news, the latest updates on rocket launches, skywatching events and more!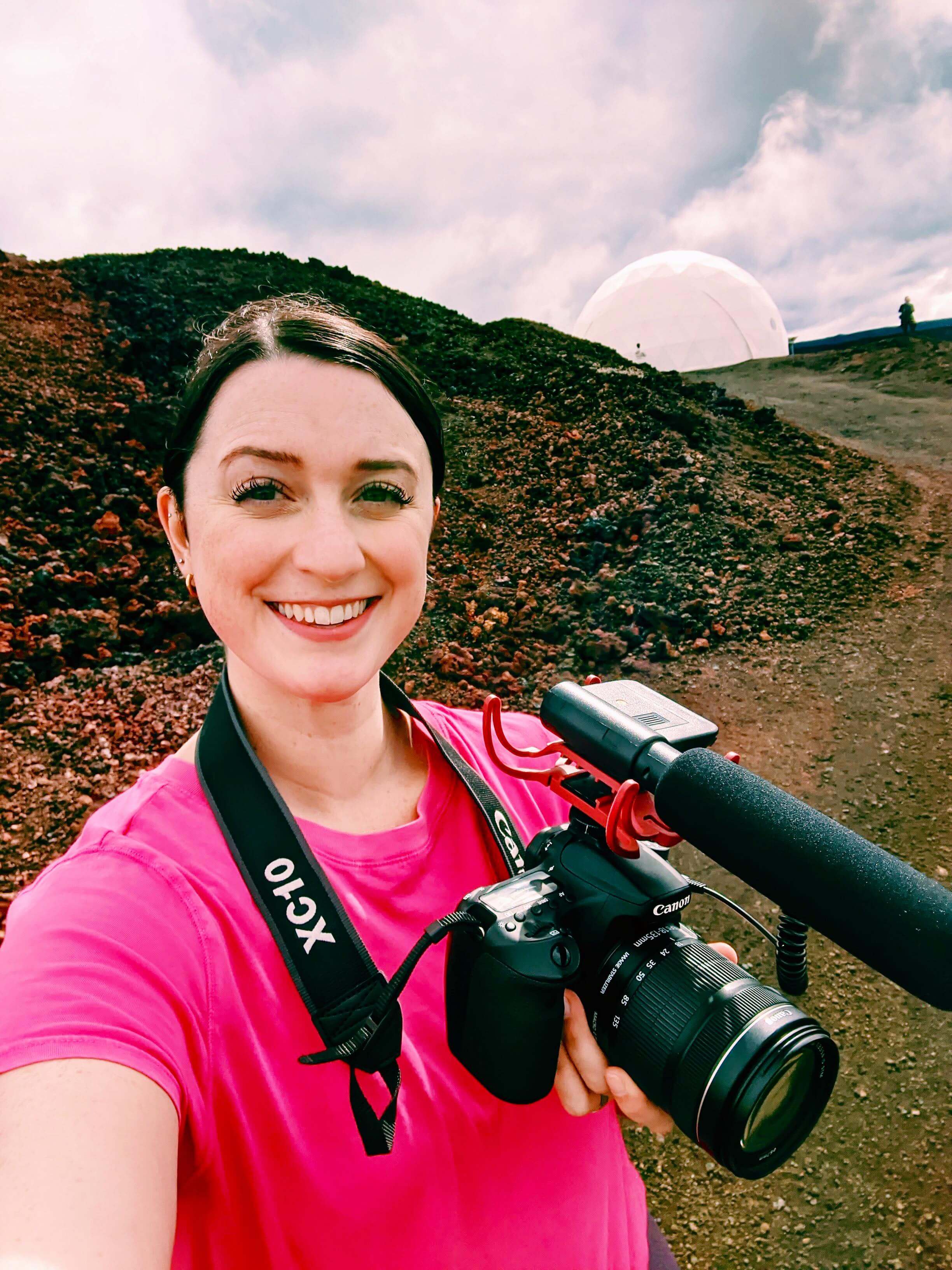 Chelsea "Foxanne" Gohd joined Space.com in 2018 and is now a Senior Writer, writing about everything from climate change to planetary science and human spaceflight in both articles and on-camera in videos. With a degree in Public Health and biological sciences, Chelsea has written and worked for institutions including the American Museum of Natural History, Scientific American, Discover Magazine Blog, Astronomy Magazine and Live Science. When not writing, editing or filming something space-y, Chelsea "Foxanne" Gohd is writing music and performing as Foxanne, even launching a song to space in 2021 with Inspiration4. You can follow her on Twitter @chelsea_gohd and @foxannemusic.