NASA's Artemis 1 moon mission explained in photos
NASA is getting ready to launch its Artemis 1 mission to prepare for returning humans to the moon.
The uncrewed journey of the Space Launch System rocket and Orion spacecraft will be crucial to get the two systems ready for humans for future moon missions later in the decade.
Together the systems will not only provide valuable testing for humans, but they will also carry humanoid and robotic passengers for science and publicity purposes. Best yet, Snoopy is coming along for the ride.
Take a look at the slideshow below to learn about how the Artemis 1 mission will work.
Related: How NASA's Artemis moon landing with astronauts works
NASA has spent the better part of a decade getting ready for Artemis 1. The mission will spend a month or so testing out the Orion spacecraft and the Space Launch System on a moonbound journey that will return the capsule back to Earth.
Read along further to learn about how Orion will get to the moon, its humanoid and non-humanoid passengers, and what is next for Artemis after this first mission.
Artemis 1 will be the first in-space test of NASA's Space Launch System. The rocket, using a configuration adopted for the first few planned Artemis missions, will be 320 feet (97.5 meters) tall, making it a little shorter than its famous moon rocket cousin, the Saturn V (363 feet or 110 m) that sent astronauts to the moon in the 1960s and 1970s.
The core stage of SLS and its two solid rocket boosters will fire together for the first two minutes to push the hardware against Earth's gravity. After two minutes, the boosters will separate and the core stage alone will continue to push the Orion spacecraft aloft.
The main payload on Artemis I will be the Orion spacecraft, a piece of hardware that was tested during a single Earth-orbiting mission in 2014.
Orion will emerge from its protective shell of panels roughly three minutes after launch and will discard its Launch Abort System about 30 seconds later. The Orion spacecraft will ride the SLS core stage into space for about eight minutes after launch, then separate and deploy its solar arrays to generate power.
Orion is rated to carry up to six astronauts to the moon. The gumdrop-shaped spacecraft includes a capsule and a service module, with all the equipment needed to run the spacecraft. The spacecraft is 26 feet (8 m) long with a diameter of 16.5 feet (5 m).
About two hours after launch, the upper stage of SLS — known as the Interim Cryogenic Propulsion Stage (ICPS) — will give Orion its big push to go to the moon. While the Apollo missions of the 1960s and 1970s took three days to get to the moon, Orion's flight path calls for a one- to two-week journey as it is aiming for a different orbit.
Orion will eventually enter a "distant retrograde orbit" — retrograde means that the spacecraft will orbit the moon in the opposite direction to how the moon spins. Once Orion arrives at the moon, it will stay in that orbit for between six and 19 days.
The ICPS will have one last launch trick after sending Orion towards the moon: deploying cubesats. Artemis 1 will send 10 of these tiny spacecraft towards the moon to take on various missions.
"The cubesats will study everything from the moon to asteroids to the deep space radiation environment. Each cubesat provides its own propulsion and navigation to get to various deep space destinations," NASA said in an October 2021 statement.
Example cubesat missions include the space rock-seeking Near Earth Asteroid Scout, and the BioSentinel mission to test how radiation affects yeast cells going around the moon.
While Artemis 1 will be uncrewed, it plans to carry several mannequin-type devices to test out how the lunar environment will affect humans.
One example is "Commander Moonikin Campos," named after Apollo 13 engineer Arturo Campos in a NASA contest. Campos will fly in the commander's seat and wear an Orion Crew Survival System spacesuit to see how well it works for Artemis astronauts. He also will have radiation sensors and instrumentation to record acceleration and vibration data.
Two simulated female astronauts will take up other Orion seats, courtesy of research from the German space agency (DLR). One of the dummies, Zohar, will sport a radiation-shielding vest called StemRad. The other, Helga, will go without protection.
Orion 1 will also have artificial intelligence on board. Amazon's Alexa, the same virtual assistant that controls millions of devices in homes on Earth, will rocket to the moon on the spacecraft.
Amazon will partner with Cisco's Webex video conferencing platform and Lockheed Martin (the prime contractor for Orion) to test out a new far-field voice technology called "Callisto."
"Callisto will demonstrate a first-of-its-kind technology that could be used in the future to enable astronauts to be more self-reliant as they explore deep space," Lisa Callahan, vice president and general manager of commercial civil space for Lockheed Martin, said in a statement when the collaboration was announced in January 2022.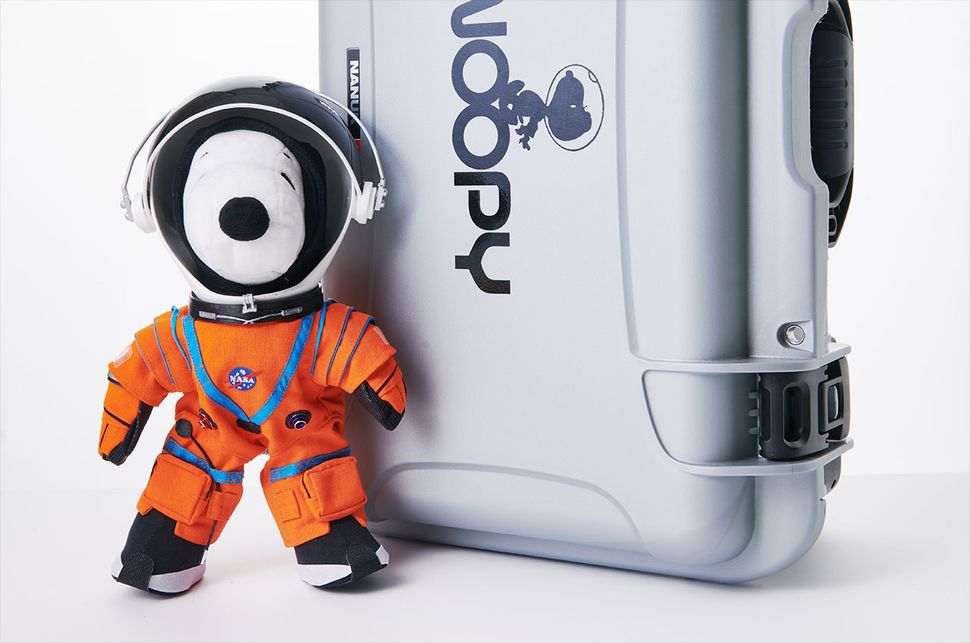 The iconic "Peanuts" dog Snoopy (from a comic strip by Charles M. Schulz that ran for nearly 50 years before Schulz's death in 2000) will once again go to the moon. Back in 1969, a crewed spacecraft named after Snoopy approached the surface.
This time, Snoopy will fly in glorious 3D plush as the "zero-gravity indicator" aboard Artemis 1. He will also sport a miniature version of NASA's Orion Crew Survival System (OCSS) pressure suit. The 10-by-7-inch (25 by 18 centimeters) garment is made of the same material that astronauts will wear.
Orion will also squeeze in four tiny passengers. Lego Education plans to launch four minifigures aboard Artemis 1, including the characters "Kate" and "Kyle" from Lego Education's SPIKE Prime system, as well as "Julia" and "Sebastian" from the Lego City toy line.
The minifigures also star in the educationally focused "Build to Launch: A STEAM Exploration Series," available on the Lego Education website for parents, educators and students. The series includes 10 weeks of digital content about space and related topics in STEAM (science, technology, engineering, art and mathematics).
Orion will remain in its retrograde orbit for between six and 19 days, before swinging back towards the moon to get a gravity assist. That boost from lunar gravity will help direct Orion towards the Earth for a nine- to 19-day journey home.
NASA will continue to monitor the spacecraft to make sure it is positioned correctly for a high-speed reentry back into Earth's atmosphere. Such a reentry was already tested during Orion's first test flight in 2014, when the spacecraft got as high as 3,600 miles (5,800 kilometers) above Earth.
The last major stage of the Artemis 1 mission will be a safe splashdown in the Atlantic Ocean under three parachutes. From that point, recovery crews will bring the Orion spacecraft back to NASA's Kennedy Space Center on coastal Florida (east of Orlando) for further analysis, and to recover the payloads.
The data from Artemis 1 and its various passengers will be analyzed to improve the design of Orion and the Space Launch System for future moon missions, with the next planned one being the crewed Artemis 2 that will go around the moon.