Snoopy is bound for the moon, again.
The intrepid space explorer, who in 1969 became the world's first beagle to land on the lunar surface — at least in the Peanuts comic strips drawn by the late Charles M. Schulz — is set to fly for real aboard NASA's first Artemis mission in 2022. Snoopy, in plush form, will serve as the "zero-g indicator" on the Artemis 1 Orion spacecraft as it loops around the moon.
Snoopy made a similar journey more than 50 years ago, flying with "Charlie Brown" as the call signs for the lunar and command modules that flew astronauts on a final dress rehearsal before the first moon landing.
"I will never forget watching the Apollo 10 mission with my dad, who was so incredibly proud to have his characters participate in making space exploration history," Craig Schulz, son of cartoonist and producer of "The Peanuts Movie," said in a statement. "I know he would be ecstatic to see Snoopy and NASA join together again to push the boundaries of human experience."
Related: The 'Snoopy in Space' season 2 trailer from Apple TV+ has the right (animated) stuff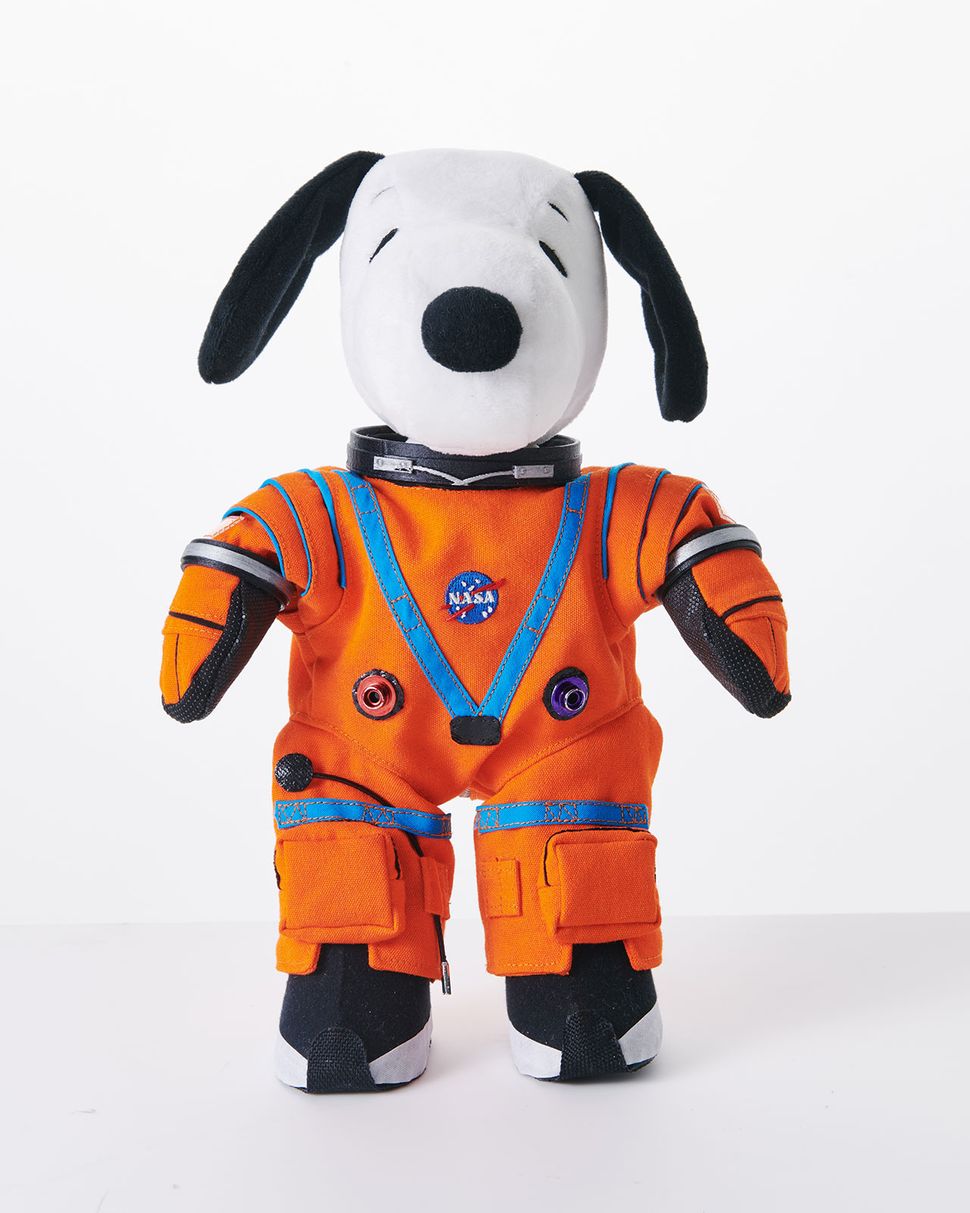 Aboard Artemis 1, Snoopy will be dressed in a one-of-a-kind, miniature version of NASA's Orion Crew Survival System (OCSS) pressure suit. The 10-by-7-inch (25-by-18-cm) bright orange garment was made from the same materials as the suits that will be worn by astronauts on future Artemis missions.
During the planned three-week flight, Snoopy will leave Earth atop the first Space Launch System (SLS) rocket and travel farther into space than any human-rated spacecraft has flown before. As the zero-g indicator, the doll will float above the mission's seated and strapped-in "crew": an instrumented manikin named after an Apollo 13 engineer and two "phantom" human torsos that will be collecting data about the radiation and physical conditions aboard the Orion capsule.
Snoopy will also be flying with four LEGO minifigures, which will be packed with other NASA-chosen mementos inside the Artemis 1 official flight kit, including a pen nib from Charles M. Schulz's Peanuts' studio wrapped in a space-themed comic strip.
NASA's collaboration with Schulz and Peanuts Worldwide dates back to 1968, the year before Snoopy flew to the moon on Apollo 10. In the wake of a fire that claimed three astronauts' lives on the launchpad, NASA adopted Snoopy as a mascot and symbol for safety. Beginning with the Apollo 7 mission through this day, the agency has presented the "Silver Snoopy" award to employees and contractors whose work has ensured safe and successful human spaceflights.
In 2018, NASA and Peanuts entered a new agreement to expand the use of the characters to promote the agency's deep space missions and efforts to engage students in STEM (science, technology, engineering and mathematics) fields. In the three years since, Snoopy, clad in his orange spacesuit, has appeared on a new line of apparel and merchandise, in kids' books, on an Apollo TV+ series ("Snoopy in Space," now in its second season), as a McDonald's Happy Meal toy and a giant character balloon in the Macy's Thanksgiving Day Parade (returning this year on Nov. 25).
On Monday (Nov. 15), the web-based children's video company GoNoodle will launch "Snoopy's Space Week," including an original documentary on the making of Snoopy's Artemis 1 spacesuit. At the same time, Young Minds Inspired (YMI) will offer teachers and parents free educational materials, including lesson plans about the Artemis 1 mission and Snoopy's custom-made duds.
Snoopy dolls have flown into space before. In October 2019, an 8-inch-tall (20-cm) plush (made and sold by Hallmark) was launched to the International Space Station on a Northrop Grumman Cygnus cargo spacecraft. Two months later, a 7.5-inch (19-cm) plush dressed in a faux-leather white spacesuit with a red scarf and a brown communications cap (or as NASA calls it, a "Snoopy cap") under a clear plastic bubble helmet served as the zero-g indicator aboard OFT-1, the first uncrewed test flight of Boeing's Starliner spacecraft.
The Astronaut Snoopy on Artemis 1 is considered unique given the authentic nature of the doll's flight uniform and that it represents the latest effort by Peanuts and NASA to engage and educate families about space exploration.
"My father felt that his association with NASA via Peanuts was one of the two most important aspects of his life — the other being his service in World War II!" said Schulz. "So I am absolutely thrilled that Peanuts will play an ongoing role in NASA's 21st century exploration with Snoopy's participation in the Artemis 1 mission."
Follow collectSPACE.com on Facebook and on Twitter at @collectSPACE. Copyright 2021 collectSPACE.com. All rights reserved.