Nicole Mann, the first Native American woman in space, reflected recently on her long road to orbit.
Mann, a member of the Wailacki of the Round Valley Indian Tribes in northern California, told the U.S. Senate Committee on Indian Affairs last month about the barriers she faced before reaching orbit on SpaceX's Crew-5 mission. It's a common conversation that women, non-binary and other individuals in space still have as the United Nations celebrates International Women's Day today (March 8).
"Inequality does stifle success," Mann said on Feb. 7, backdropped by flags, colorful balls and research materials on the International Space Station. "To continue breaking down those barriers, we need to communicate. We need to inspire youth. We need to empower them to dream to help them achieve their goals."
More than 60 years after human spaceflight began in 1961, genders other than male make up only about 10% of astronauts and space tourists. But diversity is starting to accelerate, with recent notable spaceflights of women including an octogenarian, a cancer survivor with a prothesis and a Black female pilot. NASA also pledges that a woman will be on its Artemis 3 mission, which aims to land on the moon as soon as 2025.
Related: Pioneering women in space: A gallery of astronaut firsts
Women were excluded from the early decades of spaceflight, save for a single excursion by the Soviet Union's Valentina Tereshkova in 1963. NASA and the Soviet Union, the two major space powers of the day, both recruited from military pilot pools that were almost exclusively white male individuals during that era.
Civilian female pilots were not considered, including Wally Funk, a member of the Mercury 13 group of individuals. Funk and a dozen other women passed at least one round of independently administered medical tests in the 1960s similar to those that NASA required its astronauts to pass. The female program (privately funded by woman aviation pioneer Jacqueline "Jackie" Cochran) was canceled after a third round of tests required U.S. military facilities that excluded women participants altogether. Funk finally made it to space aboard a Blue Origin suborbital flight in 2021 at age 82.
NASA's first class with female astronauts was selected in 1978. From that group, Sally Ride was the first American woman to fly in 1983; Ride was also posthumously identified in 2012 as the first LGBTQ+ individual in space. Mae Jemison was the first female Black woman in space in 1992; international women spaceflyers from countries other than the Soviet Union, Russia and the U.S. began in 1991 with the United Kingdom's Helen Sharman, the first woman to visit the Soviet-Russian Mir space station. The first international flyer on a NASA spaceship was Canada's Roberta Bondar, who flew aboard the space shuttle in 1992.
Female accomplishments in space nevertheless have lagged behind males; that said, NASA and international agencies have been doing more to include other genders and ethnicities over the past decade or so.
Related: 20 trailblazing women in astronomy and astrophysics
Female milestones are accelerating. The first and only all-woman spacewalk took place in 2019, 54 years after the first male one. The current generation of NASA spacesuits are sized for larger bodies, making female excursions more difficult, participating NASA spacewalkers Jessica Meir and Christina Koch said that year. Koch was also the first woman to spend nearly a year in space in 2019-20, decades after several males accomplished the feat on Mir in the 1990s.
Commercial spaceflight and increased societal emphasis on diversity are also playing a role in boosting participation by women. The billionaire-funded Inspiration4 spaceflight in 2021 included Sian Proctor, the first Black female pilot in space, along with the first astronaut with a prosthesis (Hayley Arceneaux). The first Black woman to spend a half-year in space was NASA astronaut Jessica Watkins, who along with first European female space station commander Samantha Cristoforetti concluded work on the ISS in 2022.
Funk became the oldest woman in space in 2021, while Beth Moses became the first woman commercial astronaut in 2019 during a Virgin Galactic suborbital test flight. The launch of Crew-5 on Oct. 5, 2022 marked the first time that five women were in space simultaneously, according to NASA, including Liu Yang aboard China's Tiangong space station. (Incidentally, the agency does not count all suborbital flights in its records; NASA numbers suggest 72 women have flown in space as of March 2023, but the number is greater when considering shorter excursions.)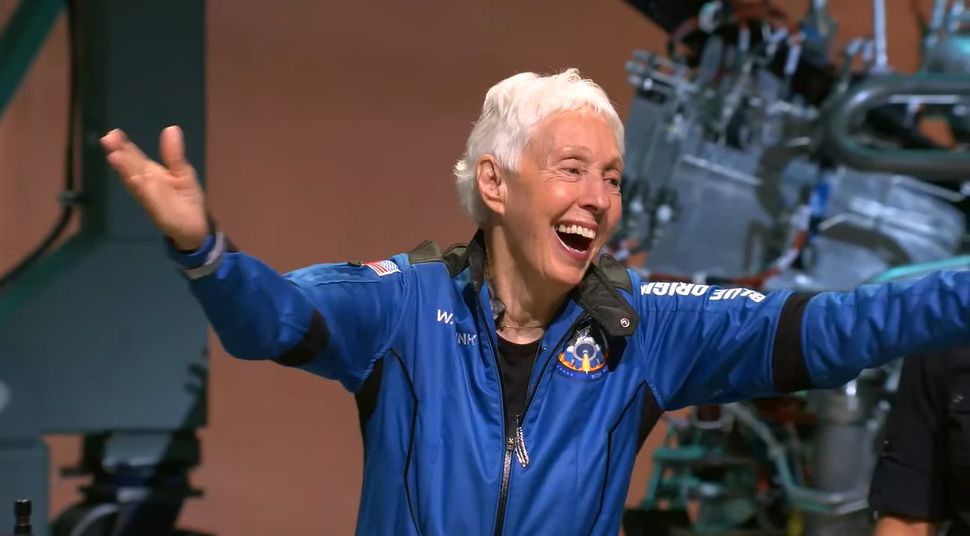 Women supporting spaceflight are also making big strides on the ground lately: NASA renamed its headquarters after "Hidden Figure" and pioneering Black engineer Mary Jackson in 2020, appointed its first female human spaceflight chief (Kathryn Lueders) in 2020, and named Charlie Blackwell-Thompson as its first female launch director in 2016.
There are female records still being broken, according to NASA. When Mann and cosmonaut Anna Kikina come back from space aboard Crew-5 as soon as Friday (March 10), they will end a streak of about two years and five months during which at least one woman was in space — the longest to date. Mann will also conclude her mission as the first woman to command SpaceX's Crew Dragon, while Kikina was the first Russian (male or female) to fly on any U.S. commercial crew vehicle.
Ax-2, an Axiom Space commercial mission expected to reach the ISS in 2023, will include the first commercial space commander — Peggy Whitson, herself a multiple record-breaking NASA astronaut and the first-ever woman ISS commander in 2007. Joining Whitson will be the first woman astronaut from Saudi Arabia, Rayyanah Barnawi. (Barnawi's milestone is especially meaningful given that women in Saudi Arabia have enjoyed far fewer rights than men until 2019, like driving cars or leaving the house alone, although critics say more progress is needed.)
Two females (Anna Menon and Sarah Gillis) will also fly on Polaris Dawn, a billionaire-funded mission that's targeted to launch this summer and will include the first-ever commercial spacewalk. And in April or so, first female actress in space Yulia Peresild will star in a Russian-language movie, "The Challenge", which uses ISS footage from her three-day September 2021 flight.
Elizabeth Howell is the co-author of "Why Am I Taller?" (ECW Press, 2022; with Canadian astronaut Dave Williams), a book about space medicine. Follow her on Twitter @howellspace. Follow us on Twitter @Spacedotcom or Facebook.